Politico is out with two articles discussing the Clinton and Trump paths to 270 electoral votes this November.
Hillary Clinton's Path to Victory: "Rather than expand the 2012 map in any significant way, the Clinton campaign and its allies want to replicate it." 19 states, representing 242 electoral votes have voted Democratic in each election since 1992. The map below reflects all states that have voted the same in these last six elections.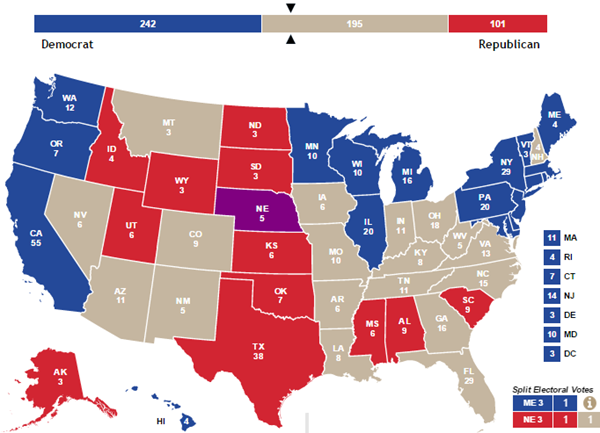 If that 'blue wall' holds and Clinton wins Florida, the race is over. Even without Florida, there are many paths to victory via other states Obama won twice, including Colorado, Iowa, Nevada, New Hampshire, Ohio and Virginia. Clinton's super PAC is planning to spend $145 million in these six states, Florida and North Carolina, which Obama won once.
Donald Trump's Path to Victory: "Trump's team is aiming to capture America's Rust Belt -- specifically Pennsylvania, Ohio, Michigan and Wisconsin -- where polls generally show him performing better than Mitt Romney did at this point in 2012. If he can capture Florida and keep North Carolina — the 2012 red state of the lightest hue — a strong showing that includes capture of the Rust Belt could, Trump's team believes, put him over the top."

In the map below, we've started with the actual 2012 result, moving the four rust belt states to Trump. We kept Florida blue to highlight that Trump can reach exactly 270 by winning those four states, keeping everything else the same from 2012.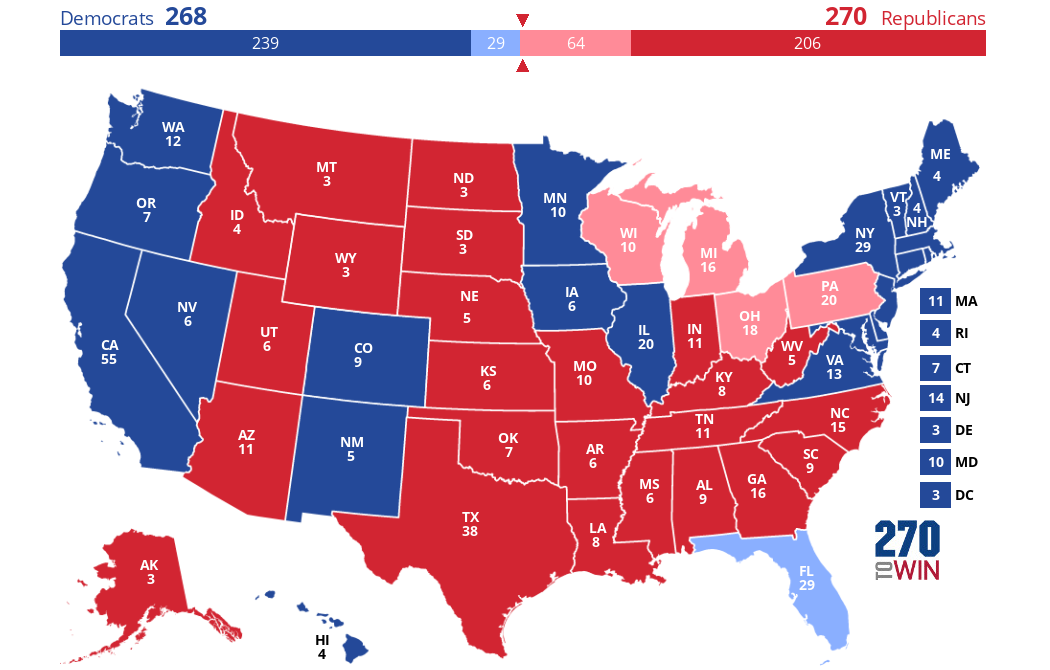 If Trump was able to flip Florida in the above scenario, he would not need to win all four of the rust belt states. He need only win Pennsylvania and either Ohio or Michigan. He could also get there by losing Pennsylvania and winning the other three states.
While Trump's team is pursuing the rust belt strategy, it is worth noting that the candidate himself believes he can put 'blue wall' states such as California, New York, New Jersey and Maryland into play. To that end, a Trump super PAC is spending on national cable ads as opposed to focusing on the traditional battleground states.