NBC Places Candidates for First Presidential Debate
By 270toWin Staff
June 18, 2019
The first 2020 presidential debate is eight days out, taking place over two nights on June 26 and 27. Last week, we learned on which night each of the 20 candidates will appear. Now we know where they will stand on the podium.
Massachusetts Sen. Elizabeth Warren and former U.S. Rep. Beto O'Rourke will be at center stage night one. On the 2nd night, it will be former Vice-President Joe Biden and Vermont Sen. Bernie Sanders. All candidates were placed based on their qualifying polling average as of June 12. The higher-polling candidates are closest to the center.
Note that in the graphic below, we use the national polling average as of June 18. This will not exactly match up with the qualifying average, which was based on national and early state polls from a list of highly-rated polling organizations.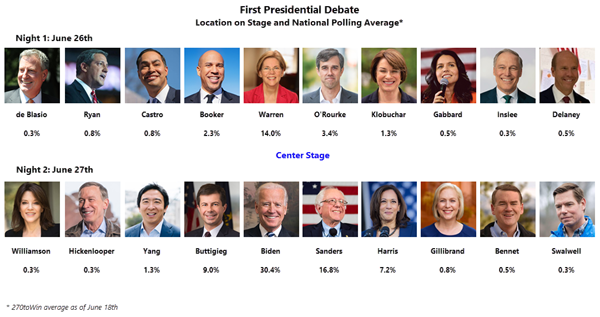 The debate will be hosted by NBC News, MSNBC and Telemundo. It will air both nights from 9:00 PM to 11:00 PM Eastern Time.
comments powered by

Disqus
Headlines