Oregon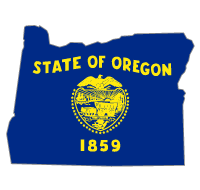 Oregon joined the union in February 1859 after being carved out of the Oregon Territory. The state voted almost exclusively Republican from its founding until 1984, except 1868, 1912 and 1964 and the four elections won by Franklin Roosevelt during the Great Depression and World War II. Starting in 1988, the state went Democratic and has done so to this day. In 2016, Hillary Clinton defeated Donald Trump by 11%. Oregon's population has grown steadily over the years, enough so that it has periodically gained electoral votes. The last such increase was in 1984 when it went from six to seven as a result of the 1980 census. Current projections have it gaining an 8th electoral vote for the 2024 presidential election.
Voting History
State voted with the overall winning candidate
Electoral College Votes
Colored bars represent electoral votes by party. Hover to see names. 2020 electoral votes shown in dark green until after the election.