Oregon Joins National Popular Vote Compact
By 270toWin Staff
June 12, 2019
Gov. Kate Brown signed a bill Wednesday that adds Oregon to the National Popular Vote compact. 15 states and Washington D.C., with a total of 196 electoral votes have now approved the initiative. States in the compact agree to award their electoral votes to the winner of the nationwide popular vote, a choice that could differ from that made by its own citizens. However, it does not take effect until states totaling 270 electoral votes have joined. Until such time, nothing is changing for how Oregon allocates its electoral votes.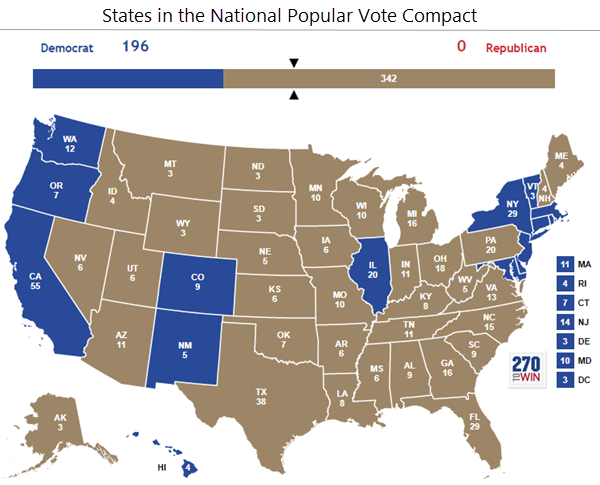 The initiative is being driven primarily by Democratic-leaning states; all voted for Hillary Clinton in 2016 (see map, above). Aside from Colorado and New Mexico, these states have all voted Democratic since at least 1992. Oregon last voted for a Republican in Ronald Reagan's landslide 1984 reelection.
There's been little interest in this proposal from GOP-leaning states. Many of them are smaller and thus over-represented in the Electoral College. However, that is not exclusively a Republican concern. Oregon's decision comess two weeks after Democratic Nevada Gov. Steve Sisolak vetoed similar legislation in his state. Sisolak cited the reduced influence Nevada would have if the initiative took effect.
comments powered by

Disqus
Headlines