Congressional redistricting is now complete in North Carolina and Pennsylvania. The 2022 House Interactive Map has been updated with shapes for the 31 total districts in these two states.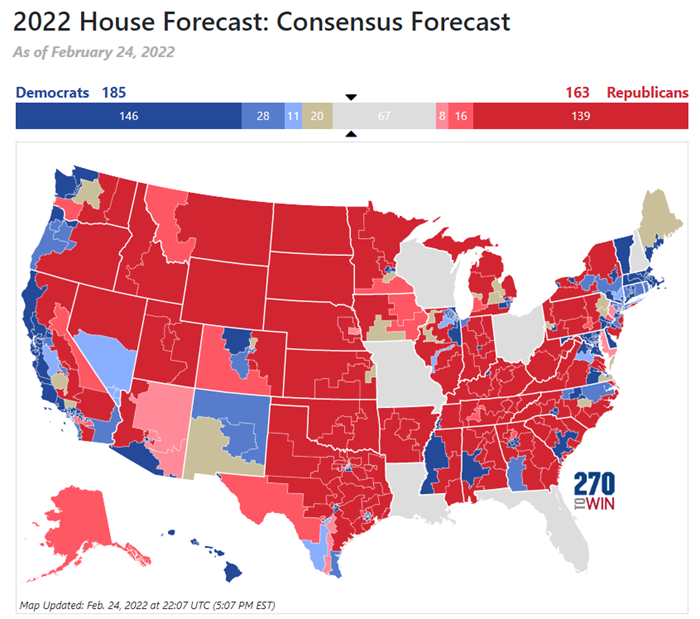 Pennsylvania: The State Supreme Court took over the redistricting process after the Republican-controlled legislature and Democratic Gov. Tom Wolf couldn't agree on a plan. After considering over a dozen maps, it implemented one drawn by Jonathon Rodden, a Stanford professor and redistricting expert. Rodden went with a 'least change' approach, although some change was unavoidable given the state is losing a district. According to FiveThirtyEight, "The new map drops one Republican-leaning seat to leave eight Republican-leaning seats, six Democratic-leaning seats and three highly competitive seats."
The lost seat is creating a GOP 'double booking' in the new District 9, where both Rep. Dan Meuser (current PA-09) and Fred Keller (PA-12) are going to seek reelection. They will face off for the party's nomination in the state's May 17 primary.
The current congressional delegation is evenly split 9-9, largely due to a court-ordered redistricting prior to the 2018 election.
North Carolina: A panel of three judges selected the Interim Congressional Plan drawn by court-appointed Special Masters. It discards an amended map approved last week by the State Legislature. The Legislature's initial map was thrown out by the State Supreme Court earlier this month.
The ruling only specified that the map be used for the 2022 elections, so even if the now-enacted map survives a Republican appeal to the State Supreme Court, the process may repeat itself for 2024. That will not be new for a state that had mid-cycle congressional districting before both the 2016 and 2020 elections.
Republicans hold an 8-5 edge in the current delegation. The state is gaining a district due to population growth over the past decade. According to the New York Times, the new map "appeared to split North Carolina's congressional districts roughly equally between Republicans and Democrats, in a state where voters are divided evenly along partisan lines. It gives each party six relatively safe House seats and makes the remaining two winnable by either side."
The Remaining States
Six states, with 67 total districts, have not completed redistricting. Florida's 28 districts account for almost 42% of the total.
| | |
| --- | --- |
| State (Districts) | Comments |
| Florida (28) | The state is gaining a district. The state Senate overwhelming approved a plan. A redistricting subcommittee in the state House has advanced its own map; it has not yet been voted on by the full chamber. The process was temporarily put on hold after Gov. Ron DeSantis (R) asked the Florida Supreme Court to provide an advisory opinion on whether District 5, the only Black opportunity district in the northern part of the state, must remain largely intact. On February 10, the Court ruled that it would not provide such an opinion. DeSantis has submitted two maps of his own and is threatening to veto any map that doesn't split District 5. |
| Louisiana (6) | A map approved by the Republican-led Legislature is now with Democratic Gov. John Bel Edwards. The new plan largely maintains the status quo including, notably, a single majority-Black district. Democrats, including Edwards, favor the addition of a second majority-minority district given that Blacks now comprise about 33% of the state's population. If the governor vetoes the map - he has until March 14 to decide - a two-thirds vote in each chamber would be required to override. |
| Missouri (8) | The Missouri Senate has tabled a map, passed by the state House, that largely maintains the status quo 6-2 Republican edge. Some conservatives in the Senate have pushed for a more aggressive map that would 'crack' Kansas City. This would likely yield a 7-1 map, as that scenario would make it much more difficult for Democrat Emanuel Cleaver to hold his seat. |
| New Hampshire (2) | The Republican-controlled state House approved a map that would make District 1 more favorable for the party. The Senate has not yet taken action; GOP Gov. Chris Sununu has asked that chamber to modify the House map to make both districts more competitive. |
| Ohio (15) | The state is losing a district. Returned to the incomplete list after the State Supreme Court invalidated the enacted plan, calling it an unconstitutional Republican gerrymander. The Legislature was unsuccessful in its attempt to redraw the map, punting the effort to the Ohio Redistricting Commission. The Commission has until mid-March to draw a new map. |
| Wisconsin (8) | In November, Democratic Gov. Tony Evers vetoed the map passed by the Republican-controlled legislature, passing the process to the State Supreme Court. The Court held a daylong hearing last month to consider various proposals. According to the Milwaukee Journal Sentinel, "[t]he two getting the most scrutiny are the Republican-controlled state Legislature's maps and the maps from Democratic Gov. Tony Evers." |