June 4, 2019
Former Vice President Joe Biden remains well out in front of the large 2020 Democratic field, two new national polls find. In the Morning Consult weekly tracking poll, Biden is at 38%, twice that of Vermont Senator Bernie Sanders, who is at 19%. Elizabeth Warren is third at 10%. These numbers have changed little in recent weeks.
CNN finds Biden at 32% with Sanders at 18%. No other candidate reaches double-digits. Biden dropped 7 points from the 39% he received in that organization's late April poll, which was released just after he formally entered the race.
Overall, the 270toWin national polling average has Biden at 34%, Sanders 18% and Warren 11%, with these new polls not impacting the numbers very much. The race seems to have stabilized for now; that may well change after the first Democratic debate in 3 weeks.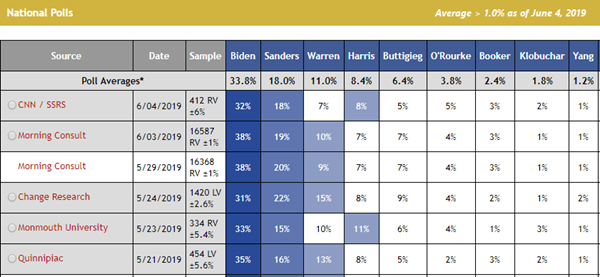 comments powered by

Disqus
Headlines