Texas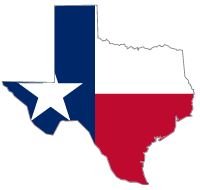 Texas became a state in December 1845, participating in its first presidential election in 1848. Texas seceded from the Union in 1861 and was not included in the 1864 or 1868 elections. From 1872 through 1976, Texas went Democratic in the vast majority of elections. However, that changed in 1980, and Texas has sided with the Republicans ever since. Having a Bush on the ticket each election from 1980 through 2004 (except 1996) helped make Texas a reliably "red" state. In 2016, Donald Trump won the state by a margin of 52 percent to 43 percent over Hillary Clinton. Two of the state's Electors were faithless that year, one each voting for Ron Paul and John Kasich.

Texas' population has grown rapidly in recent decades, and its 38 electoral votes are second only to California's 55. The state gained four of these votes after the 2010 Census, and is on track to gain another four after the 2020 Census, giving it 42 beginning with the 2024 presidential election. If demographic trends (e.g., continued rapid growth of Latino population) make the state even remotely competitive, Texas will be one of the major battlegrounds of the next decade.
Voting History
State voted with the overall winning candidate
Electoral College Votes
Colored bars represent electoral votes by party. Tap to see names. 2020 electoral votes shown in dark green until after the election.
Gray indicates available electoral votes that were either not cast or cast for a candidate not on the ballot.
An empty column indicates the state did not participate in that election.