Democrats emerged victorious in both gubernatorial contests Tuesday night. In the most closely-watched race, Ralph Northam defeated Ed Gillespie. With about 80% of the vote counted, Northam held a 6-point lead over his Republican challenger. Democrats hold the seat being vacated by Gov. Terry McAuliffe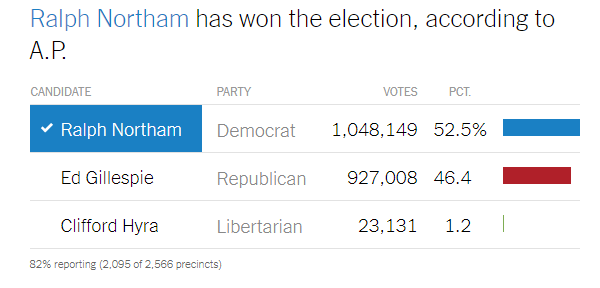 In New Jersey, as expected, Democrat Phil Murphy defeated Republican Kim Guadagno. This represents a Democratic gain as Murphy will take over for departing Republican Gov. Chris Christie. Both McAuliffe and Christie were term-limited.
We've updated our 2017-18 gubernatorial map to reflect the Democratic wins (both states are shown as 'Safe Democratic'. We'll roll this map over to reflect just the 2018 races - there are 36 of them - in the days ahead.