The Road to 270: Mississippi
By Drew Savicki
May 25, 2020
The Road to 270 is a weekly column leading up to the presidential election. Each installment is dedicated to understanding one state's political landscape and how that might influence which party will win its electoral votes in 2020. We'll do these roughly in order of expected competitiveness, moving toward the most intensely contested battlegrounds as election day nears.
The Road to 270 will be published every Monday. The column is written by Drew Savicki, a 270toWin elections and politics contributor. Contact Drew via email or on Twitter @DrewSav.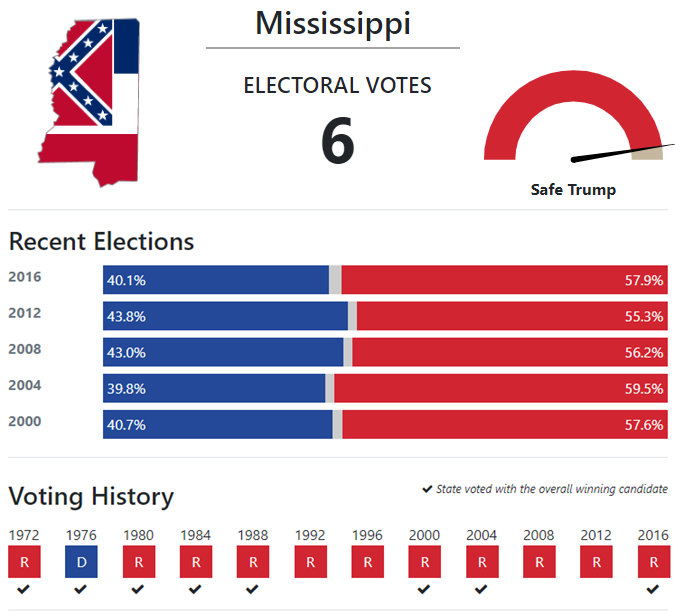 After receiving the 1980 Republican nomination for president, Gov. Ronald Reagan headed down to the Neshoba County Fair, in Mississippi. In his first post-convention speech as the party's nominee, Reagan emphasized support for states' rights. The significance of the location was not lost on political observers: in Philadelphia, just a few miles away, three civil rights activists were murdered in 1964. While Reagan's supporters saw the cause of states' rights as fitting into a larger message of economic freedom, critics accused him of pandering to southern conservative whites.
Either way, Mississippi, once part of the Democratic 'Solid South' -- Franklin Roosevelt never received less than 93% of its votes -- seemed like prime territory for Reagan. Whites there had been drifting Republican as the national Democratic Party became more liberal. With its 6 Electoral Votes, Mississippi is a firmly red state today.
The rise of the Mississippi Republican
The decade before Reagan's speech marked a period of change in Mississippi. In 1972, President Nixon carried the state in a landslide, and swept in two Republican congressmen on his coattails: Thad Cochran and Trent Lott. Both would go on to become enormously influential in state and national politics. Cochran and Lott's victories marked the first time since Reconstruction that Republicans had more than one member in the congressional delegation.
In 1978, after three terms in the House, Cochran ran for the Senate seat being vacated by longtime Senator Jim Eastland (D). Eastland, a conservative Democrat, was known for his steadfast support of segregation. Cochran's election to the Senate was the first time the state had popularly elected a Republican since the enactment of the 17th Amendment, which went into effect in 1914. Ideologically, Cochran was conservative, but in terms of his political style, he was described by the 1982 edition of the Almanac of American Politics as "closer to Majority Leader Howard Baker" -- in other words, gentlemanly and congenial.
That 1978 Senate election was an interesting contest. Cochran, who at the time represented the Jackson area in the House, faced former Marion County District Attorney Maurice Dantin (D), and independent candidate, Charles Evers, the mayor of Fayette. Evers, who is African-American, split the Black vote with Dantin, which allowed Cochran to win with a 45% plurality. In the Senate, Cochran established himself as a master appropriator known for his ability to steer federal funding to his home state. He rose in seniority over the years, eventually chairing two committees during his time in the Senate.
From 2003-2005, Cochran chaired the Senate Agriculture Committee, a position of great importance to his rural and farm heavy state. From 2005-2007, and again from 2015-2018, Cochran chaired the Senate Appropriations Committee. A soft spoken man, he earned himself the nickname the "Quiet Persuader." In August 2005, Hurricane Katrina devastated the Gulf Coast and when it came time for Congress to put together a relief bill, the Louisiana congressional delegation asked for a $250 billion relief bill. Their effort was unsuccessful but Cochran put his foot down and secured $29 billion in relief funds for the storm stricken communities along the Gulf Coast of Mississippi.
In the twilight years of his career, Cochran began to draw attention from the right. When he was up for reelection in 2014, he faced a strong primary challenge from State Senator Chris McDaniel. McDaniel, a Tea Party-style Republican was an opponent unlike anyone Cochran had ever faced. The quiet gentleman Cochran vs the brash, fiery partisan Chris McDaniel reflected the divide among the state's Republicans. Whereas Cochran represented the traditional Mississippi Republican, McDaniel represented where the party was going. In the primary, McDaniel placed first, but with less than 50%. To win his runoff, Cochran made an unusual decision for a Republican, especially a southern one: he courted the black vote. Although a reliably Democratic voting bloc, African-Americans make up nearly 40% of the state.
With no party registration in Mississippi, any eligible voter who did not cast a ballot in that year's Democratic Primary (which was uncontested) was eligible to vote in the Republican runoff. Cochran's gambit paid off in a big way. He carried the black-majority 2nd Congressional District by a lopsided 27 point margin. Being the most Democratic district in the state, the 2nd District naturally casts the fewest votes in Republican primaries, but that kind of margin proved decisive for Cochran -- he won the runoff 51%-49%.
Citing his health, Cochran announced he would be resigning from the Senate in 2018 -- he died in May 2019, at age 81. Cochran's resignation triggered a 2018 special election, which was concurrent with the regular election for state's other Senate seat, held by Roger Wicker (R). GOP Governor Phil Bryant appointed then-state Agriculture Commissioner Cindy Hyde-Smith (R) to Cochran's seat. Originally elected to the State Senate as a Democrat, she switched to the GOP in 2010. In 2011, she was elected Mississippi Commissioner of Agriculture and Commerce and was easily reelected in 2015. Hyde-Smith stood for the Senate special election, and had the full support of the party establishment, including Cochran himself and President Trump. McDaniel ran in that race too, but was not much of a factor.
For special elections, Mississippi borrows from its western neighbor, Louisiana, and uses a 'jungle primary' system: all candidates run on the same ballot, though with no party labels. Democrats rallied around former Agriculture Secretary and Congressman Mike Espy, though Republicans were quick to attack Espy over ethics issues that led to his resignation as President Clinton's Agriculture Secretary. Hyde-Smith had a number of gaffes during the campaign, such as insensitive remarks regarding lynchings. With the lean of the state on her side, Hyde-Smith won the runoff, but Espy's 46% share was better than what other recent Mississippi Democrats got. The two will have a rematch in November.
Geography
Mississippi's four congressional districts represent the state's geography well.
MS-1: Northeast Mississippi. The 1st District includes the northeastern portion of the state as well as the Memphis suburbs. This is the most ancestrally Democratic of the four districts. Even in his 1980 loss, President Carter took 60% in some counties here -- by 2016, Hillary Clinton was struggling to crack 20% of the vote in many of them. This district was the birthplace of a number of the state's most influential figures ranging from Thad Cochran to Elvis Presley. One of its main cities, Oxford, houses the University of Mississippi - "Ole Miss" as it is commonly known.
MS-2: Western Mississippi: This district encompasses the Mississippi River Delta Region, home to the majority of the state's African-American population. Although this district looks rural, the bulk of the population is in Jackson. Given its demographics, this is the only district that votes Democratic.
MS-3: Central Mississippi and Southwestern Mississippi: This mostly rural district covers mostly rural white counties, the wealthy white Jackson suburbs, and a few small majority Black counties.
MS-4: Southern Mississippi: Roughly divided between urban and rural population, this district includes the Pine Belt and the Gulf Coast region. The northern half of the district is quite rural and heavily forested while the southern portion is home to a number of the state's larger cities such as Biloxi and Gulfport.
Congressional politics
Owing to the state's red lean, Mississippi's congressional delegation is overwhelmingly Republican. Since 2011, the lone Democrat in the state's delegation has been 2nd District Rep. Bennie Thompson, a longtime figure in the African-American community in Mississippi. One of the most senior members of the Congressional Black Caucus, Thompson was elected to the House in a 1993 special election to succeed Espy. Espy had resigned to lead the Department of Agriculture, under the Clinton Administration. With Democrats in the majority, Thompson is once again Chairman of the House Homeland Security Committee. Immigration is a touchy subject in Mississippi, given its large agricultural industry and that industry's reliance on undocumented immigrants as workers. With Democrats in control of the House, the Magnolia State's 3-1 Republican House delegation carries little sway.
In some ways, Bennie Thompson is a Democratic equivalent to Thad Cochran. Cochran was a Republican who could court black voters while Thompson is a rare southern Democrat who has strong appeal with black voters and can also peel off a non-trivial number of conservative whites. According to the Almanac of American Politics, Espy had similar appeal with the district's white voters -- his 1988 race, Espy carried more than 1/3 of white vote (impressive by Deep South standards). Bennie Thompson shares this distinction with a few southern members of the Congressional Black Caucus.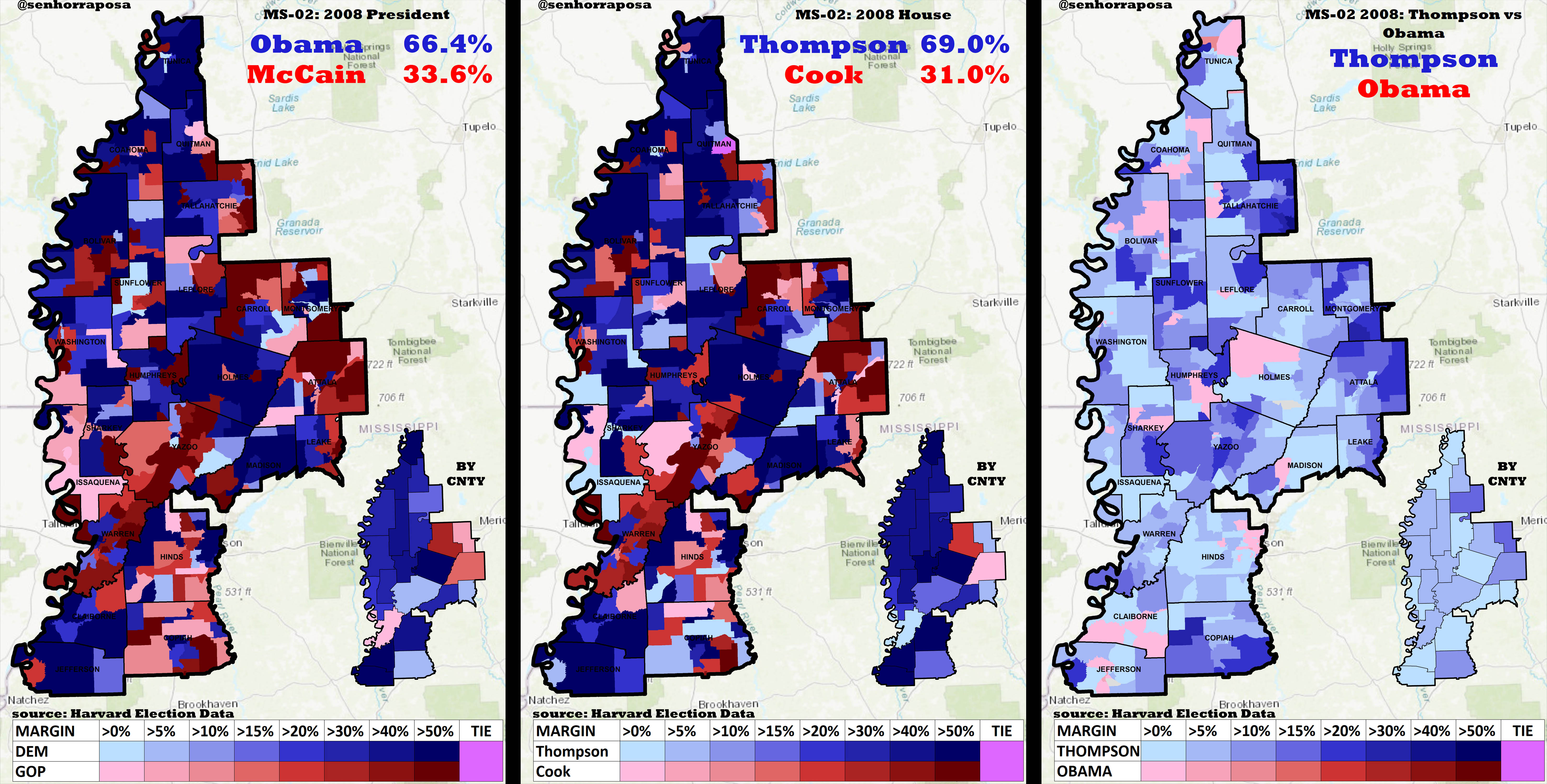 Thompson outran Obama by five points in 2008 and really improved over Obama in the areas with the highest number of white voters. A native of Hinds County, Thompson outran Obama in the white suburbs of Jackson but fared less well in Jackson proper. He also demonstrated great appeal with the district's large number of rural voters, particularly with the white voters.
The Magnolia's State senior Senator is Republican Roger Wicker. An appropriator like Cochran, Wicker represented the state's 1st District in the House from 1995-2007. When former Majority Leader Trent Lott resigned from the Senate in 2007, then-Gov. Haley Barbour (R) appointed Wicker to the Senate. Democrat Travis Childers flipped Wicker's old House seat in a May 2008 special election and won a full term in the fall of that year -- in 2010, the seat fell back into GOP hands. In the Senate, Wicker is generally regarded as an establishment conservative who usually supports the majority's agenda. Wicker has however bucked the party in relation to the President use of a National Emergency Declaration that essentially bypasses the appropriations process and funds construction of his border wall.
The state's population shifts since 2010 pose an interesting problem for redistricting. In terms of partisanship, there will likely be no changes to the delegation's partisan composition. The state's majority-black 2nd Congressional District is protected under the Voting Rights Act. The Delta region's significant population loss over the course of the last decade could make redistricting a bit difficult. Other than that though, redistricting will be largely uneventful.
State level politics
Until 2019, Mississippi generally lagged behind the national urban/rural realignment at the state level. White Democrats held some deep red districts in both chambers of the legislature. Democrats also held the state Attorney General's office from 1878 until January of this year. A.G. Jim Hood opted to run for Governor in 2019 rather than reelection -- Hood lost that race 52%-47% and the GOP, predictably, picked up his old office. At the local levels, Democrats continue to hold many local offices in otherwise deep red counties.
The Magnolia State is known for its quirky state-level electoral college. A remnant of the Jim Crow era, Mississippi law has an unusual requirement if no statewide candidate receives a majority of the vote. If that's the case, the leading candidate must win a majority of the state house districts or the election is decided by the State House, much like the federal Electoral College. Even in his near 11 point win in 2015, Jim Hood still failed to carry a majority of state house districts.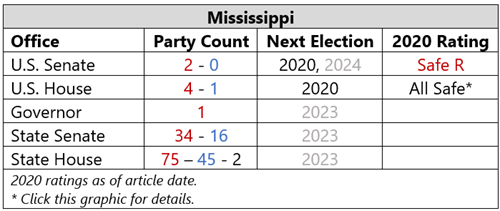 Presidential outlook
At the presidential level, Mississippi is solidly red and highly inelastic: blacks routinely give Democrats 90% of the vote, while white voters are almost as loyal to Republicans. With that, political analysts characterize Mississippi as a 'high floor, low ceiling' state for Democrats -- Democrats can easily get 40% of the vote (slightly higher than black percentage share of the overall population), but getting much past that is a challenge. Indeed, no Republican nominee has won the state with more than 60% of the vote since Ronald Reagan, in 1984. Since 2000, the Republican win margin has ranged from 11.5% to about 20%. This year's election result is likely to be in that range.
In 2012, Mississippi was just one of six states where President Obama improved from his 2008 performance, even though he slid nationally. Obama, as the first black president, inspired strong turnout with that group while Mitt Romney -- a wealthy, technocratic Mormon – was a poor fit for working class whites in the state. Obama took 44% in Mississippi that year, but in 2016, Hillary Clinton couldn't match his enthusiasm with blacks and faced an opponent better suited for the state -- she fell to 40%.
If Biden is polling closer to Obama's 44% than Clinton's 40%, it may be a sign of his strength with black voters. Otherwise, the only interesting things to watch are whether Joe Biden can win back the four Obama/Trump counties (Benton, Chickasaw, Panola, and Warren) and whether he can make any significant inroads in the state's few suburban counties.
Next Week: Washington

Reports in this series:
comments powered by

Disqus
Headlines