Election News
By 270toWin Staff - November 6, 2018
By 270toWin Staff - November 4, 2018
We've updated the Poll Closing Times schedule for this week's midterm elections. The first polls close at 6:00PM Eastern in parts of Kentucky and Indiana, with the final ones at 1:00AM Wednesday morning in portions of Alaska's Aleutian Islands.
The page includes the number of Senate, Governor and House races that are affected by each closing time. This is based on the latest poll close time for the state or district. In most cases, a race won't be called before this time.
Note that there's a lot of local variation in closing times. Your polling place may close earlier. Do not rely on this schedule to determine when to vote.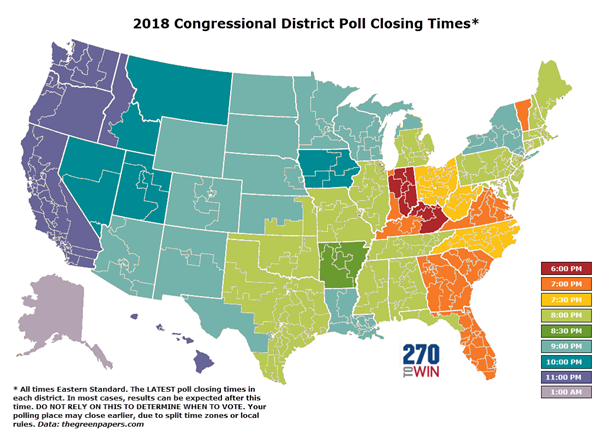 The first congressional districts close at 6:00 PM in Kentucky and Indiana. There are three districts to keep an eye on in this first hour. Kentucky's 6th district is a true toss-up race in a district Trump won by 15 points in 2016. Democrats have a high quality nominee in retired Marine fighter pilot Amy McGrath; she has outraised the three-term incumbent Andy Barr.
Meanwhile, in neighboring Indiana, keep an eye on the 2nd and 9th districts. If Republicans struggle or lose either of these, the party could be in for a long night.
By 270toWin Staff - November 4, 2018
There hasn't been all that much movement in the Senate races since we first published this chart last Sunday. Small changes in the polling averages (choose a state) and FiveThirtyEight Classic Model probabilities; no changes at all in the consensus forecaster rating.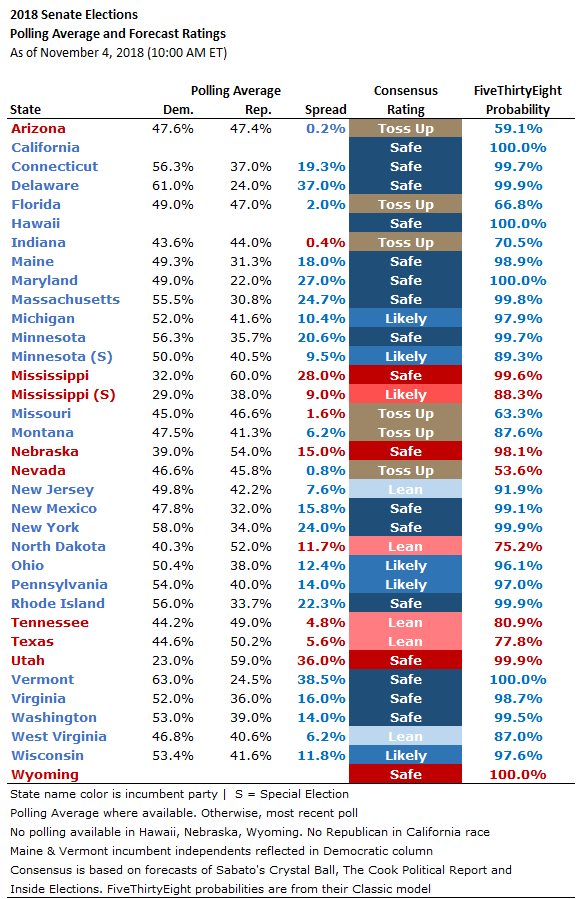 A few notes:
All the 'safe' seats still seem supported by the polling averages and the FiveThirtyEight probability.

The momentum of Michigan GOP nominee John James seems to have stalled. Sen. Debbie Stabenow has led by 9% or more in the three most recent polls. James did have one of the more amusing tweets this past week, however.

As a result, Michigan joins the other 'likely Democratic' seats with regularly scheduled elections this year (Ohio, Pennsylvania, Wisconsin) as looking pretty safe for the incumbents. All are now in that FiveThirtyEight category, with a Democratic probability above 95%.

The biggest discrepancy between FiveThirtyEight and the consensus seems to be in Montana, where FiveThirtyEight gives Sen. Jon Tester an 87.6% chance of being re-elected.
In Nevada, Jacky Rosen has led in the three most recent polls, putting her just slightly ahead of Sen Dean Heller in the average.
By 270toWin Staff - October 28, 2018
Just a little over a week before the midterms, here's an overview of where each of this year's 35 Senate elections stands. For each race, we display the polling average (choose a state), a consensus forecaster rating and the FiveThirtyEight probability from their Classic model. All information is as of late morning on Sunday, October 28th.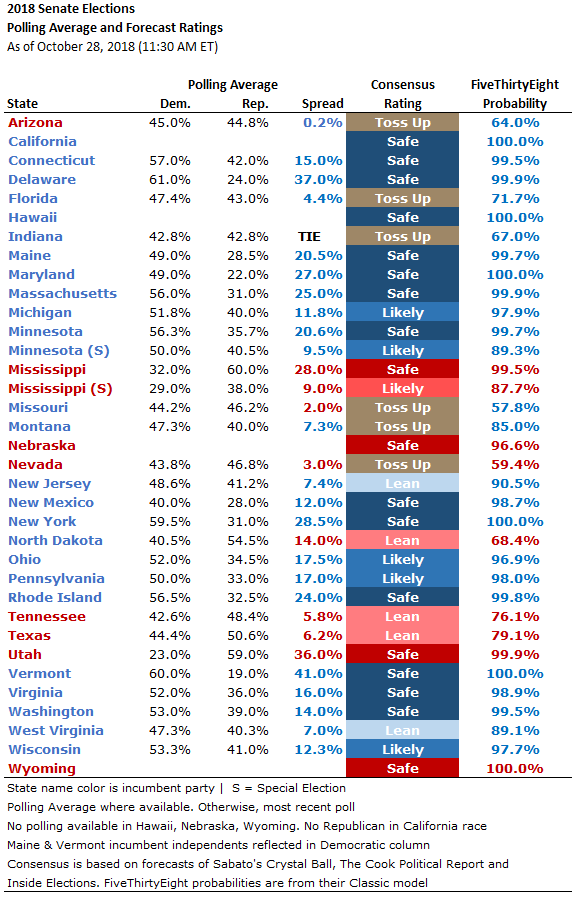 A few notes:
All the 'safe' seats seem supported by the polling averages and the FiveThirtyEight probability.

New Mexico polling percentages impacted by Libertarian Gary Johnson, who polled at 22% in a recent survey
The last couple polls in 'likely Democratic' Michigan have been somewhat closer than the polling average and ratings would indicate. May just be a blip, but will be interesting to see if that trend persists in any subsequent polling

The other 'likely Democratic' seats with regularly scheduled elections this year (Ohio, Pennsylvania, Wisconsin) seem more 'safe' than not for the Democratic incumbents as Election Day nears.

The Cook Political Report reclassified New Jersey as a 'toss-up' this past week. The other qualitative forecasters have it as likely Democratic' and FiveThirtyEight gives Sen. Menendez a 91% chance of being re-elected.

The biggest discrepancy between polling and the 'pros' seems to be in North Dakota where Sen. Heidi Heitkamp is trailing by double-digits in recent polls.

Indiana is tied based on the five polls out this month. However, the most recent two polls, including one out today, give Republican challenger Mike Braun a small lead.
By 270toWin Staff - October 22, 2018
A new poll conducted by Strategic Research Associates gives Republican Rep. Kevin Cramer a 16 point lead over incumbent Democratic Sen. Heidi Heitkamp. The same firm's prior poll, just three weeks ago, had the margin at 10 points.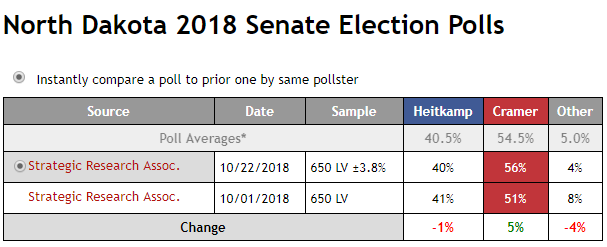 52% of those polled had an unfavorable view of Heitkamp, a large increase from 41% who felt that way three weeks ago. According to the pollster: ""Senator Heitkamp appears to have been hurt by her vote against Brett Kavanaugh's confirmation to the U.S. Supreme Court as well as by subsequent campaign missteps widely covered in the media."
Impact on Senate Control
Heitkamp's fading prospects for a 2nd term will make it that much more difficult for Democrats to retake control of the Senate. If she loses, her party must win 3 GOP-held seats from a list that includes Nevada, Arizona, Texas, Tennessee and Mississippi (special election). That's assuming they win their other 25 seats up this year - which will be no easy task.
By 270toWin Staff - October 18, 2018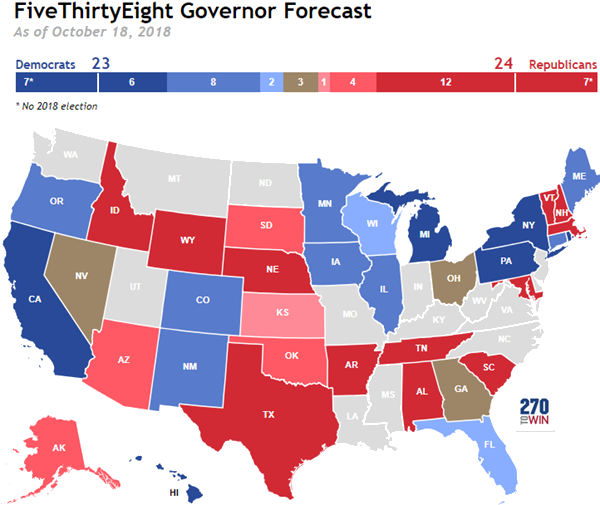 Heading into the elections, Republicans hold 33 of the 50 governorships, near an all-time high. 16 are held by Democrats, with an independent in Alaska. As with other forecasters, the FiveThirtyEight model sees a drop in seats held by the GOP. Their model stands out a bit in the small number of toss-up races - three as of this writing vs. eight on the consensus map.
While there's no overall "battle for control" with gubernatorial races, many of the governors elected this year will have an important role in determining the composition of the U.S. House in the next decade. These governors will still be in office when redistricting comes around after the 2020 Census.
Related: FiveThirtyEight Senate Forecast | FiveThirtyEight House Forecast
By 270toWin Staff - October 16, 2018
Defending 26 of 35 seats up for election this year, Democratic prospects for gaining control of the Senate in the 2018 midterms were never all that good. However, an unexpected win in an Alabama special election late last year coupled with more competitive than expected races in Texas and Tennessee gave the party a few narrow but plausible paths to gain the two seats needed. However, recent polling has been less promising. It remains to be seen whether the GOP Senate bump is temporary - a short-term reflection of the Kavanaugh confirmation fight - or one that will carry through to Election Day.
To gain control, Democrats must win 28 of the 35 elections, including a minimum of two Republican seats. The most likely path to that would be holding all of their 26 seats while winning the toss-up races in GOP-held Arizona and Nevada. The problem is that this path isn't all that likely in today's polarized voting era. According to Pew Research, since 2013, 69 of 73 Senate elections have been won by candidates belonging to the party that won the state's most recent presidential race. This year, ten of the seats Democrats are defending were won by Donald Trump in 2016, including five by 18% or more (Indiana, Missouri, Montana, North Dakota and West Virginia).
A loss in any of the 28 seats above obviously means Democrats need to pick one up elsewhere. The only three realistic options are Tennessee, Texas and the Mississippi special election. The other four Republican-held seats are not competitive.
At this point, North Dakota looks to be the most at-risk seat for Democrats. Recent polling there has turned in favor of Republican Kevin Cramer. Polling has also looked better for the GOP in Texas and Tennessee; these are both now rated Likely Republican in the FiveThirtyEight Senate forecast.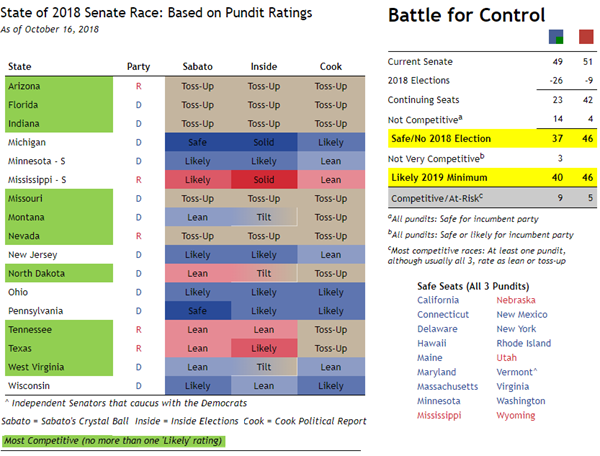 By 270toWin Staff - October 9, 2018
While over 300 of the 435 House seats are generally considered 'safe' for the incumbent party, there is a subset that is especially solid -- those with no major party opposition. This year, 42 seats fall into that category. That's a much smaller total number than the past two cycles, with the vast majority of the difference coming on the Democratic side. Reflecting the current climate, there are only 3 seats where that party doesn't have a candidate on the November ballot.
We've divided these into a few different groups. However, it doesn't change the bottom line that these 42 seats are all but certain to remain with the current party.
Totally Unopposed: There are 16 incumbents that have the ballot all to themselves. One of them, Michael Doyle (PA-18) is running unopposed in a district partially modified in redistricting. A 17th seat on this list is currently held Michael Capuano (MA-7), who was defeated by Ayanna Pressley in his bid for renomination.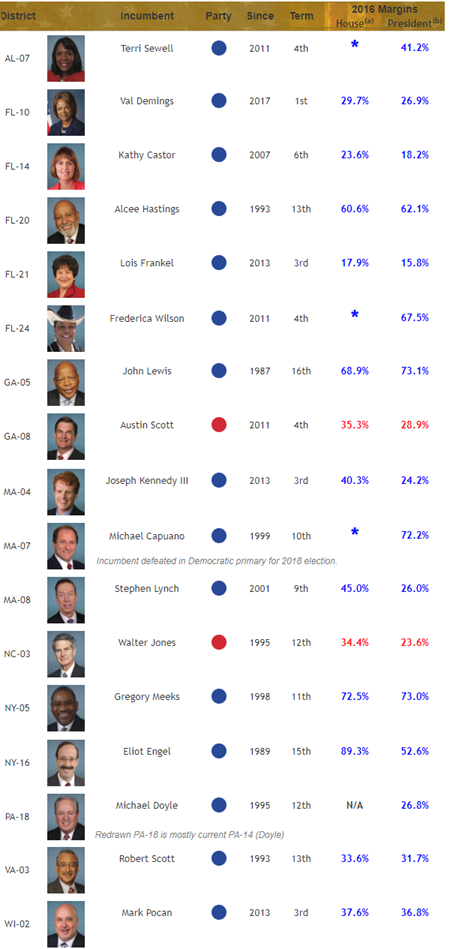 Same Party Opposition: California and Washington hold top-two primaries, where all candidates, regardless of party, appear on a single ballot. The two largest vote-getters advance to the general election. In five districts, the two moving on are both from the same party. In 2016, Nanette Barragan won her first term vs. a fellow Democrat; this explains the narrow margin of victory in a district Hillary Clinton won by nearly 71%.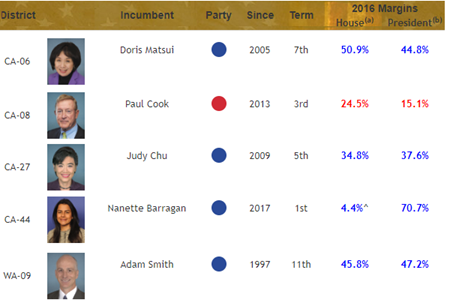 3rd Party Opposition: These 20 incumbents have one or more opponents on the ballot - all are 3rd party or independent candidates. None are expected to pose a major challenge.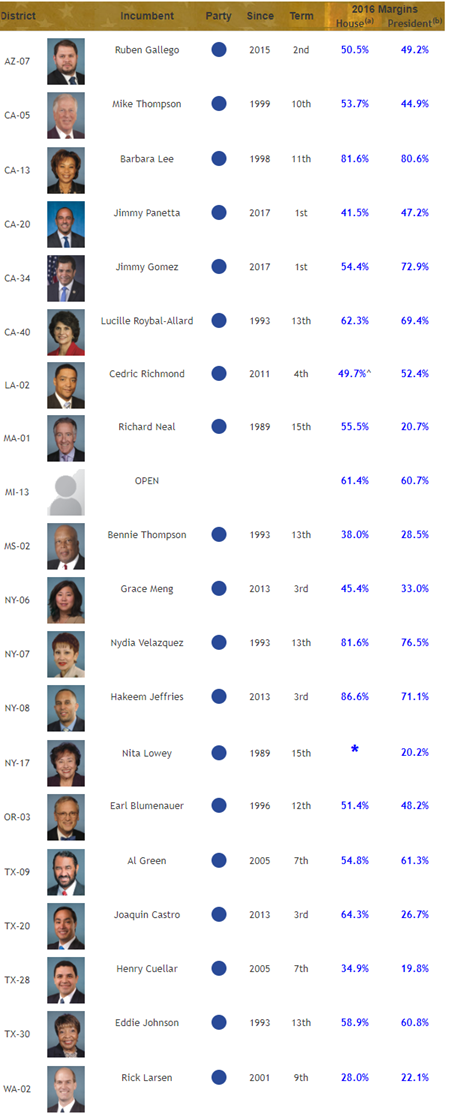 In the above tables, the 2016 margin of victory for both the House race and the presidential election (within that congressional district) is displayed. As you might expect, given the lack of competition, these districts lean heavily toward one party. An asterisk indicates the incumbent was unopposed.
By 270toWin Staff - October 4, 2018
We've added a new feature to the 2018 House Election Simulator. As each simulated election is run, a table will populate below the map showing the seats that flip to the other party. The table also includes the consensus rating for each district listed.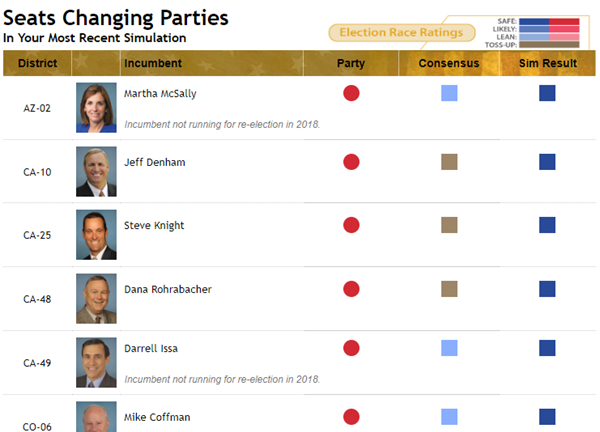 More than 130,000 simulations have been run since we launched this back on September 22nd. Below the map, you can view the results of the most recent 5,000. Currently, Democrats are winning just over 75% of the time. Individual simulation results will vary widely, as there remains a wide distribution of plausible outcomes.

By 270toWin Staff - October 1, 2018
We're into the last full month before the November 6th midterm elections. Early voting is already underway in some states. The maps below reflect the current consensus ratings of Sabato's Crystal Ball, The Cook Political Report, and Inside Elections. For purposes of these maps, only races rated safe by all three of these forecasters are shown in the darkest shade of red/blue. This gives us the broadest view of the competitive landscape. Note that the discussion below is as of October 1st. However, the map images themselves will update as the consensus evolves.
Senate
Democrats need to gain two seats for control. The party has a more plausible path to achieving that than earlier this year, as the GOP-held seats in Texas and Tennessee have become much more competitive than expected. However, it is still an uphill climb, with Democrats defending 26 of the 35 seats up this year. Five of those states (Indiana, Missouri, Montana, North Dakota and West Virginia) were won by Donald Trump by 18 points or more in 2016. Even if Democrats manage to hold all their seats, they still need to win two GOP seats, most likely some combination of Arizona, Nevada, Tennessee and/or Texas. The special election in Mississippi is a longer-shot Democratic opportunity. What's interesting about this race is that it will likely go to a November 27th runoff. Should Election Day end with Democrats holding a 50-49 lead in seats, we won't know who will control the Senate until this runoff is held.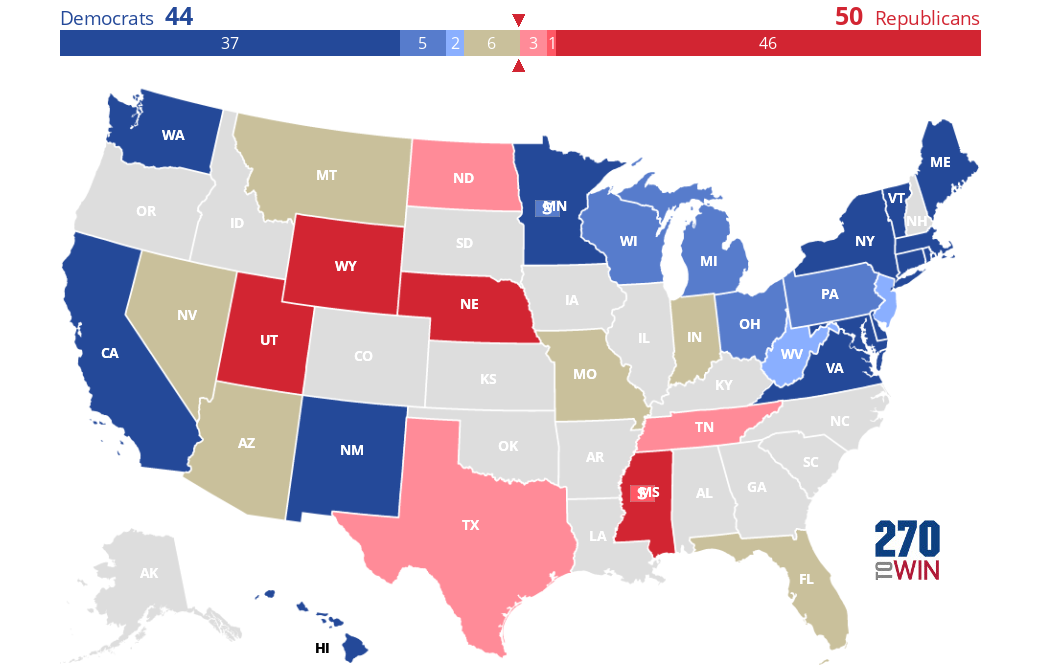 House
There was an interesting New York Times article this past weekend discussing how President Trump and Senate Republicans are hoping the drawn-out confirmation battle for Judge Kavanaugh will help them hold the Senate. However, there is also recognition in the party that the cost of this will almost certainly be control of the House of Representatives. They seem willing to make that trade-off given the increasing probability that the House will flip regardless. Of the 116 districts not rated safe by all three forecasters, 100 of them are GOP-held*. Of the 63 most competitive races (consensus toss-up or leaning), Republicans currently have 58 of them. That gives Democrats plenty of places to gain the 23 they need to take control. Our new House Election Simulator gives Democrats a 78% chance of taking the House.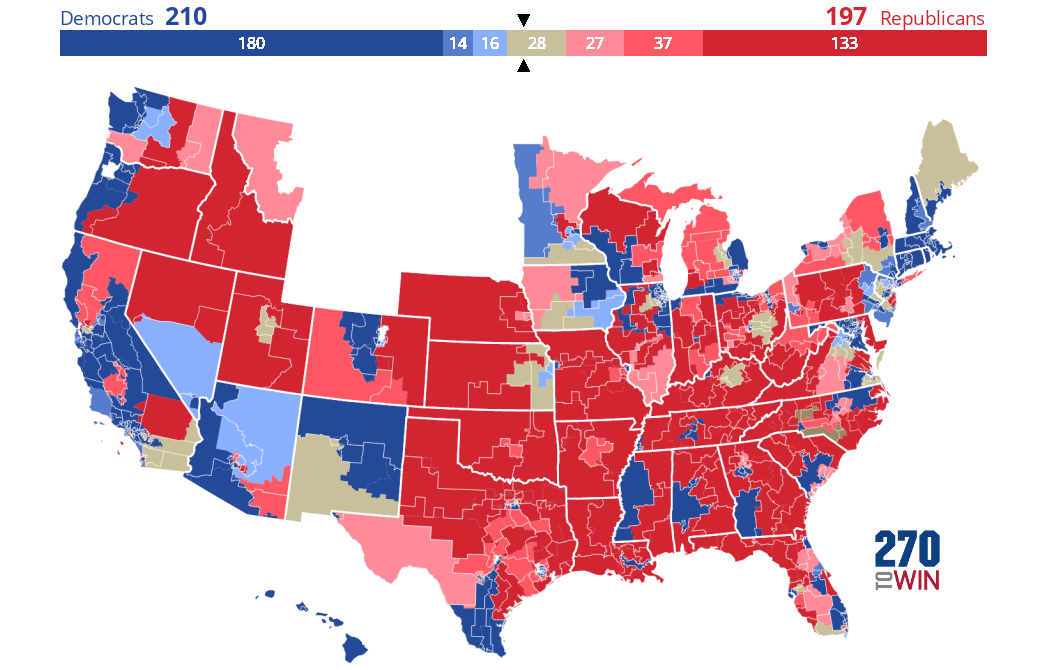 * This can be seen more easily in the new Table View. Vacancies are counted with the party that most recently held the seat
Republicans hold 33 of the 50 governorships; this is near a historic high. There are elections in 36 states this year. While there's not a 'battle for control' in the same way as in Congress, these elections are extremely important in the context of how Congress - specifically the House - will take shape in the next decade. That's because governors can have a large role - varies by state - in the redistricting process that takes place after the Census. The governors elected this year will be in place* for that process. Regardless of which way these elections break there will be a new governor in at least 17 of these 36 states. Most of those governors are departing due to term limits. This partially explains the large number of competitive races this year. 19 of the 36 races are seen as highly competitive, with a toss-up or leans consensus rating.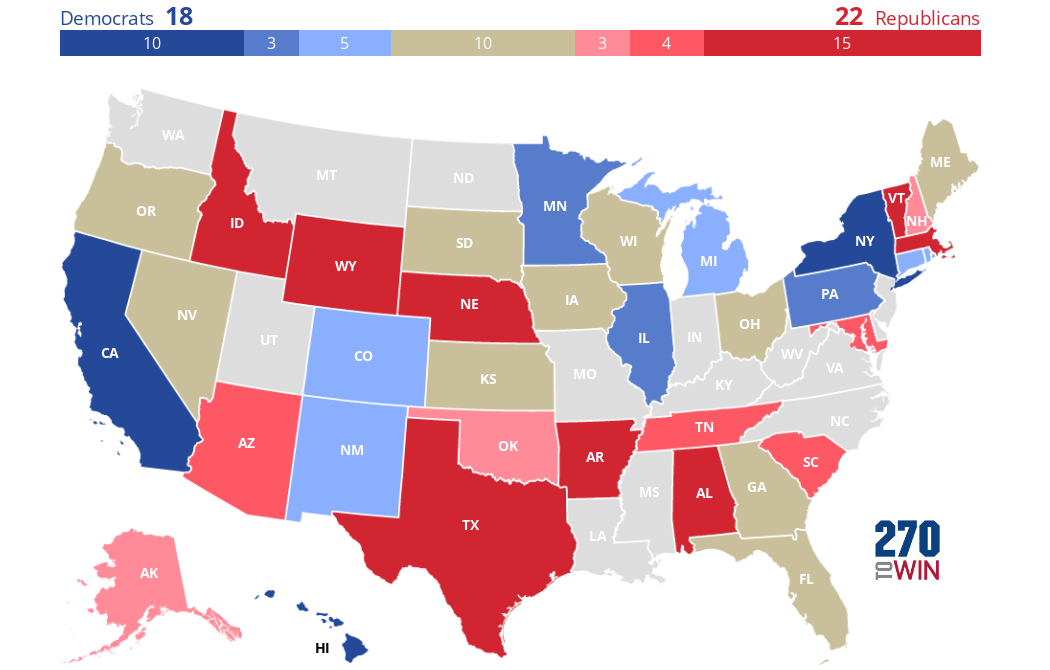 * Except for New Hampshire and Vermont, which have two-year terms. This issue also isn't relevant for states with only one district. In terms of 2018 gubernatorial elections, that includes Alaska, Montana, South Dakota, Wyoming and the aforementioned Vermont.