Washington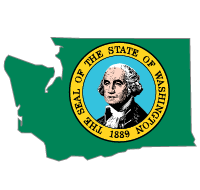 Washington joined the Union in November 1889. The state has gone through periods during which it voted primarily Democratic and other periods where Republicans usually won. Democrats have been the victors in the last eight elections, making it one of the more reliably blue states at this point in its history. In 2016, Hillary Clinton defeated Donald Trump by a 54% to 38% margin. The state's electoral influence has grown in recent decades; in the western half of the country only Texas and California have more than Washington's 12 electoral votes. In the 2016 election, four of those electors were faithless, with three voting for Colin Powell and one for Faith Spotted Eagle.
Voting History
State voted with the overall winning candidate
Electoral College Votes
Colored bars represent electoral votes by party. Hover to see names. 2020 electoral votes shown in dark green until after the election.
Gray indicates available electoral votes that were either not cast or cast for a candidate not on the ballot.