The Road to 270: Washington
By Drew Savicki
June 1, 2020
The Road to 270 is a weekly column leading up to the presidential election. Each installment is dedicated to understanding one state's political landscape and how that might influence which party will win its electoral votes in 2020. We'll do these roughly in order of expected competitiveness, moving toward the most intensely contested battlegrounds as election day nears.
The Road to 270 will be published every Monday. The column is written by Drew Savicki, a 270toWin elections and politics contributor. Contact Drew via email or on Twitter @DrewSav.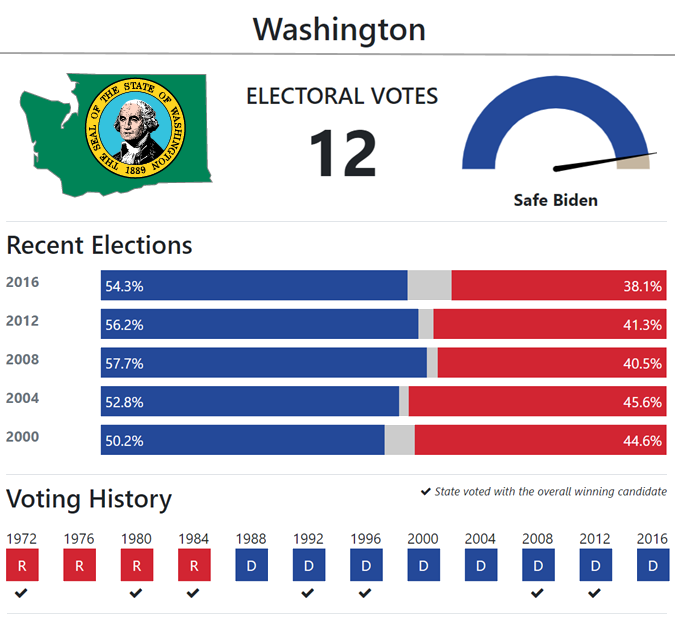 Up in the Pacific Northwest, Washington state was known as something of a contrarian in presidential elections for much of the second half of the twentieth century. In four of the most high-profile presidential races of that era, it sided with the losing nominee: Nixon in 1960, Humphrey in 1968, Ford in 1976, and Dukakis in 1988. That Massachusetts Gov. Michael Dukakis (D) carried Washington in 1988 was noteworthy because he lost in an Electoral College landslide. According to the Almanac of American Politics, Dukakis' win in the Evergreen State was also a surprise because the networks had called the state for Bush earlier that evening.
If Washington misses the mark in this year's presidential election, though, it will be due more to partisan loyalty than to any contrarian streak. It supported Democratic candidates in the past three elections by double-digits, and it's hard to see that changing soon.
The great divider
The Cascade Range both physically and politically divides Washington state. As a result, the state has a unique east-west split. While the Cascades' divide is somewhat less useful today when it comes to politics, the split is important from a geographic perspective. West of the Cascades, Washington is predominately urban and suburban. The Seattle metro area -- anchored by King County -- is home to much of the state's population. Using the traditional definition of eastern Washington, the chart below shows how the two regions have voted in presidential elections since 2000. The number of votes cast have grown in both regions with each cycle, but eastern Washington has not seen the level of population growth the western half of the state has.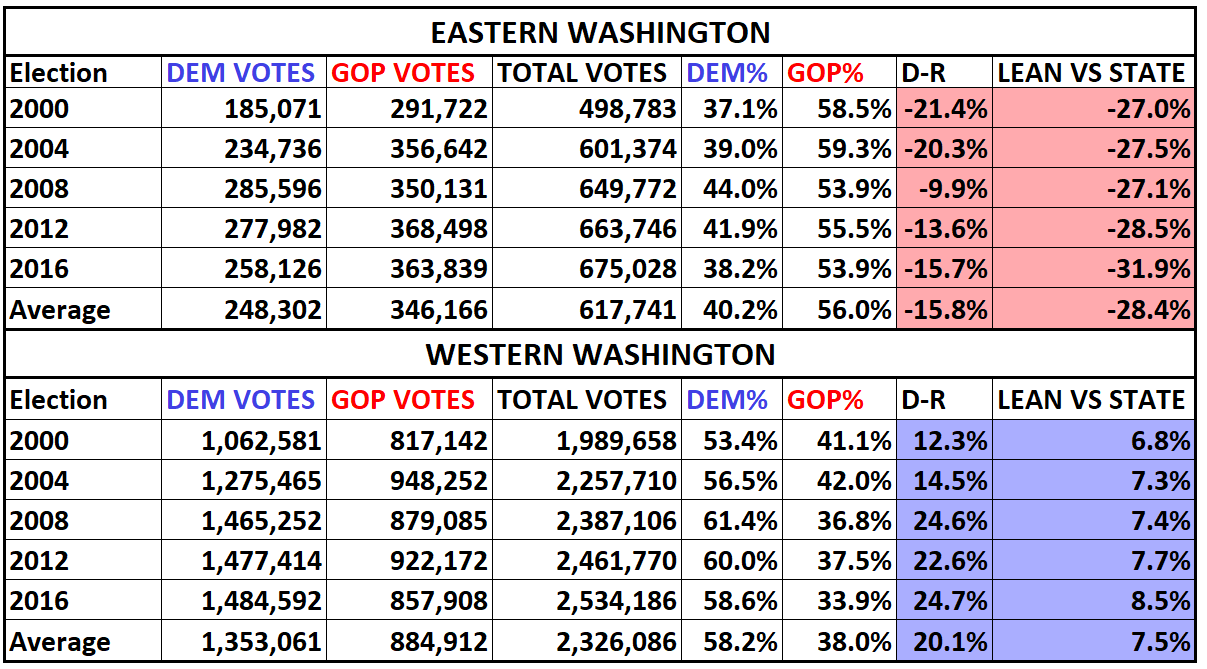 A changing Washington
The rise of Donald Trump and Bernie Sanders played a key role in the changing nature of Washington politics. In the western and southwestern parts of the state, Donald Trump flipped four working class counties in 2016 (Clallam, Cowlitz, Grays Harbor, and Pacific). At the same time, longtime progressive Seattle Rep. Jim McDermott (D) retired that year and was succeeded by Pramila Jaypal (D), a Bernie Sanders acolyte. Although McDermott's district went heavily for Senator Sanders in the non-binding Democratic primary that year, McDermott had already endorsed Hillary Clinton in 2015. The Seattle City Council has marched steadily leftward in recent years, inspired by Sanders' movement.
On the other side of the spectrum, Donald Trump's campaign resonated with the culturally conservative voters of coastal Washington, many of whom used to work in the once-dominant logging industry. A combination of the logging industry's decline and the Democratic Party's embrace of environmentalism has pushed these voters into the Republican Party. Grays Harbor County stands out: in 2016, Trump became the first GOP nominee since Herbert Hoover, in 1928, to win the county. Down the ballot that year, voters remained loyal to Rep. Derek Kilmer (D) and Sen. Patty Murray (D), a known commodity in state politics. Still, in a sign of the hardening polarization, Sen. Maria Cantwell (D) lost Grays Harbor County 52%-48% during her easy reelection in 2018.
Three of the four Obama/Trump counties in Washington are located in the state's 6th District. Represented by Kilmer since 2013, WA-6 stretches from Tacoma to more the working class coastal communities on the Olympic Peninsula. This district went for President Obama by 15% in 2012 and Hillary Clinton by 12% in 2016.
Kilmer is a relatively backbench Congressman but now serves as Chairman of the center to center-left New Democrat Coalition, the largest caucus among House Democrats. Rep. Kilmer tends to stay away from the spotlight and focuses mostly on local issues. An Ivy League graduate with a business background, he's quite different from other Democrats with strong working class appeal, like Senator Sherrod Brown (D-OH) and fellow Reps. Joe Courtney (D-CT), Pete Visclosky (D-IN), and Tim Ryan (D-OH). Although a popular local figure, Kilmer has started to lose ground in working class Grays Harbor.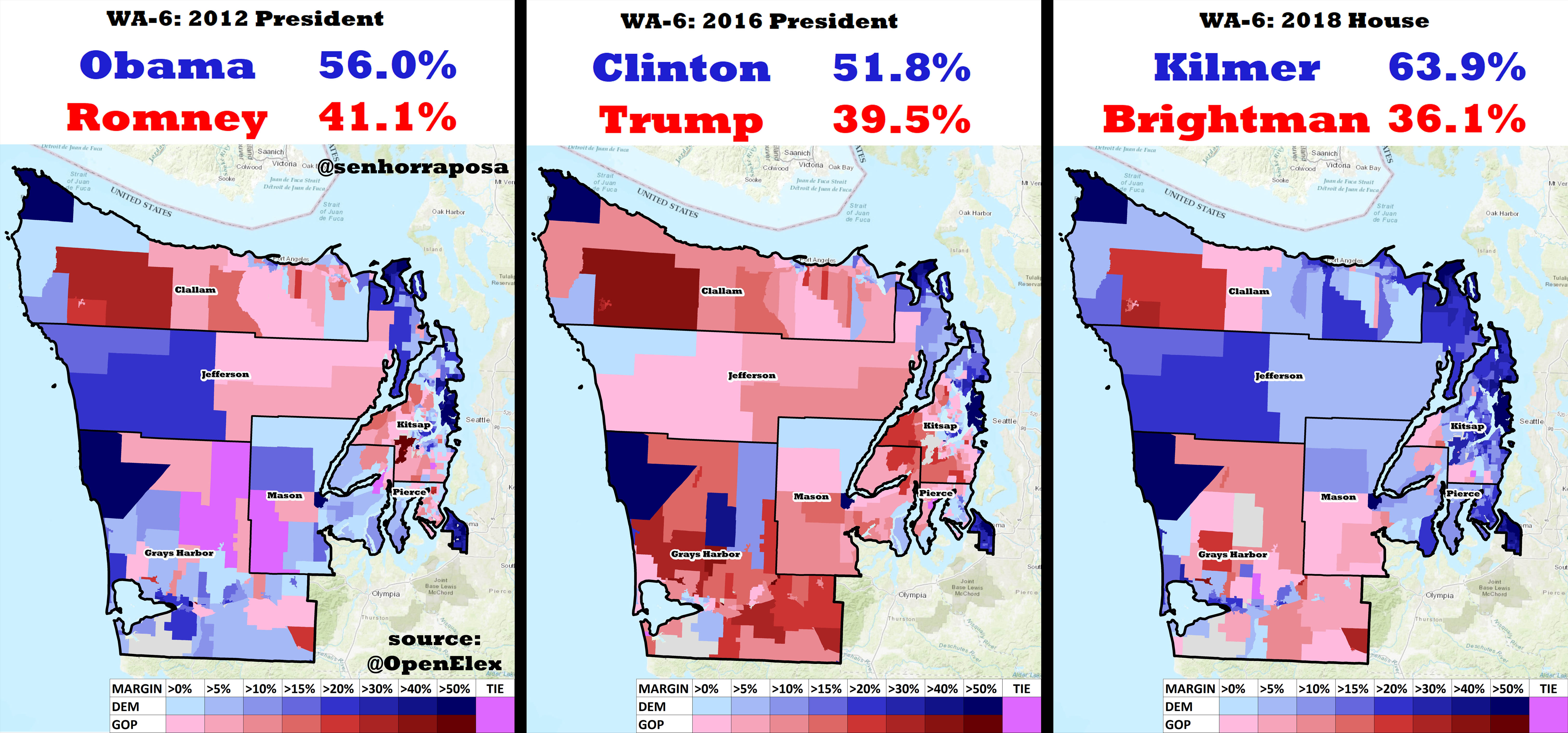 In 2018, Kilmer outran Obama by double-digits in all but Mason and Grays Harbor -- the two most working class counties in the district. Kilmer only slightly outperformed Obama in Mason and did worse in Grays Harbor. The once reliably Democratic blue collar voters are increasingly opting to vote Republican downballot. Still, Kilmer has strong appeal with these voters and could very well be a Senator down the line, in the style of Senator Cantwell.
Congressional Politics
Washington's House delegation has remained relatively stable in recent years but it went through a period of upheaval during Bill Clinton's first term. After the 1992 elections, Democrats controlled eight of the state's nine U.S. House districts but after 1994, that became a 7-2 Republican advantage.
Washington enjoyed outsized clout during the late 1980's and into the mid 1990's when 5th District Rep. Tom Foley (D) served as Speaker of the House. Representing eastern Washington since the mid 60's, Foley rose through the ranks of House Democratic leadership quickly, though his ascent was due to some favorable circumstances.
The backlash to Watergate swept in a fresh crop of liberal Democrats to the House in 1974. At the time, the Agriculture Committee was chaired by Bill Poage, a conservative Democrat from Waco, Texas. According to the Almanac of American Politics, the more liberal caucus felt Poage was too conservative for the post; they elected Foley Chairman instead.
Though 1980 was a disastrous election for Democrats nationally, it strengthened Foley's hand. As President Carter lost reelection, Republicans gained 34 seats in the House, and House Majority Whip John Brademas of Indiana was swept out in that red wave. Then an appointed position chosen by the Speaker and Majority Leader, the Majority Whip post was suddenly vacant and Foley, by then an ally of leadership, was chosen.
Ironically, Foley's rise through the party ranks complicated his standing back home. Eastern Washington, a more conservative region of the state, was growing increasingly friendly to Republicans. With the resignation of Speaker Jim Wright in the summer of 1989, he was elected Speaker of the House. By the early 1990's, Foley was the face of an increasingly liberal party. Initially, he seemed to bridge the gap well back home: he was reelected by a comfortable 38 point margin in 1990 but slid to just a 55%-45% win in 1992.
In 1994, the Republican Revolution was full steam ahead. Foley, an outspoken opponent of term limits, faced conservative Republican George Nethercutt that year. As Speaker of the House, Foley took positions that were mainstream within his caucus but out of step with his district's voters. Specifically, Nethercutt seized on Foley's support of the Assault Weapons Ban of 1994. In the end, Nethercutt became just the third person to defeat a sitting Speaker of the House for reelection. Winning by 4,000 votes, Nethercutt's victory cemented Republican grip on eastern Washington and the 5th district is still in GOP hands.
Today the 5th District is represented by Cathy McMorris Rodgers (R). As with Foley, McMorris Rodgers quickly rose through House Republican leadership: she served as Vice Chair of the Republican Conference from 2009 to 2013 and then Conference Chair from 2013-2019. Although Democrats targeted her in 2018, McMorris Rodgers still comfortably won reelection and it's hard to see this district being heavily contested soon. The district houses Spokane -- the state's second largest city -- as well as Pullman (home to Washington State University) but the rest of the district is quite red. With Republicans in the minority, McMorris Rodgers decided to step down from leadership and was succeeded by second-term Rep. Liz Cheney of Wyoming.
Looking at the House landscape this year, none of the Democratic-held seats are likely to be heavily contested. The 8th District is a largely suburban seat that was held for many years by Rep. Dave Reichert (R); it flipped when he retired in 2018. Republicans haven't put up any top tier candidates against his successor, Rep. Kim Schrier (D). The only open seat this year is Washington's 10th District, held by Denny Heck (D). Heck is retiring to run for the open Lieutenant Governor's office. While going Congress to Lieutenant Governor is certainly an unusual career move, it's not unheard of. Going into the 2014 cycle, Arkansas Rep. Tim Griffin (R) announced his retirement but then pivoted to the Lieutenant Governor's race and won.
In southwest Washington's 3rd District, Democrats are looking to give Rep. Jaime Herrera Beutler (R) a competitive race, after she was reelected by just 5% in 2018. She's likely to face a rematch with her 2018 opponent, Carolyn Long. Still, Herrera Beutler has some bipartisan appeal and, as discussed earlier, southwest Washington is home to many Obama/Trump voters. What keeps this district competitive is suburban Clark County. Immediately north of Portland, Oregon this growing suburban county is starting to vote like other similar suburban counties. Sabato's Crystal Ball rates WA-3 as Leans Republican. As a rare minority and woman in the heavily white and male House Republican Conference, defending Herrera Beutler is a top priority for many in the party.
Washington's two Senators are Democrats Patty Murray and Maria Cantwell. Murray ranks third in Senate Democratic Leadership and has often been mentioned as a future Senate Democratic Leader. She is the top Democrat on the Health, Education, Labor and Pensions Committee, and has generally worked well with Chairman Lamar Alexander (R-TN). The state's junior Senator is Maria Cantwell, a former congresswoman who was swept out in the 1994 wave but staged a political comeback in 2000. Cantwell keeps a lower profile and is generally considered the more moderate of the two; she'll frequently work across the aisle with Sen. Lisa Murkowski (R-AK). Still, on big issues, both of Washington's senators are reliable party votes.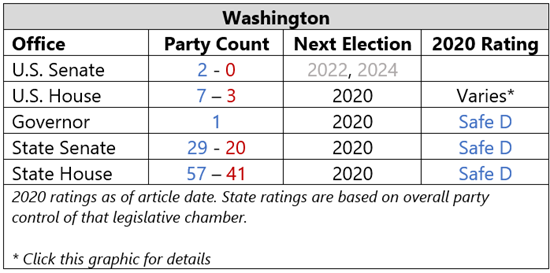 State level politics
At the state level, Washington is blue but not overwhelmingly so. Democrats hold small majorities in both chambers of the legislature and control all but two statewide offices. The two Republicans are Secretary of State Kim Wyman and Treasurer Duane Davidson. Both face strong challenges this year from a pair of state representatives. Wyman has generally been regarded as a competent bureaucrat so the election will be a test of whether she can overcome the state's partisanship. Running for a third term this year, she does have history on her side -- the Washington Secretary of State's office has been in Republican hands since 1964. Wyman only faced nominal opposition in 2016 and Davidson won in a unique scenario where Washington's top-two system led to two Republicans facing off.
Gov. Jay Inslee (D), a former congressman, holds high approval ratings and faces no serious opposition from Republicans this year. He is likely to cruise to reelection. His brief presidential bid last year, where he emphasized climate change, does not seem to have hurt him, and it almost seems like a distant memory at this point.
For redistricting, Washington uses a bipartisan commission comprised of five members, one appointed by each of the majority and minority leaders from the legislature. A fifth non-voting member is chosen by the four to serve as Chair. Such commissions generally prioritize incumbent protection for both parties. Redistricting is likely to be quite uneventful. The most likely change will be to shore up Kim Schrier and draw a much safer seat for her. The population boom in Washington will be the primary cause behind any major changes to the district boundaries.
Presidential outlook
Although Trump flipped a number of heavily working class counties in southwestern and western Washington, Hillary Clinton did 1% better statewide than Obama in 2012. Trump's struggles in the Seattle suburbs completely erased whatever gains he was able to make elsewhere. Although some Obama/Trump counties may not flip back, Joe Biden seems likely to improve upon Clinton's showing across the board. The Evergreen State's 12 electoral votes are solidly in the Democratic corner.
Next Week: Missouri

Reports in this series:
comments powered by

Disqus
Headlines