The Road to 270: Delaware
By Drew Savicki
May 18, 2020
The Road to 270 is a weekly column leading up to the presidential election. Each installment is dedicated to understanding one state's political landscape and how that might influence which party will win its electoral votes in 2020. We'll do these roughly in order of expected competitiveness, moving toward the most intensely contested battlegrounds as election day nears.
The Road to 270 will be published every Monday. The column is written by Drew Savicki, a 270toWin elections and politics contributor. Contact Drew via email or on Twitter @DrewSav.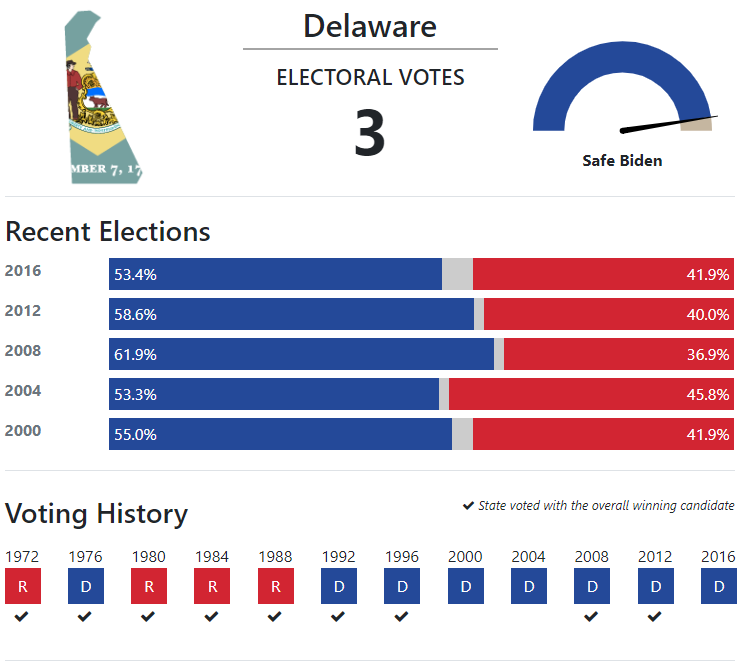 Straddling the Mason-Dixon line, Delaware is quite a curiosity. With just three counties, it is the second smallest state by area in the United States. Home to affluent whites and a sizable African-American population, there's no state quite like the First State. Delaware gets to know its politicians and expects to see them. Voters get to know their representatives and, in Congress, that means they pretty much stay there as long as they want.
2000: A legend falls
In 2000, longtime Senator Bill Roth (R) faced a spirited challenge from Governor Tom Carper (D). This was a watershed election. Roth had never faced a competitive reelection bid as Senator but with Delaware's shift to the Democratic Party, he was viewed as being on shaky ground. A two term Governor, Carper was by 2000 a fixture of Delaware politics. Having served six years as State Treasurer, 12 years as Delaware's Congressman, and then eight years as Governor, Carper was the ultimate Democratic candidate to take on Bill Roth.
Roth, 79 at the time, was a political legend in Delaware. A two term Congressman before he entered the Senate in 1971, he was known for his expertise on taxes and other financial issues. Per the Almanac of American Politics, Carper had been mentioned as a candidate against Roth in the 1988 and 1994 cycles. Carper opted to run for reelection in 1988 and then successfully ran for Governor in 1992. Bill Roth was not in the best of shape by 2000, having collapsed twice during the campaign including during an interview. Carper won by 12 points and has easily won reelection ever since, having garnered at least 60% of vote in his three races since then.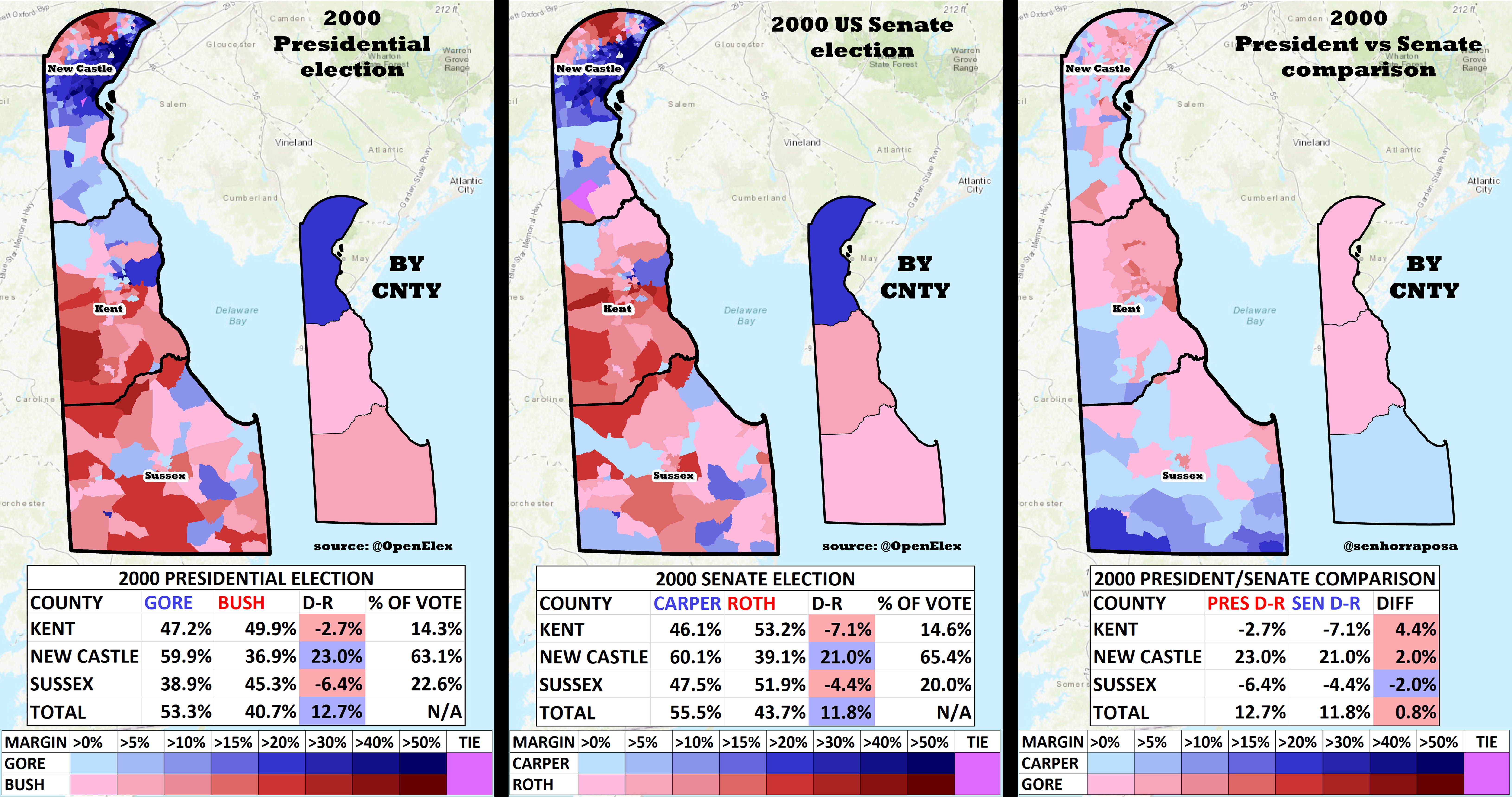 Carper's performance was about 1% worse than Al Gore's that year. Looking beneath the surface, Carper was weaker than Gore in the Wilmington suburbs and around the state capital of Dover. Tom Carper really showed much stronger appeal with rural voters than Al Gore did.
Geography
Delaware's geography is relatively simple. The state has three counties, each of them unique in their own way.
New Castle County: Home to Wilmington, New Castle County comprises about 60% of the state's population and is the heart of Democratic support in the state. The once Republican suburbs are now almost all blue.
Kent County: A mixture of suburban and rural areas, Kent is home to Delaware's capital - Dover. Kent is the only swingy county in the state, frequently alternating between Democrats and Republicans.
Sussex County: Southern Delaware is the most rural part of the state and home to a number of poultry plants. Dominated by Republicans at all levels of government, Sussex last voted Democratic for President in 1996.
Congressional politics
During his long tenure in the Senate, Joe Biden participated in a number of significant events. By 1987, Biden had risen through the ranks to chair the Senate's powerful Judiciary Committee. Biden faced enormous pressure from outside liberal groups to derail the nomination of Robert Bork to be an Associate Justice on the Supreme Court. President Reagan had nominated Bork in July 1987, a month after Biden declared his intention to run for President in 1988. According to the Almanac of American Politics, Biden helped sway wavering Senators Howell Heflin (D-AL), Dennis DeConcini (D-AZ), and Arlen Specter (R-PA) from breaking ranks and advancing Bork's nomination to the full Senate.
Joe Biden's 1988 bid for President ultimately fell apart after plagiarism allegations surfaced. Biden would try again 20 years to no avail, though it did result in him becoming Barack Obama's running mate that year. After eight years as Vice President, Joe Biden considered running for President again in 2016 but ultimately decided against it - following the death of his son Beau. Biden would make his third bid for the Presidency in 2020 and after a long slog, ended up rather easily defeating his main rival, Senator Bernie Sanders.
In his three presidential bids, Joe Biden's biggest opponent has always been himself. Known for his off the cuff speaking style, Biden has demonstrated an ability to connect with voters of all stripes. Frequently gaffe prone, Biden has a habit of sticking his foot in his mouth - having on a number of occasions over the years told people not to vote for him.
Since November 2010, Delaware's junior Senator has been Chris Coons. A moderate Democrat, Coons was elected in a 2010 special election against Republican nominee Christine O'Donnell. In response to a resurfaced 1999 clip of her on Bill Maher's Politically Incorrect which featured her admitting to having dabbled in witchcraft, O'Donnell produced an iconic video where she addressed her comments by saying "I'm not a witch". In a stunning upset, O'Donnell had defeated Rep. Mike Castle in the Republican primary earlier that year. Castle, a moderate Republican was enormously popular in the state, had won reelection in 2008 with 61% of the vote -- in fact, before that 2010 primary defeat, he had never lost an election.
Castle would have been the clear favorite to win the Senate seat amidst the national Republican wave of 2010. Despite the national environment, Democrats flipped Castle's open House seat with former Lt. Governor John Carney – it was one of just three seats that flipped from red to blue that year. Democrats have held the seat since. Castle also remains the last Republican elected Governor of Delaware, with his reelection in 1988.
Coons often rankles the left, drawing a primary challenger this cycle just as his senior colleague did in 2018. According to Morning Consult's most recent poll from Quarter 4 of last year, Coons had a net approval of +56 among Democrats so he should be in little trouble. The general election is not expected to be much of a race either with it rated as 'Safe Democratic' by the three major political forecasters.
Serving as Delaware's sole representative in the House is Lisa Blunt Rochester (D). A former staffer to Tom Carper during his governorship, Blunt Rochester is well versed in Delaware politics. A member of the center to center-left New Democrat Coalition and the Congressional Progressive Caucus, Blunt Rochester is the most liberal member of Delaware's congressional delegation. Her committee assignments - Agriculture and Education - reflect her state's priorities well. A prominent African-American female politician in the state, Blunt Rochester is often mentioned as a successor to Tom Carper should he retire in 2024. To date, only two black women have been elected to the U.S. Senate1 1The first, Carol Moseley Braun (Illinois) was elected in 1992, serving one term. Kamala Harris (California) is serving her first term after being elected in 2016. and should Blunt Rochester run, she would be heavily favored to win in this solidly Democratic state.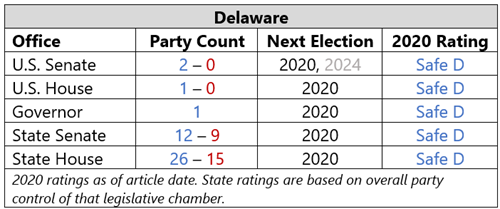 State level politics
At the state level, Delaware is increasingly dominated by Democrats. The party has controlled the Governorship since 1993 and maintained a trifecta since 2009. 2018 marked a turning point for Republicans in the state. Two members of GOP leadership were defeated for reelection. Senate Minority Whip Greg Lavelle and House Minority Deborah Watson were defeated in upsets. Treasurer Ken Simpler, a moderate Republican was defeated and State Auditor Tom Wagner retired, resulting in the office flipping to Democrats.
At the gubernatorial level, Democrats have won six of the last seven races by double digits. Governor John Carney was elected in 2016, defeating State Senator Colin Bonini (R). Carney was elected Congressman in 2010 when Rep. Mike Castle (R) ran for the Senate seat vacated by then Vice President Joe Biden. Prior to his three terms in the House, Carney served as Lieutenant Governor of Delaware - under Governor Ruth Ann Minner (D). As Governor, Carney has generally posted high approval ratings (even pre-pandemic) and none of the major elections forecasters consider the race competitive. Republicans are likely to nominate a replacement level candidate against him.
Joe Biden's son Beau, a former National Guardsman and Attorney served two terms as Delaware's Attorney General. Beau Biden was a popular figure in the state, facing no Republican opponent for his second term in 2010. Biden declined to run for a third term in 2014 and instead announced a bid for Governor to succeed term limited Governor Jack Markell. Lieutenant Governor Matt Denn ran for the open Attorney General's office and won. After several years of battling brain cancer, Beau sadly died in 2015. Attorney General Matthew Denn surprisingly announced his retirement in August 2017, after twelve years of holding statewide office.
In the 2016 elections, Republicans gained one seat in the Delaware Senate. In addition, Senator Bethany Hall-Long (D) resigned to become Lieutenant Governor, meaning the chamber was deadlocked. In Delaware, the Lieutenant Governor serves as President of the Senate and Hall-Long broke the tie in favor of her party, thus giving them the control of the chamber. Democrats successfully defended Hall-Long's district in a special election in 2017, giving them 11 seats to Republicans 10. The party picked up an additional seat in 2018, giving them the current 12-9 majority.
Presidential outlook
Hillary Clinton only carried the First State by 11% in 2016 but with Joe Biden likely atop the ticket, Delaware's three electoral votes are solidly in the Democratic corner this year. Its been a long time since Joe Biden was on the ballot in his home state. A lot has changed in the intervening years and Delaware's urban/rural divide has only grown stronger. However given the former Vice President's popularity in his home state, it stands to reason there will be a number of voters who cast their ballots for Trump in 2016 but will vote for their former Senator this time around.
Next Week: Mississippi

Reports in this series:
comments powered by

Disqus
Headlines