Missouri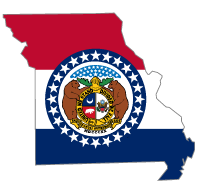 Missouri gained statehood in August 1821. A Midwestern state bordering the south, Missouri has, until recently, been a true battleground state with amazing historical accuracy at voting for the ultimate election winner. From 1904 through 2004, Missourians got it wrong just once – preferring Adlai Stevenson over Dwight Eisenhower in 1956. In 2008, the streak ended when Barack Obama lost to John McCain by the slenderest of margins, 49.4% to 49.3%, or about 3,900 votes out of 2.93 million cast. Obama lost here again in 2012, this time by 9.5%. An even bigger margin was achieved by Donald Trump in 2016, he won by nearly 19% over Hillary Clinton.

As 2016 marked the fifth straight Republican win, it is becoming a fairly reliable state for the GOP in presidential elections. Like many Midwestern states, population growth has been slower in recent decades than the country as a whole, resulting in declining electoral influence. From a peak of 18 electoral votes just prior to the Great Depression, Missouri has been reduced to 10 today.
Voting History
State voted with the overall winning candidate
Electoral College Votes
Colored bars represent electoral votes by party. Hover to see names. 2020 electoral votes shown in dark green until after the election.