New Jersey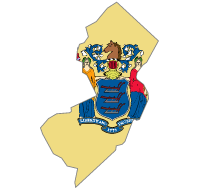 New Jersey, one of the 13 original colonies, joined the Union in December 1787 and has participated in all 58 presidential elections. Thanks to the density of its population, New Jersey has more electoral votes per square mile than any state except Rhode Island. Its 14 electoral votes make it a rich prize, although that number has dropped from 17 in the 1970s as the state's population growth, like much of the Northeast, has not kept pace with the rest of the country. New Jersey has gone Democratic in the last seven elections, after voting Republican in the previous six. Hillary Clinton won the state over Donald Trump by a margin of 55% to 41% in 2016.
Voting History
State voted with the overall winning candidate
Electoral College Votes
Colored bars represent electoral votes by party. Hover to see names. 2020 electoral votes shown in dark green until after the election.