Democrat Stacey Abrams effectively conceded defeat Friday afternoon, acknowledging that Republican Brian Kemp will be Georgia's next governor. All 36 gubernatorial elections have now been called by our results partner, Decision Desk HQ.
Prior to the election, Republicans held 33 of the 50 governorships, with 16 Democrats and 1 independent holding the remaining seats. Democrats flipped seven seats, winning Republican-held seats in Illinois, Kansas, Maine, Michigan, New Mexico, Nevada and Wisconsin. The lone GOP gain came in Alaska.
Click the image below to see the results for all 36 elections. We also have an interactive version of the 2018 actual results.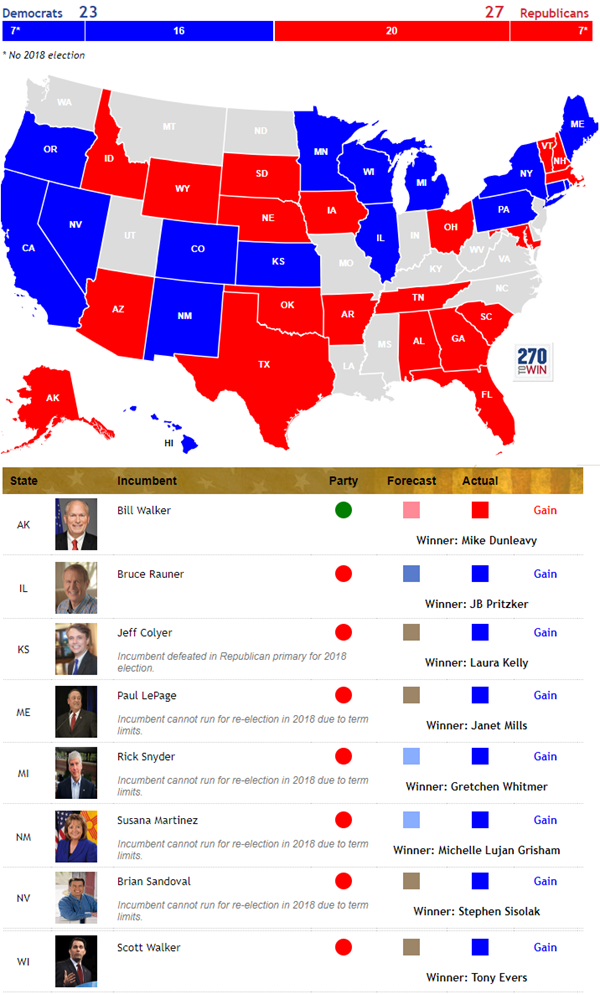 Next year will see gubernatorial elections in Kentucky, Louisiana and Mississippi. First term governors Matt Bevin (R, KY) and John Bel Edwards (D, LA) are expected to seek re-election. Gov. Phil Bryant (R) is term-limited in Mississippi. The 2019 elections will be held on Tuesday, November 5th.