Indiana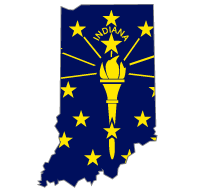 Indiana joined the Union in December 1816. It has been primarily Republican throughout its history, and today is the "reddest" state in the Midwest. Since 1940, it has only voted Democratic in 1964, when Lyndon Johnson won a landslide over Barry Goldwater and again in 2008, when Barack Obama edged John McCain in the third closest race of that election (behind Missouri and North Carolina). Republicans have won by double-digits in the last two elections, with Donald Trump receiving about 57% to Hillary Clinton's 38% in 2016.
Voting History
State voted with the overall winning candidate
Electoral College Votes
Colored bars represent electoral votes by party. Hover to see names. 2020 electoral votes shown in dark green until after the election.