The Road to 270: Missouri
By Drew Savicki
June 8, 2020
The Road to 270 is a weekly column leading up to the presidential election. Each installment is dedicated to understanding one state's political landscape and how that might influence which party will win its electoral votes in 2020. We'll do these roughly in order of expected competitiveness, moving toward the most intensely contested battlegrounds as election day nears.
The Road to 270 will be published every Monday. The column is written by Drew Savicki, a 270toWin elections and politics contributor. Contact Drew via email or on Twitter @DrewSav.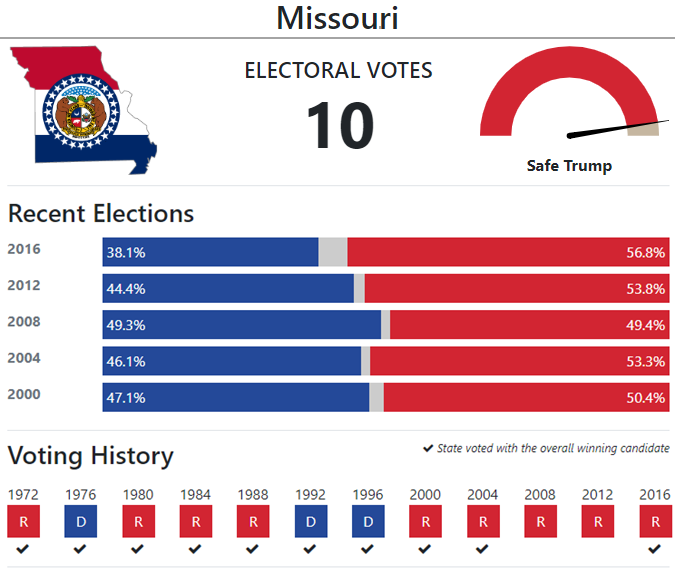 In 1820, Missouri was admitted to the Union as part of the Missouri Compromise. It was admitted as a slave state while Maine -- until then, largely a part of Massachusetts -- was admitted as a free state. Missouri is located in a unique geographic position: it's neither fully northern nor southern. This border state status allowed Missouri to develop a political culture influenced by both regions of the country. Electorally, this confluence led to a state that was often reflective of the nation as a whole -- until recently.
The death of a bellwether
From 1904 to 2016, Missouri voted for the winning presidential candidate in all but three elections (1956, 2008, and 2012). Since 2008 the state has lurched rightward and is now firmly in the Republican column. As Barack Obama was winning by seven points nationally, he lost Missouri to John McCain by less than 4,000 votes or 0.13%. This stunning result prompted many Democrats to wonder whether the great Missouri bellwether was dead. In fact, going into the election, Obama, as a senator from next door Illinois, even had some built-in name recognition in the populous St. Louis metro area. The Democratic ticket visited the state 13 times during that 2008 general election campaign and the Republican ticket visited the state 14 times, while both camps spent roughly $10 million each there. The problem for Democrats has been the staunch rightward shift of everything outside four reliably blue localities: the urban core of Boone, Jackson and St. Louis counties, as well as the city of St. Louis.1 1The city of St. Louis seceded from St. Louis County in 1876. It is one of the few U.S. cities not part of any county.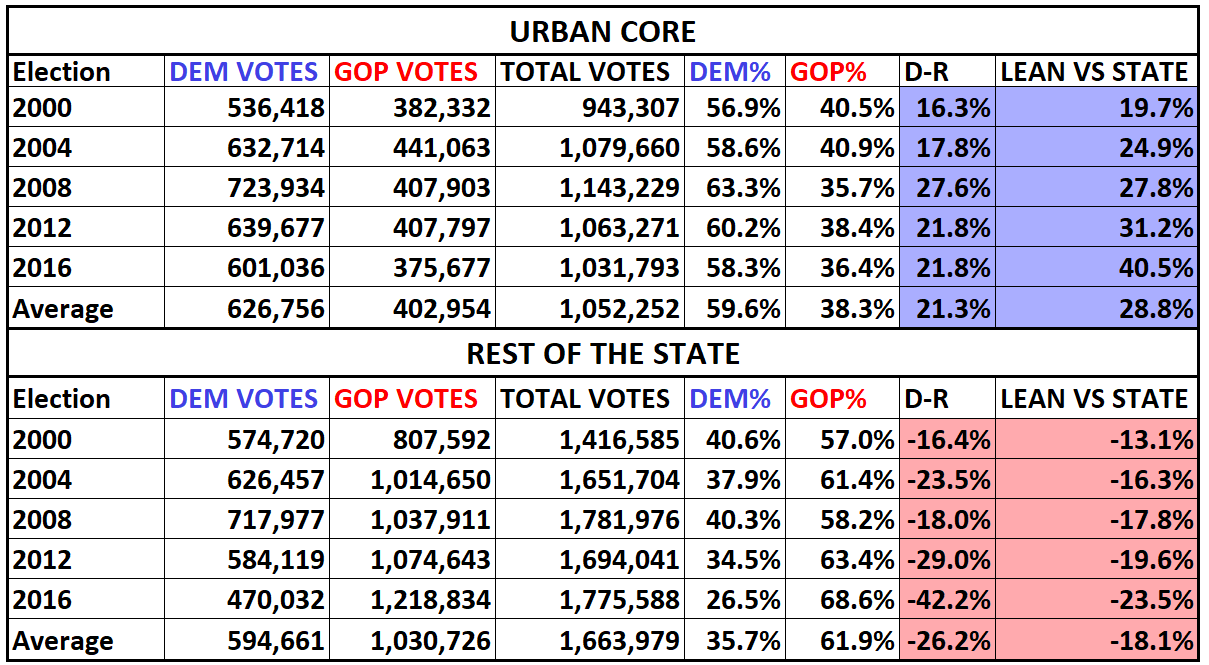 Hillary Clinton matched Obama's margin in the state's urban core but fell off elsewhere -- Trump ran 13 points ahead of Mitt Romney's showing in the rest of the state. In addition to the rural areas, even some of Missouri's suburban counties now vote Republican. It's clear that the rural slippage for Democrats began long before the Trump era did. Since Obama-Biden in 2008, no Democratic ticket has visited the state -- something unlikely to change soon. Once an important cultural and political bellwether, Missouri is increasingly conservative.
Regional divides give way to nationalization
Like many states, Missouri used to have stark regional divisions that drove its politics. In southeastern Missouri lies the Lead Belt, a seven-county region known for its status as the largest concentration of lead in the world. Like other mining communities, the Lead Belt -- with its historical ties to organized labor -- was once reliably Democratic but has strongly trended towards Republicans in recent years. One of the poorer and less educated regions of the state, it's no surprise that the region is losing population. As blue collar whites continue to trend Republican, areas like this will drift away from the Democratic Party.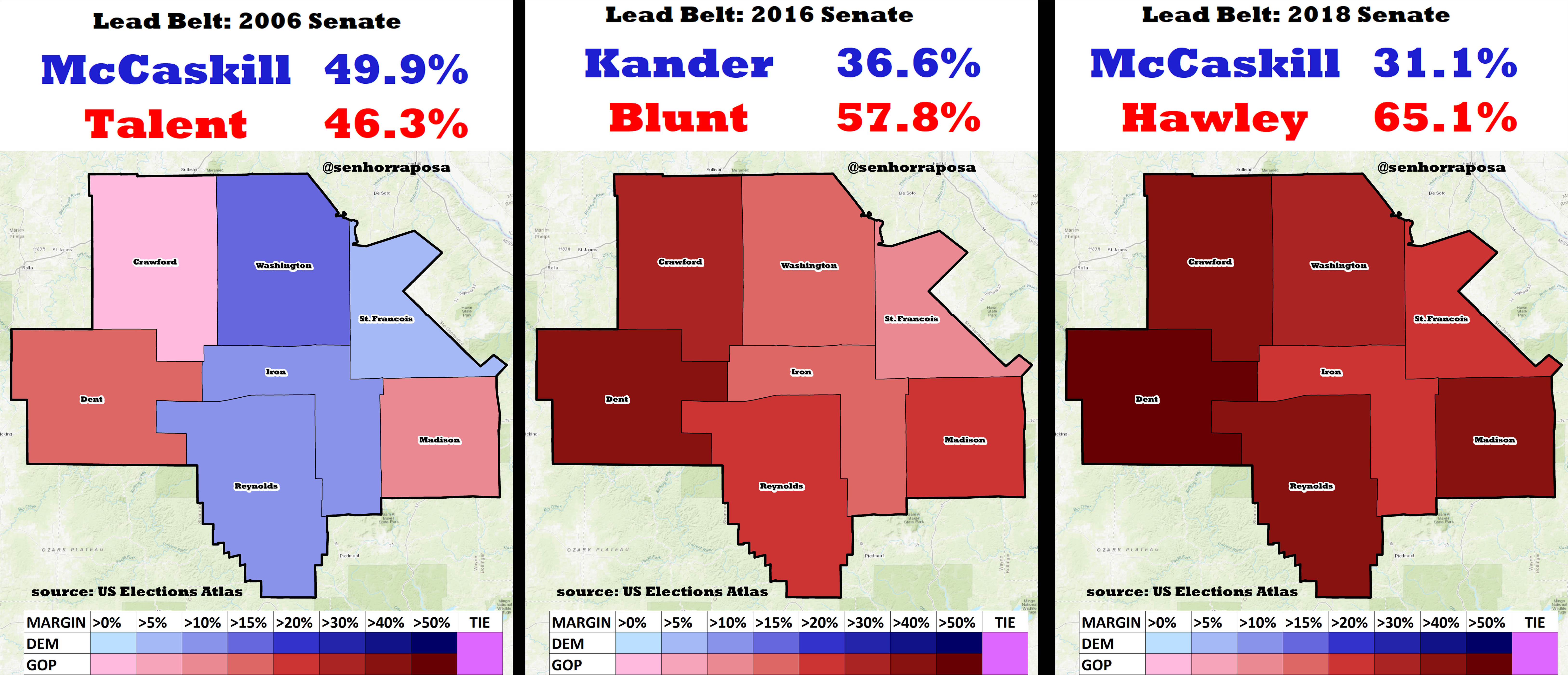 Further southeast, the Bootheel has undergone a similar transformation. A 1930 House race illustrates its old allegiance well: The Bootheel, and counties around it, were loyally blue while western counties, in the Ozarks, were red. As politics became increasingly nationalized -- with elections falling more along urban/rural lines -- older regional divides have disappeared.
Today, Missouri's congressional delegation is dominated by Republicans, but it wasn't always that way: some of the state's most iconic figures in Washington D.C. were President Harry Truman, and later, veteran Democratic congressmen Ike Skelton and Dick Gephardt. Democrats hold just two of the state's eight congressional districts: St. Louis' 1st District and the Kansas City-based 5th District. The state's two Senators are Republicans Roy Blunt and Josh Hawley.
First elected to the Senate in 2010, Roy Blunt has been a fixture of Missouri politics for several decades. He was elected Missouri's Secretary of State in 1984 and was reelected in 1988. After an unsuccessful bid for Governor in 1992, Blunt ran for the open MO-7 in 1996. Anchored by the city of Springfield and cradled in the Ozarks, southwestern Missouri is traditionally the reddest part of the state. Even as President Clinton won the state by 6% that year, he didn't carry a single county in the district. Blunt won 65%-32%.
From a safe district, Blunt quickly ascended through House leadership, becoming Chief Deputy Whip in his second term and Majority Whip in 2003. Upon the resignation of Majority Leader Tom Delay, Blunt served as Acting Majority Leader for several months in 2005. He then served as Minority Whip after Republicans lost the House in 2006. A month after Senator Kit Bond (R) announced his retirement in January 2009, Blunt announced he was running for the open seat. He easily dispatched Democratic Secretary of State Robin Carnahan, daughter of the late Governor Mel Carnahan. In the Senate, Blunt is also a member of Republican Leadership. An ally of Majority Leader Mitch McConnell, Blunt is regarded as an establishment conservative. Though mostly a reliable vote for his party, he sometimes rankles activists -- recently for his opposition to the President's use of an emergency declaration to fund the border.
Blunt's 2016 reelection was surprisingly close. He faced a strong challenge from Missouri Secretary of State Jason Kander (D). Against attacks from the National Riffle Association over his support for background checks in this rural gun friendly state, Kander touted his service in the Army and his familiarity with guns. Kander had one of the most memorable campaign ads of all time: he assembled a rifle blindfolded. Though Kander lost 49%-46%, it was much better than Clinton's punishing 56%-38% loss -- if the presidential ticket had done just a few points better, it's easy to see the senatorial result being different.
Representing the state in the U.S. Senate from 2007 to 2019 was Democrat Claire McCaskill. With the grit and tenacity of a country lawyer, McCaskill had a long career in Missouri politics. In the 1980s, she represented Kansas City in the Missouri House of Representatives. She was elected to the Jackson County Legislature (the equivalent to a county commission) in 1990 and was elected Jackson County Prosecutor the following year. She first won statewide in 1998, becoming state Auditor, and had an easy reelection bid in 2002 against a convicted felon. In 2004, McCaskill made the unusual decision to primary the (increasingly unpopular) incumbent Governor -- Bob Holden -- but lost the general election to Secretary of State Matt Blunt (R) (Sen. Blunt's son). In 2006, though, she rebounded to win a U.S. Senate seat. Shortly after, in 2008, she made waves by becoming the first woman senator to endorse then-Sen. Obama's presidential campaign.
By 2012, it was evident Missouri was drifting rightward, and McCaskill was widely considered one of the most vulnerable Democratic incumbents up for reelection. Recognizing this, she famously meddled in the GOP primary that year and got her preferred opponent: Rep. Todd Akin. A congressman from the St. Louis suburbs, Akin was known as a devout social conservative. Initial post-primary polling showed Akin ahead, but in August, he ignited a firestorm with his comments on rape and abortion. The National Republican Senatorial Committee (NRSC) subsequently pulled their support of him (though they came around just before the election). Ultimately McCaskill pulled off a 15 point win, despite Obama's nine point loss in the Show Me State.
Vowing not to get burned again, Republicans made the 2018 Senate race a priority. After Trump's resounding victory in the Show Me State, national Republicans looked to state Attorney General Josh Hawley. Hawley impressed Republicans with his first run for office in 2016 -- he easily won an open post. Although his 2016 ads critiqued career politicians who jump from job to job, he found himself on that same course.
Though McCaskill was no slouch, the partisanship of the state weighed heavily. After numerous visits from President Trump and in the wake of the contentious Supreme Court nomination of Brett Kavanaugh, McCaskill found her crossover appeal dry up -- she lost 51%-46%. As a candidate who modeled herself after the state's most famous son, Harry Truman, McCaskill's defeat signaled the end of an era for Missouri Democrats. As for Hawley, he's been a conservative populist in the Senate, and is often mentioned as a future GOP presidential candidate.
Looking at the House, elections in seven of Missouri's eight districts were decided by a margin of 25% or greater in 2018, making it a very safe map for the incumbent party. The one exception is in the 2nd District, which encompasses the St. Louis suburbs and is expected to see yet another competitive race this year. State Senator Jill Schupp (D) is challenging four-term Rep. Ann Wagner (R), who had a close 2018 race. Originally drawn as a securely red seat, both Senator McCaskill and Auditor Galloway carried it in 2018. Schupp has fundraised well but Wagner has a substantial financial lead. Forecasters such as Sabato's Crystal Ball rate the 2nd District as 'Leans Republican,' so Wagner is the favorite but not prohibitively so.
State level politics
2016 was a realigning election in Missouri. With Trump's coattails, Republican candidates swept into all statewide offices that year. The 2016 gubernatorial race was interesting: Democrats ran state Attorney General Chris Koster, a Republican until 2007, while the GOP nominated first-time candidate Eric Greitens, who was a registered Democrat for much of his life -- in that way, it was actually like the presidential race: Trump has a history of party switching while Clinton was originally a Republican. In any event, Koster received endorsements from some notable GOP-leaning groups, namely the state Farm Bureau and the NRA, but it was such a red year that he still lost 51%-46%. Hawley won the open Attorney General's office and Jay Ashcroft, an attorney and son of elder statesman John Ashcroft, won the open Secretary of State's office. Missouri is unusual in that only two offices have term limits: Governor and Treasurer. Democrat Clint Zweifel was term limited in 2016 and Republicans easily picked up the office.
A number of resignations in the past few years have shaken up Missouri's row offices. In 2018, Greitens resigned amidst a sexual blackmail scandal and first-term Lt. Gov. Mike Parson assumed the Governorship. In office, Parson has been largely scandal-free and is governing as a mainstream conservative. When Hawley resigned to become a U.S. Senator, Parson appointed Treasurer Eric Schmitt to fill the vacancy. State Representative Scott Fitzpatrick was appointed to the Treasurer's office.
As a result of the shuffling, of the five statewide officers elected in 2016, Ashcroft is the only one who still holds the same office. Except for its state Auditor, Missouri elects its row officers in presidential years. Given the increasingly red lean of the state these days, none of these races are likely to be competitive and Republicans are expected to hold all of them.
Missouri's lone statewide Democrat is Auditor Nicole Galloway, who served as Boone County Treasurer prior to her appointment to the position by then-Gov. Jay Nixon (D) in 2015. Nixon appointed her following the death of Auditor Tom Schweich (R). Galloway ran for and won a full term in 2018, against Republican Saundra McDowell. As the party's best hope, she announced a bid for Governor in August 2019, though still faces an uphill race. Parson, who lacks Greitens' baggage, has the lean of the state on his side. Limited polling of the race has shown Parson with a lead of at least high single-digits. The presence of Trump on the ballot once again should help Republicans down the ballot.
Looking to redistricting, Republicans have large supermajorities in both chambers of the legislature; the best Democrats can hope for is breaking the supermajority and winning the Governorship. The Democratic-held 5th District could see some major alterations after 2020. Republicans could easily divide up Kansas City multiple ways, thus diluting the Democratic vote. In 2018, voters approved redistricting reform for state legislative maps but many Republicans in the legislature are pushing for a repeal of the amendment.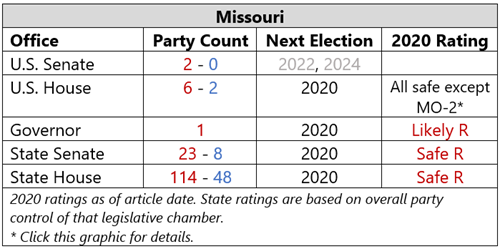 Presidential outlook
Joe Biden seems likely to improve upon Hillary Clinton's performance in the Show Me State but it's unlikely to receive much attention. Flipping the state seems out of the question, though Democrats are focusing on unseating Rep. Wagner in MO-2. A suburban district where Trump did worse than Romney, the 2nd District is likely to be the main target of political spending in the state.
Next Week: New Jersey

Reports in this series:
comments powered by

Disqus
Headlines