The Road to 270: Indiana
By Drew Savicki
June 22, 2020
The Road to 270 is a weekly column leading up to the presidential election. Each installment is dedicated to understanding one state's political landscape and how that might influence which party will win its electoral votes in 2020. We'll do these roughly in order of expected competitiveness, moving toward the most intensely contested battlegrounds as election day nears.
The Road to 270 will be published every Monday. The column is written by Drew Savicki, a 270toWin elections and politics contributor. Contact Drew via email or on Twitter @DrewSav.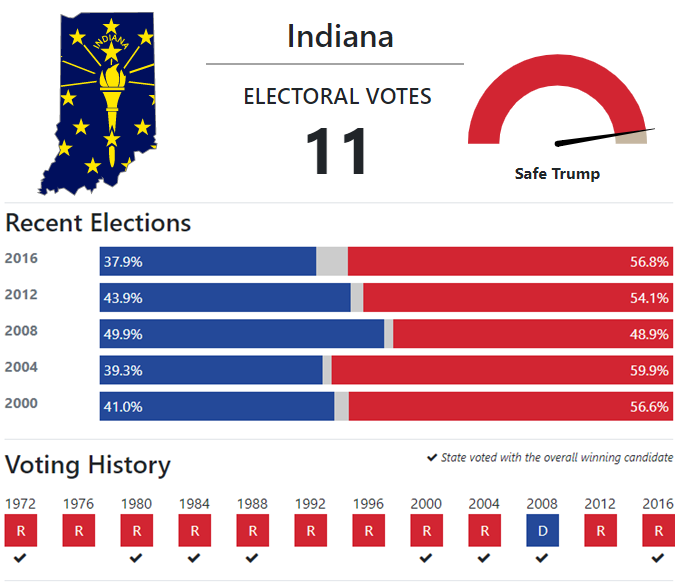 Indiana has produced six Vice Presidents: from Schuyler Colfax, who held office when much of the Postbellum South was still under military rule, to the current incumbent, Mike Pence. Though it was often competitive at lower levels, the Hoosier State has voted blue for president just five times since 1900. Outside the major metro areas, industrial towns dot the landscape. Home to the nation's third largest Amish population, Indiana has gained a reputation for its social conservatism.
2008: Barack Obama does the impossible
In 2008, Indiana was considered among the most Republican states in presidential races -- as the only state in the Great Lakes region that wouldn't support Bill Clinton in the 1990s, it had last voted Democratic for president in 1964. Still, Barack Obama, who perhaps had an extra dose of Midwestern appeal as the senator from next-door Illinois, contested it. The Obama campaign ultimately spent $17 million on the state and visited it eight times during the course of the 2008 campaign. After John Kerry lost the state by 21% in 2004, Obama carried it by 1% -- outside of his native Hawaii, Indiana was the state that swung most to Obama.
Since every county got more Democratic from 2004 to 2008, looking at the swing -- or the outright change in the margins -- isn't terribly instructive. Instead, let's look at what some call the 'trend' or change in the deviation. Essentially what this measures is the change in how each county voted vs the change in the statewide margin. For example let's look at Marion County (Indianapolis). In 2004, it voted 23% more Democratic than the state as whole but in 2008 it voted 28 points left of the state so that means it shifted five points towards Democrats. There's no perfect measure to accurately capture the swing but this is an alternative way to look at the change.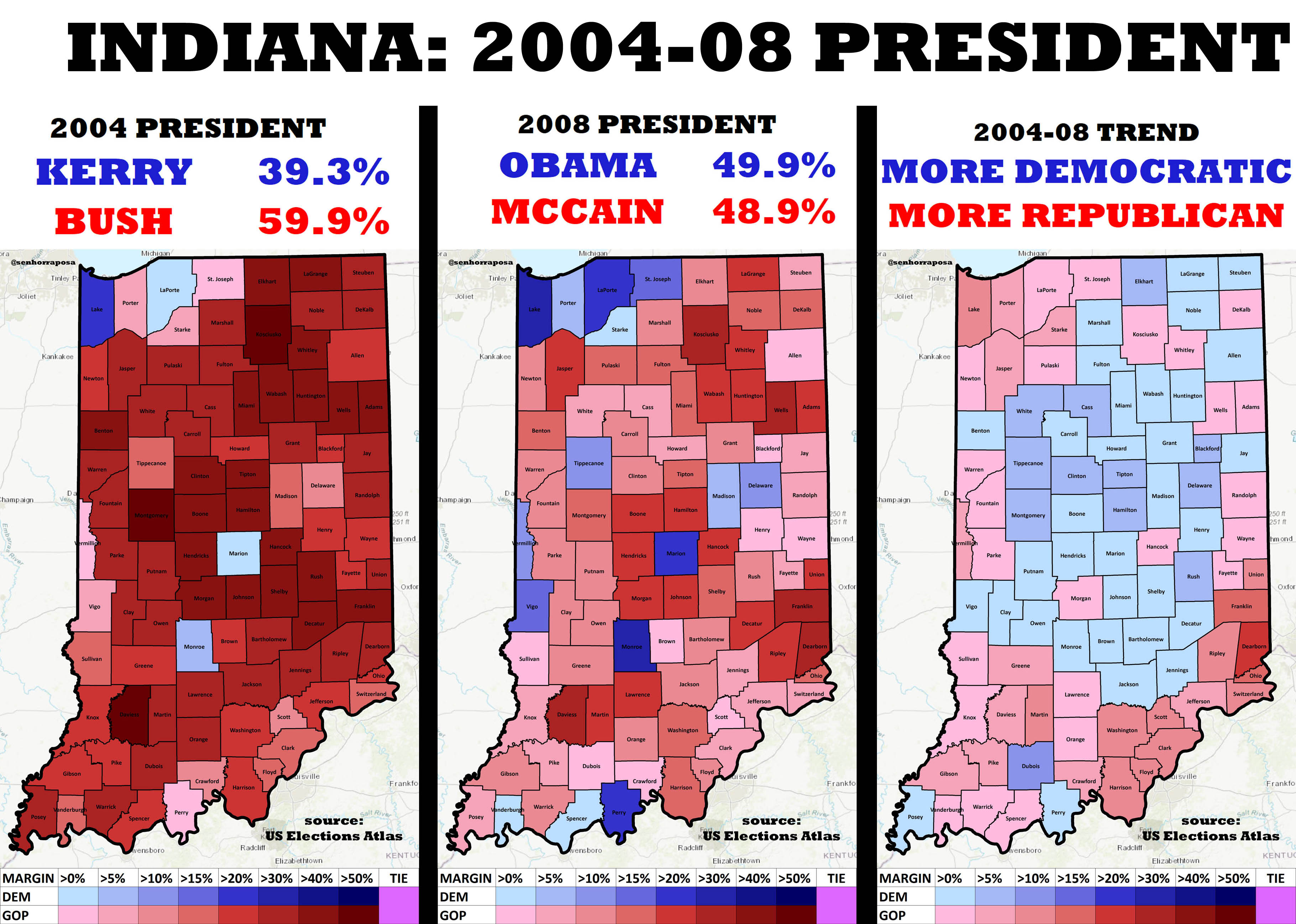 Southern Indiana's shift is notable. Strictly speaking, none of Indiana is located in Appalachia, but its southern portion would, culturally, fit right in. All but two counties along the Kentucky border trended rightward from 2004. Though it accelerated in 2016, the decline in Democratic performance in the south could be seen pre-Trump. The suburban shift can also be seen here, with Obama's gains in the northern Indianapolis suburbs, as well as Allen County (Fort Wayne). Some of the more usually Democratic counties -- like Lake in the northwest, situated near Chicago -- trended rightward simply because there wasn't much room for Obama to grow the margins.
In their post-2008 book How Barack Obama Won, Chuck Todd and Sheldon Gawiser claim that the foundation of Obama's Hoosier State upset was in the May primary. By the time Indiana voted in May, the Democratic primary was a true two-way race between Obama and Hillary Clinton. Though Obama came up slightly short to Clinton, his campaign made serious investments in their state apparatus -- this would be useful to him in the fall.
Congressional Politics
The 2010s have seen an almost complete turnover in the state's congressional delegation. In 2012, the late Sen. Dick Lugar -- a veteran Republican moderate, whom Obama even cites as a mentor -- lost renomination to state Treasurer Richard Mourdock, a Tea Party-backed candidate. In the general election, Mourdock made some controversial comments on abortion that were eerily similar to those from fellow GOP Senate nominee Todd Akin, over in Missouri (we recently profiled Missouri and mentioned Akin's race). Democrats ran Rep. Joe Donnelly, a moderate Blue Dog from the South Bend area. Though the Obama campaign ignored the state in 2012, ultimately losing it by 10%, Donnelly won 50%-44%.
Like Missouri's Sen. Claire McCaskill, Donnelly had Republicans gunning for him in 2018. Early in the cycle, the Republican primary seemed like a contest between sitting congressmen Luke Messer and Todd Rokita, while former State Rep. Mike Braun looked like a third wheel. Still, as the two congressmen turned their fire on each other, Braun seized an opportunity to contrast himself with his opponents. A businessman, Braun struck a populist chord by painting his opponents as typical politicians -- in this popular ad, he featured cardboard cutouts of the two. It worked: Braun won the primary with a 41% plurality, as the other two split the remainder of the vote about evenly. In the end, despite his moderate profile, Donnelly lost 51%-45% -- basically the same margin McCaskill lost by that year, as well.
Indiana's two most recent Senate races highlight the changes in the state's coalitions well. In 2016, Sen. Dan Coats (R) retired and Rep. Todd Young kept the seat for the GOP. Democrats ran former Sen. Evan Bayh, who held that seat before Coats. His father, Birch Bayh, was an iconic liberal senator, but Evan made his name as more of a centrist -- as governor from 1989 to 1997, he passed tax cuts. Bayh was last on the ballot in 2004, a less partisan time when the GOP didn't seriously target him. He was also considered as a possible running mate for both Obama and Clinton in 2008. Much changed in the intervening years, though. Bayh lost by 10% in 2016, but two years later, Donnelly couldn't match his performance in most rural areas.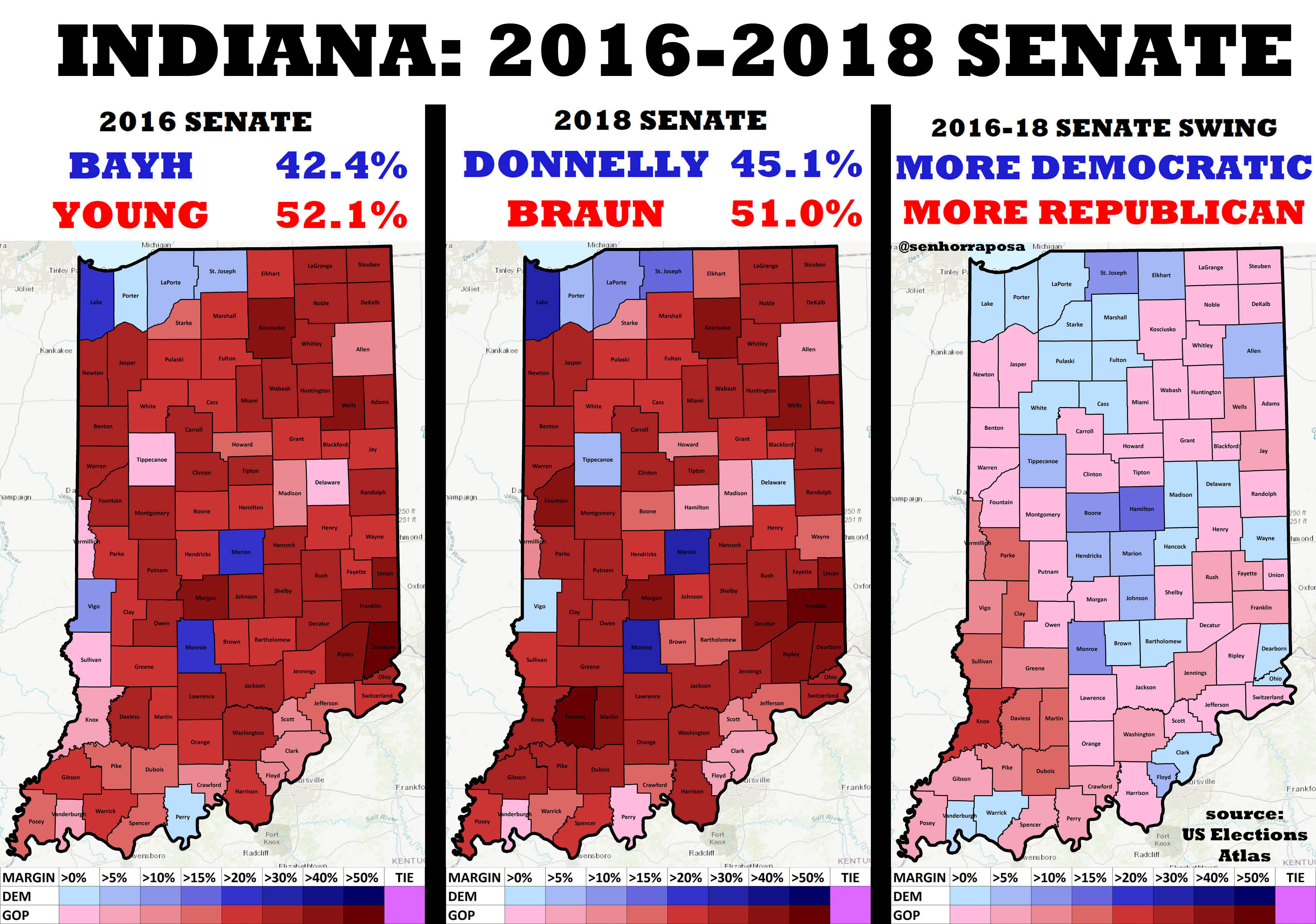 As Democratic margins in western and southwestern Indiana dropped, the Indianapolis metro area shifted leftward. Democrats were buoyed this year by the retirement of Rep. Susan Brooks (R) from the 5th Congressional District, which encompasses Indianapolis's northern suburbs. In 2016, Sen. Young carried the 5th district by 12 points but in 2018, Donnelly carried the 5th district by half a percentage point.
Upon Brooks's retirement, Sabato's Crystal Ball moved the race from 'Safe Republican' to 'Leans Republican.' Although the district went for Trump by 12% in 2016, it is a well-educated and high income suburban seat. In the primaries, Democrats nominated former State Rep. Christina Hale while Republicans chose State Sen. Victoria Spartz. Republicans have the advantage in the district but don't be surprised to see a close race in November.
The Dean of Indiana's Congressional delegation is Rep. Pete Visclosky (D) from the state's 1st District. A union-friendly Democrat known for his support of the steel industry, Visclosky has represented IN-1 since 1985. Visclosky came to Congress by primarying Rep. Katie Hall in 1984 and, although he has faced some ethics issues over the years, he remains quite popular. His 28% win in 2018 was bigger than Obama's 2008 margin in the district. In 2019, Visclosky surprisingly announced his retirement and he endorsed North Township Trustee Frank Mrvan. Comprising the northwestern corner of Indiana, the 1st District has trended rightward bit but, as the nominee, Mrvan is not expected to face any issues winning the seat. Sabato's Crystal Ball rates the race as 'Safe Democratic.'
A particularly consequential Senate race in Indiana history was 1980. Sen. Birch Bayh (D) was seeking a fourth term that year against two-term Republican Rep. Dan Quayle. During his time in the Senate, Bayh authored what would become the Twenty-Fifth (concerning presidential succession) and Twenty-Sixth (setting now minimum age to vote at 18) Amendments. Since the days of the Founding Fathers, no other legislator has written multiple constitutional amendments. More liberal than his state's partisanship would suggest, Bayh cobbled together a string of three close wins. In Bayh's last successful reelection, 1974, he faced then-Indianapolis Mayor Dick Lugar (Lugar would win the state's other seat in 1976).
In 1980, Ronald Regan carried Indiana by 18%, and swept Quayle into office, who was just 33 at the time. In describing Indiana's two senators, the 1982 edition of the Almanac of American Politics summed up: if Lugar was the kind of class intellectual and valedictorian, Quayle was the class athlete and student body president. In 1988, running as the GOP nominee, Vice President George H. W. Bush was seeking to shore up his credibility among the right and chose Sen. Quayle as his running mate. Prone to gaffes, Quayle has not held office since his single term as Vice President. His launched a campaign for President in 2000 but it went nowhere, as he was overshadowed by bigger names like Sen. John McCain and Texas Gov. George W. Bush.
State level politics
Indiana used to elect Democratic governors with some regularity but the state's increasing Republican tilt in the 2000s marked the end of era for Indiana Democrats' dominance of the governorship. Republicans control all statewide offices in the Hoosier State and benefit from having gubernatorial races in presidential cycles -- a dynamic that helped Republicans in 2016. In 2012, popular Gov. Mitch Daniels was term limited and was succeeded by then Rep. Mike Pence (R). The Democratic nominee was former Indiana House Speaker John Gregg. Gregg, a Democrat from southwestern Indiana, was the state's longest serving Democratic Speaker of the House. Pence won, but the margin was less than 3%.
A darling of the Tea Party, Pence governed as a staunch fiscal and social conservative. In 2015, one of his signature pieces of legislation as Governor was the Religious Freedom Restoration Act, which basically states the government cannot infringe on one's right to practice their religion unless it can prove it has a reason to do so. A law hailed by the religious right, it was met with an immediate firestorm of criticism from LGBT rights and business groups. Various organizations and figures boycotted the state as a result of the bill. Pence initially stood behind the bill but as the national outrage persisted, he backed some changes to it.
In 2016, as Pence was gearing up for what looked like a rematch against Gregg, Donald Trump, then the presumptive GOP nominee, tapped him to join the national ticket. Pence's Lt. Governor, Eric Holcomb, was chosen by Indiana Republicans as the replacement nominee. As a more generic Republican and a fresher face, Holcomb was elected in his own right by a decent six point margin. Now Governor, Holcomb is not expected to face much of a challenge. He has boasted generally solid approval ratings and Democrats lack any real bench in this red state. Thus forecasters like Sabato's Crystal Ball rate the gubernatorial race as 'Safe Republican.' In a telling sign of the state's partisanship, then South Bend Mayor Pete Buttigieg sought the Democratic nomination for President in 2020 rather than run for Governor.
One downballot race to keep an eye on this year is the race for Attorney General. Incumbent Attorney General Curtis Hill (R) was elected in 2016 and has faced numerous accusations of sexual misconduct. Gov. Holcomb and many other Republicans called on him to resign in the summer of 2018 but Hill has resisted such calls. In May of this year, the Indiana Supreme Court found that he "committed acts of misdemeanor battery, conduct that under the circumstances of this case violated Indiana Professional Conduct Rules..." and ordered the suspension of his law license for 30 days.
In Indiana, the nominations for certain offices, such as Attorney General, are decided via party conventions rather than primaries. Hill faces three challengers for renomination: Decatur County Attorney Nate Harter, former Rep. Todd Rokita, and Indianapolis attorney John Westercamp. Due to the ongoing pandemic, ballots will be submitted via mail and the results will be announced in several weeks. Democrats had a convention of their own and nominated former Evansville Mayor Jonathan Weinzapfel. Given the red lean of the state, Democrats are hoping Hill wins renomination as that would clearly give them their best shot at winning the office.
With their supermajorities in both chambers of the legislature likely to hold, Republicans will have full control of redistricting in 2021. They could try to crack the two Democratic-held districts by diluting their voters among the neighboring districts. As the GOP's hold on the suburban IN-5 has grown somewhat shaky, shoring up that seat will also likely be a priority for legislative Republicans.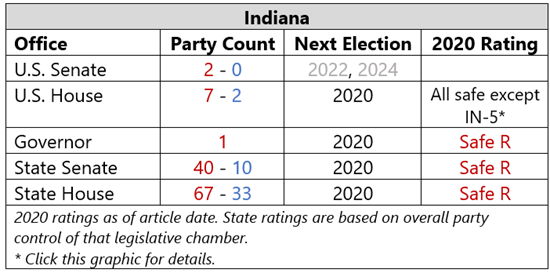 Presidential outlook
As it moved back into the red column after 2008, Obama's win in Indiana is looking like a fluke. With no Senate race there this year and IN-5 looking like the only competitive House race, national Democrats don't have much reason to invest in the state. In the southwest, Vigo County (home to the city of Terre Haute) is one of the nation's bellwether counties: it's picked the winner of every presidential election since 1956. This fall, that streak may end. In 2016, Trump carried it by a robust 55%-40% vote and in 2018 Sen. Donnelly carried it by just 1%. It seems likely that even if Trump is ousted, he'll hold Vigo County.
Next Week: Oregon

Reports in this series:
comments powered by

Disqus
Headlines