The Road to 270: New Jersey
By Drew Savicki
June 15, 2020
The Road to 270 is a weekly column leading up to the presidential election. Each installment is dedicated to understanding one state's political landscape and how that might influence which party will win its electoral votes in 2020. We'll do these roughly in order of expected competitiveness, moving toward the most intensely contested battlegrounds as election day nears.
The Road to 270 will be published every Monday. The column is written by Drew Savicki, a 270toWin elections and politics contributor. Contact Drew via email or on Twitter @DrewSav.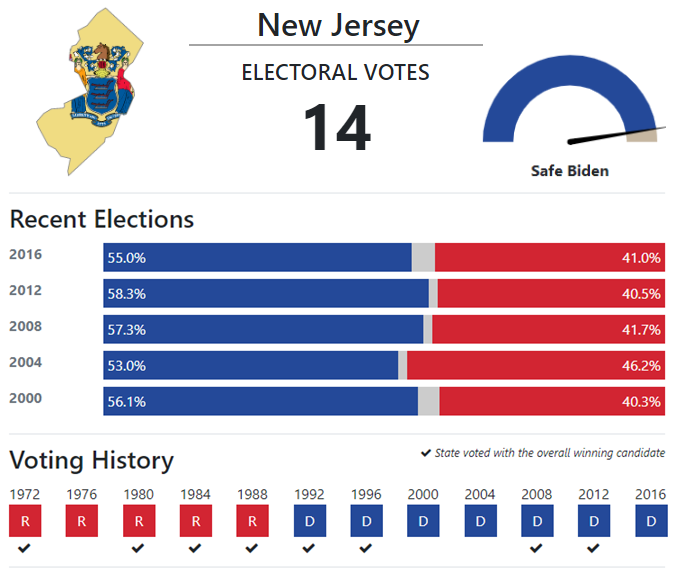 Last year, as it become increasingly clear that House Democrats would pursue articles of impeachment against President Trump, one New Jersey congressman's name began to reappear in articles: the late Peter Rodino. First elected in 1948, Rodino represented the Newark area for 40 years. A Democrat, he chaired the House Judiciary Committee during the Watergate scandal, and oversaw the impeachment effort against Richard Nixon. Nearly 50 years later, Rodino's (relatively) bipartisan approach was cited as a model for Democrats to follow. While New Jersey isn't a swing state in presidential politics, Rodino shows that its members can have a lasting impact on Capitol Hill.
Two New Jerseys: an upscale north and a blue collar south
If there is one consistent theme in New Jersey politics, it is the north-south divide. Located about 30 miles west of New York City, Morris County is something of a focal point of North Jersey, and encapsulates the region's political trends well. A traditionally Republican suburban county -- the state's most prominent Republican in recent memory, former Gov. Chris Christie, hails from there -- 54% of voters there have a bachelor's degree. Perhaps not coincidentally it's also one of the wealthiest counties in America. Morris County has voted Republican for President in every election since 1968 -- but it seems ripe for a flip this year. In 2012, Mitt Romney fit the county well, and carried it by 55%-44% margin. Trump's populism proved a harder sell in Morris County, and he held it with less than 50% of the vote in 2016.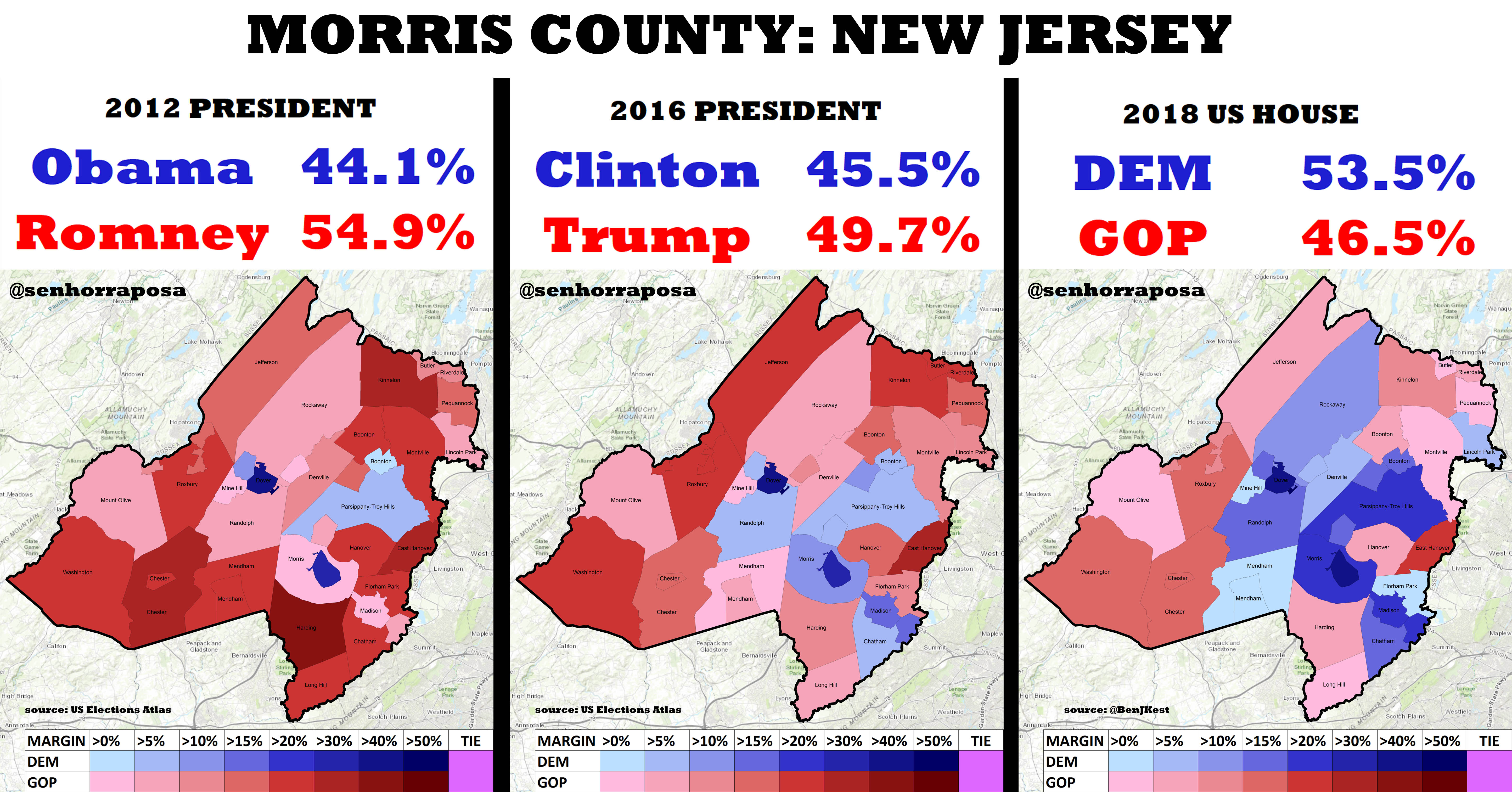 In 2018, Democratic candidates for Congress carried Morris by a seven point margin. A populous county, it's split between two congressional districts: NJ-7 and NJ-11. The 7th District portion, which accounts for roughly a quarter of the county, leans more Republican: even as he was voted out of office, GOP incumbent Leonard Lance won that area by 4%. In the 11th District portion, Democrat Mikie Sherill won 55-45%. Aside from its income level, Morris's growing Asian and Hispanic populations play a role in its leftward-trending politics.
If Morris County sums up North Jersey, on the state's other extreme, Cumberland County represents South Jersey well. Cumberland County's median income is about $53,000 -- half of Morris's $111,000 -- and just 15% of residents have a bachelor's degree or higher. Although it's more racially diverse than some of the North Jersey suburbs -- it has much larger Hispanic and Black populations than Morris -- the white voters in South Jersey swung sharply rightward in 2016. Hillary Clinton carried the county by just 6%, down from Obama's 24 point margin four years earlier.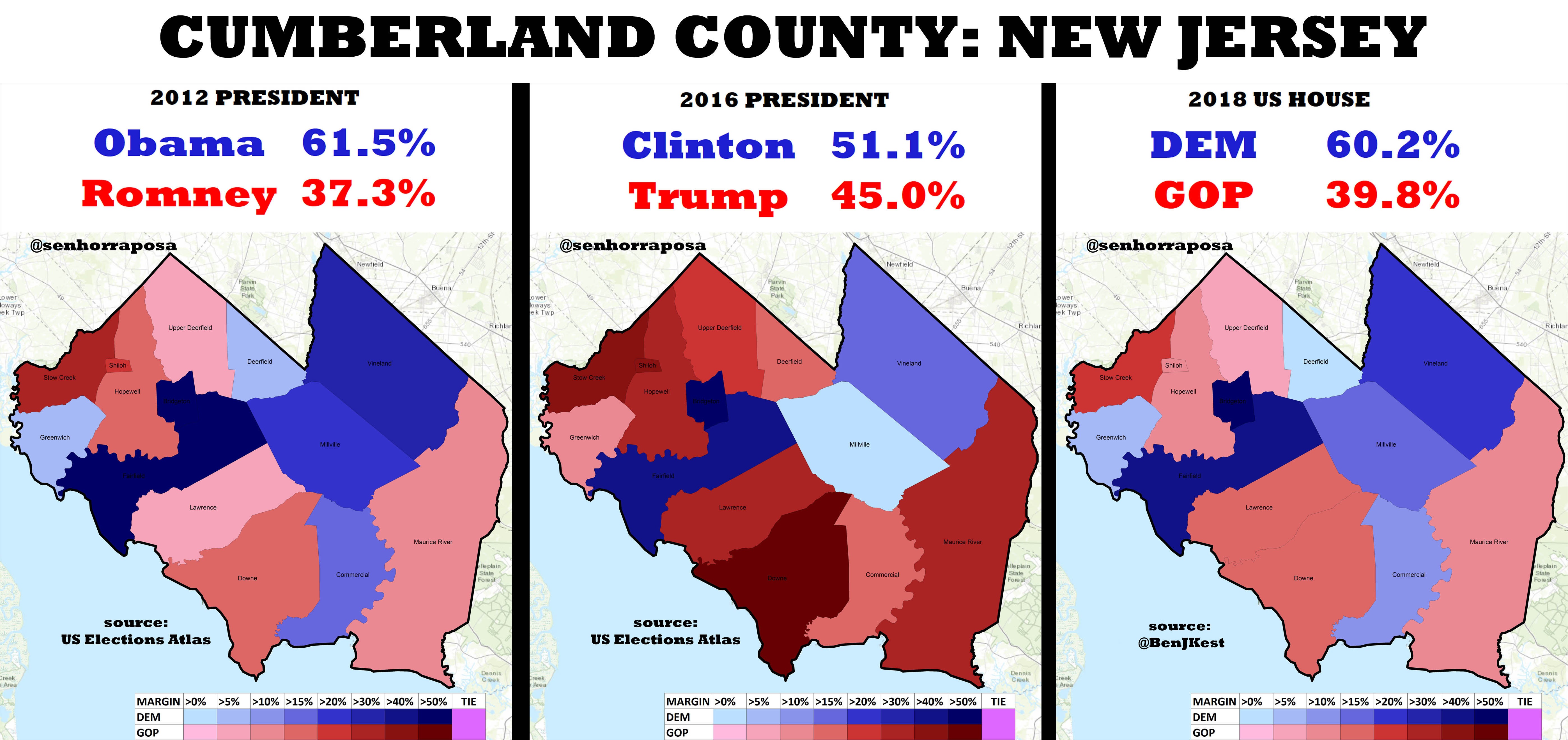 Located entirely in New Jersey's 2nd District, Cumberland swung back towards Democrats in 2018 but it didn't return to its pre-Trump partisanship. Although a popular local figure at the time, then-state. Sen. Jeff Van Drew (D) still ran behind Obama in most towns within the county. With Van Drew now a Republican (more on that later), it will be interesting to see how his support holds up in places like Cumberland. Following last year's legislative elections, Cumberland County's legislative delegation is now evenly split between Republicans and Democrats. Given its large minority population, it seems unlikely that Cumberland entirely flips to Republicans but certainly the trendline is not encouraging for Democrats.
In 2018, New Jersey's congressional delegation saw a massive shakeup. Democrats went into the cycle controlling seven of the state's twelve districts; after the midterms, they held all but one. Republican incumbents Rodney Frelinghuysen (from one the state's best-known political families) and Frank LoBiondo retired. Frelinghuysen, who supported abortion rights, and LoBiondo, with his unusually strong ties to labor, were two of the most moderate members of the House GOP and were both elected in 1994. Veteran and lawyer Mikie Sherrill (D) flipped Frelinghuysen's open NJ-11 (which includes Morris County) by a convincing 15% margin and, at the other end of the state, Van Drew won the South Jersey NJ-2. In between those districts, two other Republicans, Leonard Lance and Tom McArthur, lost reelection.
A member of both the centrist Blue Dog Coalition and center-left New Democrat Coalition, Sherill is widely viewed as a rising star among New Jersey Democrats and a top candidate to succeed Senator Bob Menendez (D) when he retires. President Trump carried two of North Jersey's Democratic-held seats -- the 5th and 11th districts -- but Sabato's Crystal Ball rates both as 'Safe Democratic.'
In South Jersey, NJ-2 has trended the other way. A more culturally conservative region than the upscale northern suburbs, the 2nd District includes most of the state's rural and working class communities. Van Drew was a longtime State Senator known for his centrist views, and national Democrats had tried to recruit him for years -- with LoBiondo's retirement, they got their wish. Though the controversial Republican nominee was disavowed by the national party, Van Drew flipped the seat by a less than convincing margin. Citing the pressure of the impeachment process, Van Drew switched parties in December 2019, thus making the delegation 10-2 Democratic.
Van Drew's party switch and subsequent endorsement from Kevin McCarthy and the President scrambled the race in the 2nd District. Businessman David Richter was already running against Van Drew as a Republican but the party essentially froze him out once the party switch became official. Richter eventually opted to run in the neighboring 3rd District, represented by freshman Democrat Andy Kim. Party officials were initially happy with their recruit in former Burlington County freeholder Kate Gibbs but her fundraising has proven mediocre. Although it is an Obama/Trump district, the lackluster GOP field prompted Sabato's Crystal Ball to move the race from 'Tossup' to 'Leans Democratic'.
Perhaps the most competitive race in the state may be in NJ-7. State Senate Minority Leader Tom Kean Jr. (R) -- whose father was a popular governor in the Reagan era -- is running for Congress again this year, against freshman Rep. Tom Malinowski (D). There is no doubt Kean is a strong candidate but he faces an uphill battle in the Dem trending district. NJ-7 voted for Mitt Romney by 6% in 2012 and Hillary Clinton by one point in 2016. Joe Biden seems likely to expand Clinton's margin there. Kean was the GOP's nominee for Senate in 2006, and would have carried the district by 12% then, but the area has shifted blue as Donald Trump has become the face of the national party. Either way, NJ-7 is the lone competitive race in the northern half of the state.
The state's lone safely Republican seat is NJ-4. Represented by Republican Chris Smith since 1981, it encompasses some of the capitol Trenton area, plus takes in some ruby red parts of Monmouth and Ocean counties, closer to the state's famed Jersey Shore. Known for his steadfast social conservatism, Smith consistently ranks as one of the House's most bipartisan members. The dean of the New Jersey delegation, Smith is a fascinating figure. He is an ardent opponent of both abortion and LGBT rights but is otherwise one of the most moderate Republicans on fiscal and economic issues. In fact before he ran for office, he was a Democrat.
The Garden State's two Senators are Democrats Bob Menendez and Cory Booker. Menendez represented now-defunct NJ-13 (it was based around Jersey City and Newark) for seven terms before he was appointed to the Senate in 2006 by Governor Jon Corzine (D). Menendez won the full term that year by nine points against State Senator Tom Kean Jr. In the Senate, Menendez has never been especially popular but the state's partisanship insulates him from any real general election threat. In 2018, he faced a credible opponent in Republican businessman Bob Hugin, who spent nearly $40 million on his own campaign. True to some of the state's political stereotypes, Menendez was the subject of an ethics trial in 2017, which gave Hugin more ammunition -- Menendez was eventually cleared but admonished.
Most forecasters saw Menendez as the favorite in 2018 but not prohibitively so. Both Sabato's Crystal Ball and Inside Elections rated the race as 'Likely Democratic' but The Cook Political Report made a bold move and rated the race as a tossup. Despite his unpopularity, the state's partisanship came through for the Democrat and he won by 11%. In fact, despite his aura as a machine politician, Menendez overperformed most in the suburbs -- a sign of nationalization.
New Jersey's junior Senator is Cory Booker. Booker, a former Mayor of Newark, who has long been viewed as a rising star in the Democratic Party. He made an unsuccessful bid for President for 2020, though his effort was praised in some quarters. If Democrats' presumptive nominee, Joe Biden, hadn't committed to picking a woman as his running mate, Booker would be a strong possibility. In any event, Booker is up for reelection this year but faces only trivial opposition.
Prior to 2018, Republicans last came close to winning a U.S. Senate seat in New Jersey when it looked like another scandal-plagued incumbent, Bob Torricelli, was going to seek reelection in 2002. In October 2002, Torricelli dropped out of the race and was replaced as the nominee by former Sen. Frank Lautenberg. Lautenberg had retired himself in 2000 -- and was in fact a longtime rival of Torricelli's -- but in the interest of the party, came out of his brief retirement. Sure enough Lautenberg returned to the Senate with 54% of the vote in 2002. He held office until his 2013 death, and became New Jersey's longest serving senator. Upon Lautenberg's death, Governor Chris Christie appointed state Attorney General Jeffrey Chiesa to serve out the remainder of the term. Chiesa declined to run for the seat in that year's special election and it was won by then Newark Mayor Cory Booker.
State level politics
New Jersey is one of the few states in the country that elects no statewide offices below Governor and Lieutenant Governor. Democrats control both chambers of the New Jersey legislature, but a number of moderate Republicans continue to hold districts that Hillary Clinton won in 2016. In an interesting reversal of the trends in the state, the most powerful Democrats in the state, the Norcross brothers and State Senate President Steven Sweeney, hail from South Jersey.
New Jersey is one of those states with an old fashioned political machine. Although he holds no formal position in the party, businessman George Norcross is generally thought of as the leader of New Jersey's Democratic Party. In 2013, thanks to the help of his brother and son, Norcross got some long sought-after tax breaks from the state, as the legislature overhauled the state's tax system that year. The Norcross family's business reaped benefits of the tax overhaul, receiving $1.1 billion in tax breaks. Norcross's son Donald, then a State Senator and now a member of Congress, was a co-sponsor of the bill. In this business heavy state, George Norcross wields considerable power.
One of the most unique facets of New Jersey politics -- and something that is a vestige of its machine-dominated past -- is the "party line." To get a preferred spot on county ballots in primary elections, candidates appeal to local parties.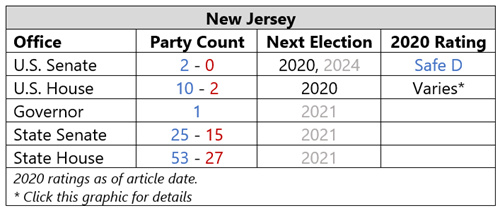 Presidential outlook
Although the Garden State will see several competitive House races, do not expect any action at the presidential level. New Jersey is a mildly, but inelastically, blue state: Democratic candidates can easily win a majority of the vote, but getting more than 60% is rare. New Jersey was one of just six states where President Obama improved his showing from 2008 to 2012, though much of that can be attributed to his handling of Hurricane Sandy's aftermath. In 2016, Hillary Clinton saw a drop in support in the southern half of the state but made up for it by gaining ground in the state's more upscale northern suburbs.
The state was last competitive in 2004. With its proximity to New York City, the impact of 9/11 was especially poignant in New Jersey; electorally, this aided George W. Bush. A mid-October Quinnipiac poll put John Kerry's lead at just 48%-43%. Kerry would go on to win the state by a more comfortable 53%-46%, but Democratic nominees since then have won the state by double-digits -- and that should be the case again this year.
Next Week: Indiana

Reports in this series:
comments powered by

Disqus
Headlines