June 29, 2020
The Road to 270 is a weekly column leading up to the presidential election. Each installment is dedicated to understanding one state's political landscape and how that might influence which party will win its electoral votes in 2020. We'll do these roughly in order of expected competitiveness, moving toward the most intensely contested battlegrounds as election day nears.
The Road to 270 will be published every Monday. The column is written by Drew Savicki, a 270toWin elections and politics contributor. Contact Drew via email or on Twitter @SenhorRaposa.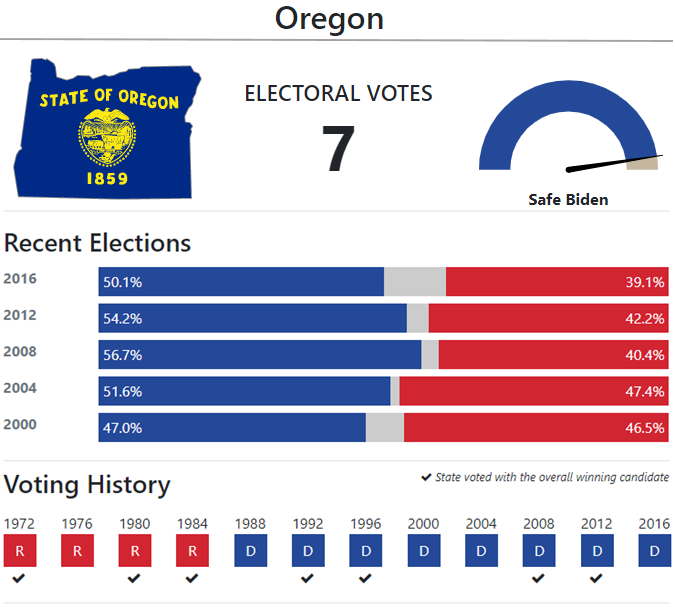 In Oregon, a land of contrasts, traditional conflicts that have shaped the state are still alive and well. The Pacific Northwest is known for its environmentalism -- yet it was also once home to a vibrant logging industry. The state's most populous city, Portland, is very liberal, but you don't have to travel far before the state's electorate takes on a working class attitude. Indeed, urban liberals and blue collar logging communities have very different interests that pit them against one another.
The Cascade Range divides the state east-west; the largely rural east is home to deeply conservative farmers and ranchers. With something of a libertarian streak, eastern Oregonians tend to be anti-government and often have a great of deal of frustration with the state's liberal government in Salem. Despite its reliable Democratic lean in presidential elections, its varying communities of interest characterize the state's local politics.
Statehood and the history of Oregon
Oregon had been settled by indigenous Americans for thousands of years by the time Europeans arrived in the 16th Century. To understand how Oregon got to where it is, you have to go back to the beginning and look at its settlement. Following the explorations of Lewis and Clark at the dawn of the 19th century, pioneers and fur trappers, from both the United States and Britain, began to settle in Oregon.
Prior to admission to the Union in 1859, the Oregon Territory banned slavery in 1844. Still, Oregon was not friendly to freed slaves -- it had a number of Black exclusion laws on the books. The state has seen several population booms over the years, such as the gold rush period and with the advancement in railroad technology in the 1880s. These periodic population booms brought competing groups to the state and led to the polarization so prominent in the 21st century.
Congressional Politics
In many ways, Oregon's politics were a lot like those in New England. From the late 1960s until the early 1990s, the state's U.S. Senate delegation consisted of two liberal Republicans: Mark Hatfield and Bob Packwood. Hatfield was an especially interesting fellow. Though a more conventional Republican on domestic issues, he was a deeply religious man (he opposed abortion rights) but was never comfortable joining forces with the social conservatives in the party. On foreign policy, Hatfield held some views that put him at odds with his party. He was a critic of the U.S. government's Middle Eastern policy, especially in regard to Israel. He was known as a dove on foreign policy -- having served in World War II, he was one of the few Americans to see Hiroshima in the immediate aftermath of its bombing. As a result, Hatfield became a staunch advocate for nuclear disarmament and consistently opposed every defense authorization bill. An early critic of the war in Vietnam, he strongly pushed for government aide for Vietnam refugees.
Serving as Oregon's junior Senator for that time was Bob Packwood, who eventually chaired the Senate Finance Committee -- he was the Republican point man on taxes during the Reagan era. Although a free trader, Packwood was a staunch advocate for his state's timber industry. Around the time of the 1973 Roe v. Wade ruling, Packwood became an outspoken opponent of restrictions on abortion rights. As with Hatfield, he was at odds with the increasingly influential social conservatives in his party.
In 1992, Packwood's career came to an abrupt end with shocking accusations of sexual harassment. With some accusations going back to the 1960s, Packwood faced a firestorm over his alleged behavior. This matter was referred to the Senate Ethics Committee, which ultimately voted unanimously to expel him from the Senate in 1995. Instead, Packwood announced his resignation on the Senate floor after that vote. A special election was held in January 1996 and Rep. Ron Wyden (D) defeated Oregon State Senate President Gordon Smith (R) by 1.5%. Later that year, Smith would rebound and get elected to the state's other Senate seat.
Before his elevation to the Senate, Wyden served in the House. He was first elected to the House in 1980, and is now the Dean of Oregon's Congressional Delegation. In the Senate he has earned a reputation as a libertarian Democrat, known for his strong opposition to the surveillance state created in the aftermath of the 9/11 attacks. Wyden has proven to have significant crossover appeal: in his most recent election, he carried all five congressional districts -- including the Republican-held 2nd District in the east. As Trump carried the 2nd District by 20% in 2016, Wyden won it by five points. He has faced some controversy over the years for his lack of real residency in the state but he is omnipresent in the Beaver State, holding town halls in each county every year. It seems likely that Wyden's accessibility helps him to connect with voters who would ordinarily favor Republicans -- but they support him because he shows up and listens.
Oregon's junior Senator is Democrat Jeff Merkley. A mainstream progressive, Merkley was narrowly elected to the Senate in 2008, where he unseated then-Sen. Smith amidst the national Democratic wave. A former State House Speaker, Merkley does not enjoy the level of crossover appeal Wyden does, but he still represents this blue state quite well. Originally seen as a risky candidate in 2008, Merkley has become well-entrenched: he was easily reelected in 2014 and should have no problems this year, especially given that his opponent is a prominent supporter of the 'QAnon' conspiracy theory.
Oregon is divided up into five Congressional Districts. The 1st District, represented by Democrat Suzanne Bonamici since 2012, encompasses the northwestern portion of the state including places like Astoria and the western Portland suburbs.
The lone Republican-held district is the 2nd District. Represented by Greg Walden since 1997, this district includes all of eastern Oregon. Hailing from exurban Hood River, Greg Walden is a very interesting figure. For one, he is certainly more moderate than his district's partisanship would suggest. Walden has generally enjoyed significant crossover appeal, running far ahead of the top of the ticket over the years. In 2018, Walden faced the closest race of his career; after routinely winning 70% or more of the vote, he fell to 56%.
Walden announced his retirement in 2019, which set off a crowded field of candidates vying to succeed him. The primary included 2018 gubernatorial nominee Knute Buehler, a former State Representative from suburban Deschutes County. Perhaps wisely, Buehler ran to the center in 2018 as a statewide candidate, but had to lean right this year given the district's more conservative electorate. Buehler found little support outside booming Deschutes County and finished second in the primary to State Senator Cliff Bentz. After representing rural eastern Oregon in the legislature for years, Bentz enjoyed an advantage that none of the other candidates did. Given the Republican lean of the district, Bentz is almost certainly headed to Congress next year.
Much of urban Portland is in the state's 3rd District. Represented by Democrat Earl Blumenauer since 1996, this district has seen its fair share of demographic and cultural changes over the years. The avuncular bicycle-riding Blumenauer is highly popular and easily beat a DSA (Democratic Socialists of America) backed candidate in the primary this year.
In the 5th District, which includes the southern suburbs of Portland, Blue Dog Rep. Kurt Schrader also beat back a more left-wing challenger this year. A point of trivia that political junkies will mention is that since OR-5 was created, for the 1982 cycle, all of its occupants (including Schrader), have gotten divorced while in office. Although the district only went for Hillary Clinton by 4% in 2016, Republicans have not seriously targeted Schrader and he is a safe bet for reelection.
The only district that could plausibly be competitive is the 4th District. Although Sabato's Crystal Ball and Inside Elections both rate the race as 'Safe Democratic,' the Cook Political Report rates it as 'Likely Democratic'. OR-4 includes the state's two major college towns, Eugene and Corvallis, which are home to the University of Oregon and Oregon State, respectively. A populist progressive, Rep. Peter DeFazio has represented this district since 1987 and maintains broad appeal with both progressives and the working class voters. OR-4 almost backed President Trump in 2016, as Hillary Clinton won this district by fewer than 600 votes -- but that Trump took the same 45% that Mitt Romney got there in 2012 suggests the tight margin may have had more to do with Clinton or the third party share.
From 2010 to 2018, DeFazio faced perennial candidate Art Robinson. This year, Robinson is running for the State Senate and the Republican OR-4 nominee is veteran Alek Skarlatos. Although a credible candidate on paper, Skarlatos has fundraised poorly and has received no outside help. With Democrats maintaining a consistent eight-point lead on the generic congressional ballot and President Trump's low approval ratings, this isn't likely to be a Republican target. Now Chairman of the House Transportation Committee, DeFazio can deliver for his constituents and that is likely to resonate with voters in this industry-heavy district.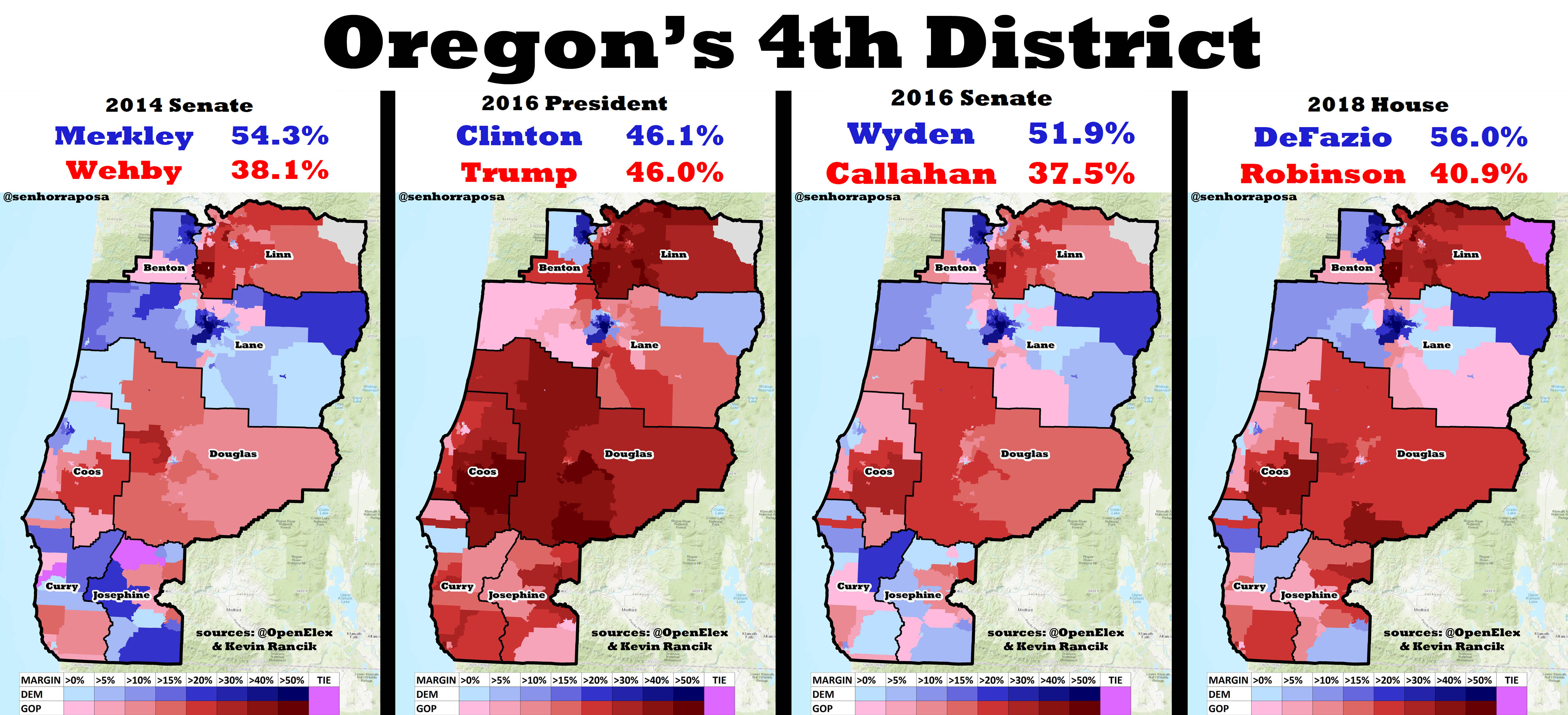 Ancestrally Democratic Coos County has taken a turn to the right in recent years. Sen. Merkley is the last Democrat to win the county, in 2014. Neither Sen. Wyden nor Rep. DeFazio have been able to flip it back. These heavily white working class communities were trending Republican prior to Trump but even more so in the Trump era. Compared to the state as a whole, Coos is 90% white and only 18% of the population aged 25 and over have a bachelor's degree.
State level politics
Though Oregon hasn't elected a Republican governor since 1982 -- after next-door Washington state, this is the GOP's longest such losing streak -- it is not overwhelmingly blue at the state level. In fact, 1998 is the most recent election in which a gubernatorial race was decided by double-digits. It's hard for Democrats to get beyond that 15-20 point range of victory. With a Democratic trifecta, redistricting after 2020 will be more consequential than previous decades -- Oregon is expected to gain a district after the Census, getting its first new seat since 1982. Where the new seat will land, and what its partisanship will be, is a subject of much discussion. At the very least, Democrats will work to shore up DeFazio by probably pushing fast growing Deschutes County into his district.
Like many Democrats in Oregon, Gov. Kate Brown has been a polarizing figure. Before she served as Governor, Brown was Oregon's Secretary of State -- upon the resignation of Gov. John Kitzhaber (D), she assumed the office in 2015. Brown is the second female Governor of Oregon and in 2016 became the first openly LGBT governor elected in her own right. Brown is term limited in 2022 and has often been mentioned as a potential successor to Sen. Wyden, should he retire that year.
Republicans have not had much success in recent years at the state level, but they struck gold with Dennis Richardson in 2016. A longtime state legislator, Richardson was well regarded by his Democratic colleagues. Although a conservative Republican, he became Secretary of State, defeating Labor Commissioner Brad Avakian by 4% in 2016. Richardson sadly died of brain cancer in February, 2019. Although his appointed successor, Bev Clarno (R) is not running for a full term this fall, Republicans will try to retain their sole statewide office.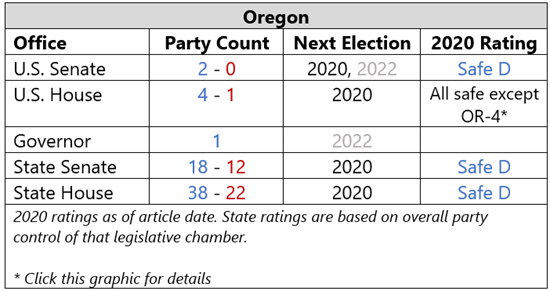 Presidential outlook
At the beginning of the 21st Century, Oregon had some traits of a swing state. As with the national popular vote, although Bill Clinton won there twice, he never took a majority. The state's friendliness towards third parties resulted in Ross Perot receiving 24% of the vote in 1992 and 9% in 1996. Green Party nominee Ralph Nader received 5% of the vote in 2000 -- the state stayed blue, but Nader limited Al Gore to a 47% plurality. In 2008, Barack Obama carried the state by 16 points, which is the highwater mark for Democrats in recent years. Hillary Clinton carried the state with a narrow majority of the vote in 2016 but Trump finished with 39% of the vote, down from Mitt Romney's 42% four years earlier.
2016 saw a substantial third party vote in the Beaver State, as they accounted for nearly 11% of the vote. With Sabato's Crystal Ball predicting a largely two-party election in the fall, it seems an open question as to how that third party vote will break. Either way, Joe Biden should have no trouble carrying Oregon and it will be interesting to see which Obama/Trump counties he can flip back. Although the Trump campaign made some noise about contesting Oregon, there's no prospect that the state is in play this year.
Next Week: South Carolina

Reports in this series:
comments powered by

Disqus
Headlines