A new series of swing state polls from Quinnipiac show a very competitive general election battle in Ohio and Pennsylvania, while Clinton has a fairly significant lead in Florida.
Ohio: Quinnipiac found the race tied at 40-40, a small improvement for Clinton over their last survey in mid May, which gave Trump a 4-point lead. It is worth noting that no Republican has ever won the presidency without winning Ohio, while 1960 was the last time a Democrat won while losing the state. (Put another way, the state has sided with the winner in every election since 1964, the longest such streak in the country). The Consensus Pundit Map shows the state as a toss-up.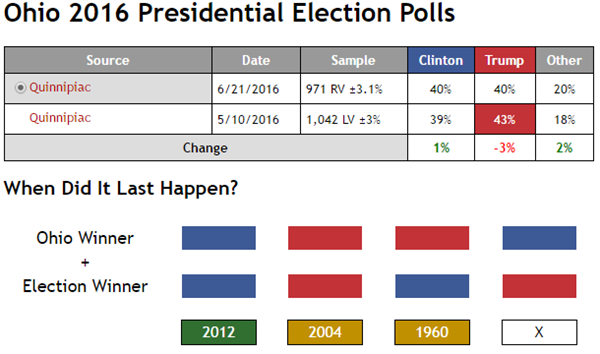 Pennsylvania: Clinton leads by one, 42-41, in the poll, indicating the race is essentially tied in the most delegate-rich competitive state in the rust belt. Almost all polling in this state has shown a competitive race, notable in a state that has voted Democratic since 1992. The Consensus Map shows the state as leaning Clinton. This distinguishes it from Ohio and Florida, seen as toss-ups, although that's probably somewhat based on recent history, as those other two states voted Republican as recently as 2004.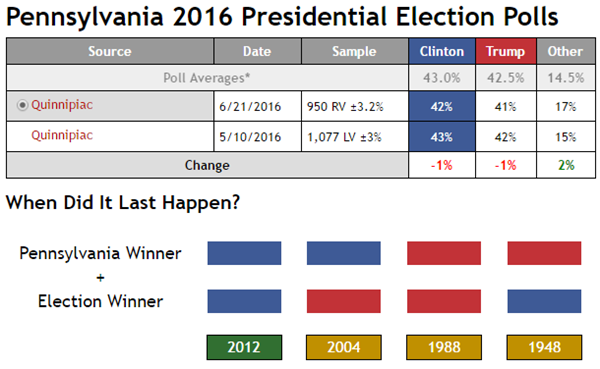 Florida: Quinnipiac found an eight point lead for Clinton here, up from just one five weeks ago. While Trump can win without Florida, it would likely require a near-sweep of rust belt states that haven't voted Republican in a generation. In a separate article from earlier this week, we discussed paths to victory for Clinton and Trump. The Consensus Map shows Florida as a toss-up.