Despite Recent Controversy, Biden Maintains Lead Among Democratic Voters
By 270toWin Staff
April 9, 2019
In its latest weekly survey of registered Democrats nationwide, Morning Consult finds former vice-president Joe Biden with 32% support. This is 9 points over the 23% received by Vermont Senator Bernie Sanders. No other prospective nominee broke into double digits.
Biden's undeclared candidacy hit its first rough spot when former Nevada assemblywoman Lucy Flores made the initial allegations of unwanted touching against him in an article published March 29. Several other women have subsequently come forward, with Biden's response thus far not seeming to diffuse the situation.
However, the controversy doesn't seem to have had a notable impact on Biden's standing among Democratic primary voters. In Morning Consult's March 26 survey - a few days before the story broke - Biden had 35% support. His current 32% is right in the middle of the 29-35% range he has received in each Morning Consult survey since early February.
The full results from this week's Morning Consult survey are below. We're tracking all the national polls here.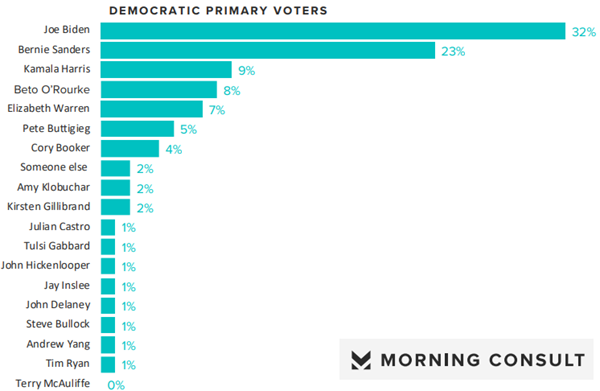 comments powered by

Disqus
Headlines