2020 Presidential Nomination: Primary & Caucus Election Calendar, Maps & Polls
By 270toWin Staff
April 4, 2019
Note that some of the information on the pages referenced here is preliminary and subject to change. You can find election calendar and party primary/nomination links in the 'President' menu on the page header above.
As usual, Iowa will hold the first presidential nominating contest in 2020. Its caucuses will be held on February 3. This will be followed by February contests in the other traditionally early voting states of New Hampshire, Nevada and South Carolina. Super Tuesday follows on March 3. That date will be even more prominent in 2020 as California moves up its traditional June primary. By the end of March, events covering well over 50% of each party's delegates will have taken place. The party conventions are in July, with the 2020 presidential election scheduled for November 3, 2020.
2020 Democratic Nomination: A historically large field is shaping up for the opportunity to take on President Trump. Given the party's proportional delegate allocation process - and the front-loaded 2020 election calendar - it is quite possible that no candidate will amass a majority of delegates before the party's Milwaukee convention. On the other hand, because there's a minimum vote threshold (15%) to win any delegates in a contest, it is also possible that a candidate could build a large delegate lead without broad party support.
Depending on how the above plays out, a rules change may have significant ramifications as well. Beginning in 2020, what the party is now calling 'automatic delegates' will no longer vote on the first ballot at the convention unless there is no uncertainty about the outcome. More commonly known as superdelegates, these party insiders are not pledged to a specific candidate. These delegates were controversial in 2016, as the majority of them announced early support for Hillary Clinton, creating the perception that the party was putting its thumb on the scale in her favor against Bernie Sanders.
The map below shows the month for each nominating contest; locations in gray have not yet set a date. For now, the map shows estimated total delegates (including superdelegates). On the map page - click the image - we've also listed the national polls. Click any state on the map for polls and more information on their primary or caucus.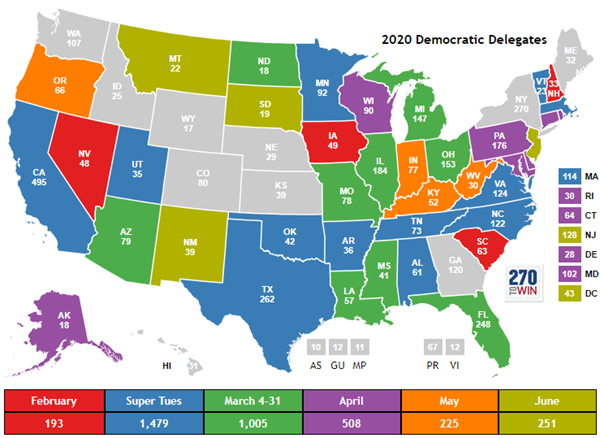 2020 Republican Nomination: Barring a credible challenge to the president, the GOP nomination is a foregone conclusion. We do have a delegate map here, with state-level information also available regarding dates and allocation methods, which do vary by location.
Credits: Much of the calendar and delegate data is sourced from FHQ and The Green Papers. These are invaluable resources --- check them out.
comments powered by

Disqus
Headlines