Election News
October 7, 2016
A very busy week for poll releases has been mostly favorable for Hillary Clinton, with the Democratic nominee taking a larger lead in battleground states such as Michigan, Pennsylvania and Florida.
Including the lastest figures, Clinton now is ahead by more than five points in states representing 240 electoral votes.
While still close overall, perhaps the biggest shift this past week has come in Ohio. Trump was consistently ahead by about 4-5 points in most pre-debate polling; while several polls this week have shown Clinton with a small lead. She now leads by one point on average. This gives her 340 electoral votes in the 'no toss-ups' version of the polling map, where any lead is shown as red or blue.
Another key milestone in the presidential race is this Sunday's 2nd debate. A strong performance by Trump could change the narrative and reverse Clinton's recent bounce. Absent that, particularly with early voting underway in many places, time may be running short on the Republican nominee's efforts to find 270 votes on the electoral map.
October 5, 2016
About a dozen states have had one or more polls released since the beginning of October. It's a good mix of battleground states, along with some states that haven't been polled very much. Generally speaking, for a given state, Clinton outperformed the polling average during this period, although the overall electoral map based on polls has not changed much.
The full list of recent presidential polls can be found here, with the full set of polling averages also available.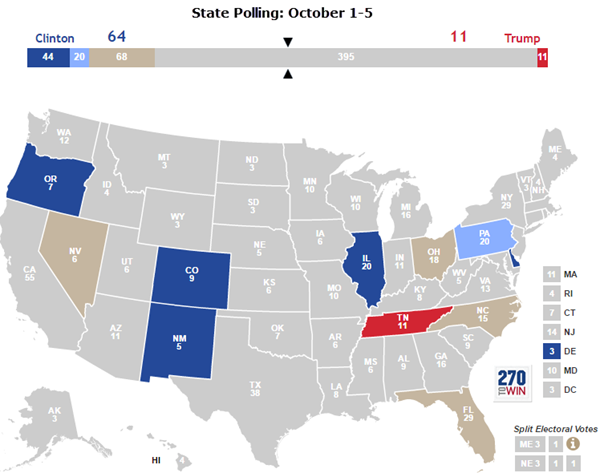 Coloring reflects the survey results. Within five points is shown as toss-up, while a spread of greater than 10 points yields the darkest blue/red. The lighter blue/red is for spreads of 6-10 points. If there was more than one poll of a state during the five-day window, we categorized based on the average.
October 5, 2016
With just under five weeks to go until the 2016 presidential election, here's the state of the race from the viewpoint of 14 forecasters. You can find all the associated maps, as well as a few others, on our 2016 Presidential Election Forecasts page.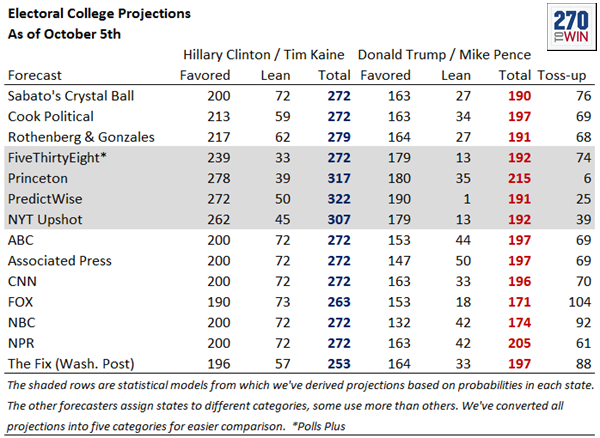 The various projections have converged in recent weeks, as forecasters are likely giving more weight to polls (vs. earlier in the cycle).
Note that the statistical projections (shaded in gray) may change several times a day as new input data (e.g., polls released that day) are processed by the models. This will lead to more variability vs. the other forecasters.
October 3, 2016
Three to five points separate Hillary Clinton and Donald Trump in four battleground states, a new series of Quinnipiac polls found. Clinton leads in Florida, North Carolina and Pennsylvania, with Trump in front in Ohio.
The results are presented in alphabetical order below, including a comparison to the last Quinnipiac poll in early September.
Florida: Clinton leads Trump by five points, both head-head and in a four-way race. The two were tied in the last Quinnipiac survey. The five point lead is slightly larger than the roughly three point lead for Clinton in the polling average.
North Carolina: Clinton leads by three points in both heats; this is right in line with the state's polling average. Both Clinton and Trump have gained, as the number of undecided voters, or those interested in Gary Johnson, has declined.
Ohio: Trump is ahead by three points here head-head, a lead that grows to five points when 3rd parties are included. This is a couple points better than the polling average. Trump has led most Ohio polls since early September. As in North Carolina, undecided and 3rd party support has declined.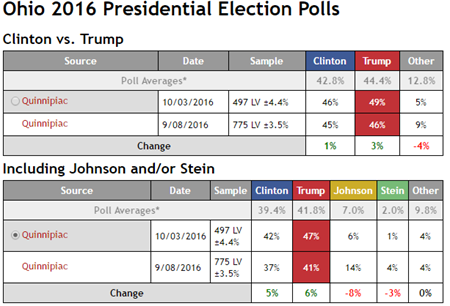 Pennsylvania: Little changed from the last Quinnipiac poll, Clinton leads by 4-5 points. This is a couple points better than the polling average.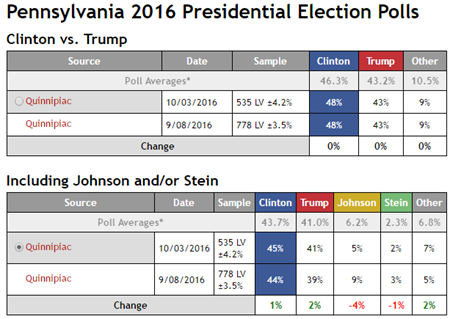 October 3, 2016
While New Mexico has trended increasingly 'blue' in recent elections, a wild card could shake things up there this November. In a poll out Sunday, the Libertarian nominee (and former two-term governor of the state) Gary Johnson received 24% of the vote, not far behind the frontrunners, who were only separated by four points in the four-way match-up. When the only options were Clinton and Trump, Clinton's lead expanded to ten points.
Looking at the polls where third parties are included, New Mexico is probably Johnson's best chance at winning a state. It also appears that his support in the state impacts Hillary Clinton much more than Donald Trump. This opens up at least the possibility of Trump winning the state, an outcome that would otherwise be highly unlikely.
Nate Silver wrote a very good piece over the weekend discussing the implications of a Johnson win in the state, particularly what would happen if that victory meant neither Clinton nor Trump reached 270 electoral votes. He used the following map to illustrate; click it for an interactive version: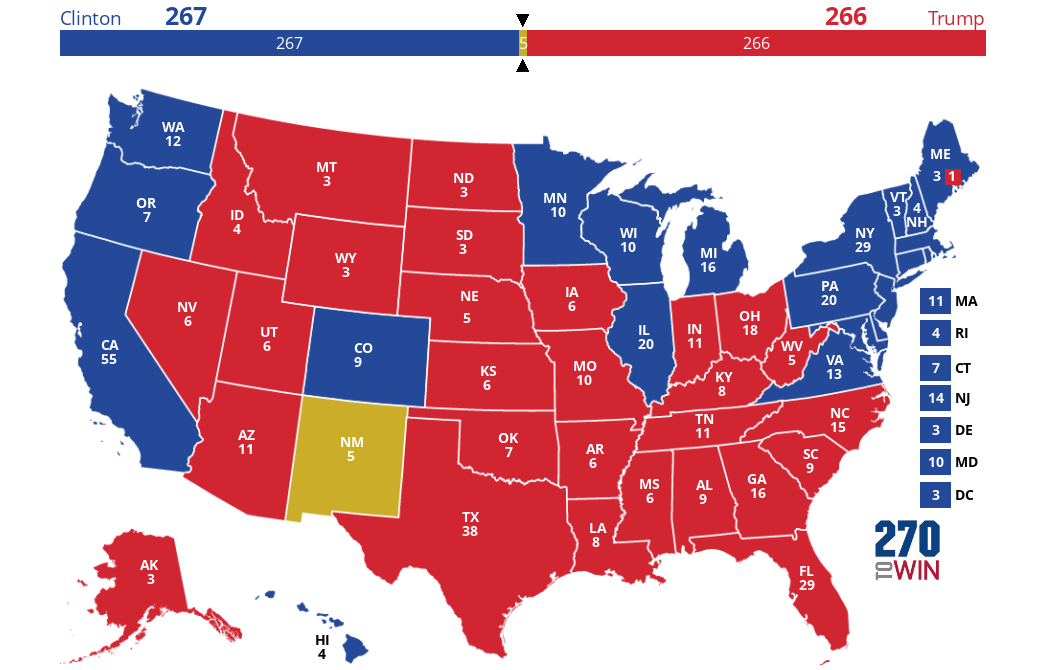 A strong, but not winning performance by Gary Johnson in New Mexico could also hand the state to Donald Trump. In the above scenario, that would give him 271 electoral votes and a win in November.
September 30, 2016
Hillary Clinton is ahead in all 13 polls conducted entirely after the first presidential debate on Monday. Other than California, all the polls were in battleground states. While most of these states remain competitive, it appears that Clinton received at least a modest bounce from her debate performance.
It is worth noting that Clinton was already at least slightly ahead in all of these states (except Nevada); we haven't yet seen any post-debate polling from battlegrounds where Donald Trump had the lead. Those include Ohio, Iowa and Arizona. The overall electoral map based on polls remains unchanged.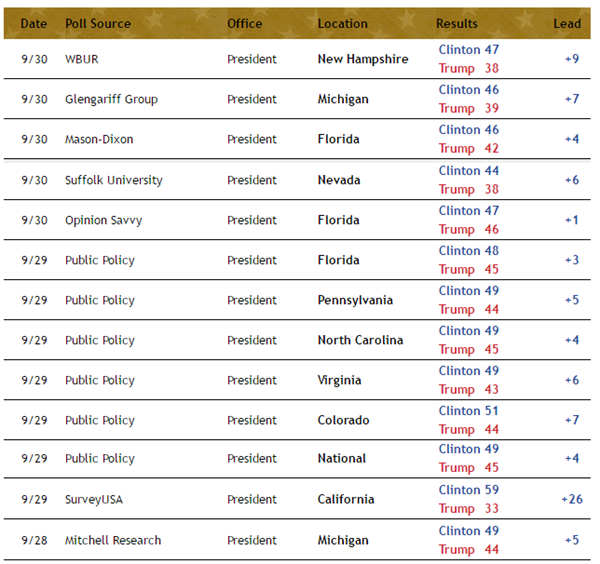 For those interested, we also have a new variant of the polling map. This 'no toss-ups' version colors the state for Clinton or Trump unless there is an exact tie in the polls, as there now is in Nevada. You can get to these polling maps, as well as the latest forecast from a number of other sites, on our Presidential Election Forecasts page.
September 29, 2016
The first post-debate battleground polls are out today, courtesy of Public Policy Polling. The firm surveyed five states, with Hillary Clinton leading by three to seven points in a two-way race; two to six points when 3rd party candidates are named. In all five states, by a margin of about 20 points, respondents felt Clinton was the winner of Monday's debate.
These results are not too far out of line with the polling averages for these five states which, aside from Virginia, remain toss-ups on the electoral map based on polls.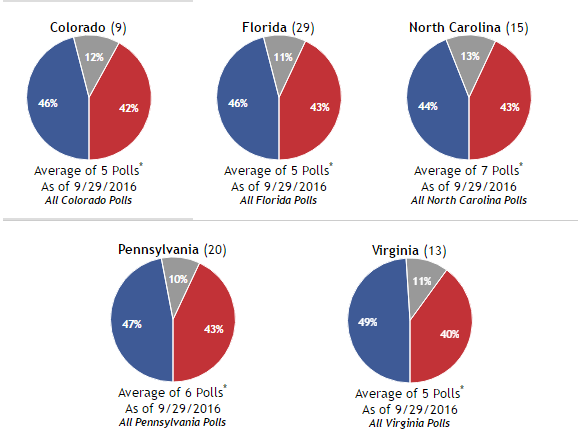 September 27, 2016
Hillary Clinton won our closely-divided straw poll, with 52.2% saying she won the debate vs. 47.8% for Donald Trump. 9,201 votes were cast (after duplicate submissons were removed) in this non-scientific survey.
When we reported preliminary results Tuesday morning, Trump was leading 50.8% to 49.2%. As we dug into the numbers, we found Trump did much better among those that voted just after the debate, while Clinton got stronger as the hours went along. About 50% of votes were cast between the debate's end and 1AM ET, with Trump winning by about 52-48%. Thereafter, Clinton won by 56-44%. That 8 point swing gave Clinton the four point overall margin.
Since we didn't ask other questions, it is hard to know the reason for this shift. However, we don't recall ever seeing anything close to this kind of a time-based change of opinion in our prior straw polls. For whatever reason, first impressions did not last after Monday's debate.
September 27, 2016
This is a close election, with a divided electorate, and last night's performance only served to reinforce already made-up minds. That's one way to interpret our closely divided straw poll, which found no clear winner of the first presidential debate.
With over 6,000 votes cast (after removing duplicates), Donald Trump has received 50.8% of the vote, while Hillary Clinton is at 49.2%.
The voting is still open. We'll update the results later today.