The presidential election calendar has shifted east, and picks back up with today's New York primary. This will be followed by primaries in Connecticut, Delaware, Maryland, Pennsylvania and Rhode Island next Tuesday. This is friendlier territory for the two frontrunners, Donald Trump and Hillary Clinton.
New York: The polls are open 6AM to 9PM Eastern Time in New York City and surrounding counties: Nassau, Suffolk, Westchester, Rockland, and Orange. Those hours are also in effect in Erie County (Buffalo area). For the rest of the state, polls are open noon to 9PM.
==
Democratic Primary: Polling has been very consistent in the Empire State, with almost every survey in recent weeks showing Clinton between 51 and 55%, Sanders in the low 40's. On average, it's a 12 point, 54-42 lead for Clinton. Given the number of polls and the lack of variability, it would seem Clinton is likely to win here. That said, Sanders has been on a bit of a roll in recent weeks, winning 7 of the last 8 events. We've also seen his campaign defy expectations, as in Michigan where the Vermont Senator won despite being down by over 20 points in the polls.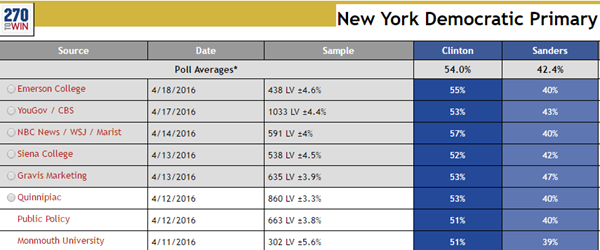 New York has 291 delegates, more than 10% of the 2,383 needed to win the nomination. 247 of those will be awarded based on Tuesday's primary, with superdelegates making up the remaining 44. Of the 247, 163 will come from the state's 27 congressional districts, with each district having 5-7 delegates. 84 will be awarded based on the statewide vote. As in all Democratic contests, the allocation statewide, and in each district, will be proportional, subject to a 15% minimum vote to receive any delegates.
Clinton enters the day with a 1,776 to 1,125 lead on Sanders, including committed superdelegates. 34 of New York's 44 superdelegates are included in the committed number. If the polls are accurate, and assuming each district votes in the same proportion (that won't happen, but with just two candidates, some of the differences will cancel each other out), Clinton would end up with about 135 of the 247 awarded today, Sanders 112. While that difference isn't huge, it would move Clinton much closer to the nomination. Starting the day needing about 1/3 of the remaining delegates, she would need fewer than 25% if this scenario plays out.
Visit our Democratic Nomination page for more details, including delegate counts and maps, as well as links to detail on each Democratic primary/cacucus.