Montana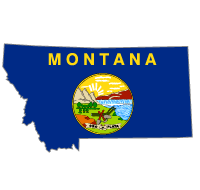 Montana gained statehood in November 1889, just six days after both Dakotas and three days before Washington, in the busiest period for new statehood in U.S. history. Montana has been reliably Republican in recent presidential elections, having voted for only two Democrats since 1952. Interestingly, prior to 1952, the state had voted gone Democratic five times in a row – four times for Franklin Roosevelt and then for Harry Truman. Donald Trump beat Hillary Clinton by over 20 points here in 2016. Montana is one of seven states with the minimum three electoral votes.
Voting History
State voted with the overall winning candidate
Electoral College Votes
Colored bars represent electoral votes by party. Hover to see names. 2020 electoral votes shown in dark green until after the election.