District Of Columbia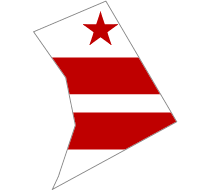 The District of Columbia is the only non-state to be enfranchised for presidential elections, gaining electoral votes through the ratification of the 23rd Amendment in 1961. That amendment gave residents of the nation's capital a share of electors proportional to its population, but limited it to no more electors than the least populous state. This meant three electoral votes in 1964, and that number has not changed. The vote here has always been heavily Democratic; no Republican has ever won an electoral vote. In the 2020 election, Joe Biden received about 17 votes for each one vote for Donald Trump.
Recent Presidential Elections
| | |
| --- | --- |
| 2020 | |
| 2016 | |
| 2012 | |
| 2008 | |
| 2004 | |
| 2000 | |
Presidential Voting History
State voted with the overall winning candidate
Electoral College Votes
Colored bars represent electoral votes by party. Tap or hover to see names.
Gray indicates available electoral votes that were either not cast or cast for a candidate not on the ballot.