A new poll from Public Policy shows Hillary Clinton with leads of varying sizes over prospective 2016 opponents while Jeb Bush leads the crowded Republican primary field.
Republican Primary: Former governor Jeb Bush leads with 25% of the vote with home state Senator Marco Rubio in 3rd at 15%. Scott Walker is in-between, with 17%. This is one of the stronger poll showings we've seen from Rubio thus far.
Democratic Primary: Hillary Clinton received 58% of those responding, with Joe Biden at 14% and Elizabeth Warren at 10%. The email issue doesn't seem to be affecting Clinton much in her own party.
General Election: Clinton leads all Republicans in head-head match-ups, with Florida's Rubio and Bush coming closest, within the margin of error. Walker, who is performing well in Republican primary field surveys is not seeing that carry over yet; he trails by 8%. Democrats have won states totaling 242 electoral votes in the last 6 consecutive presidential elections. If that 'blue wall' should persist in 2016, Florida is a must-win state for the Republicans as its 29 electoral votes would put the Democratic nominee over the 270 threshold.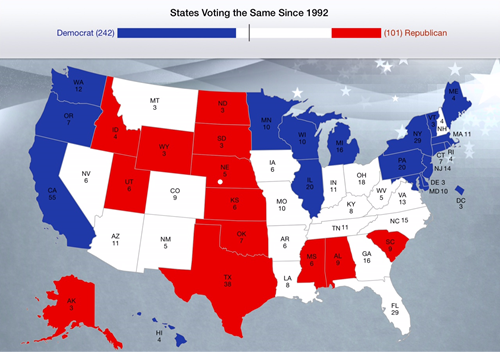 image from 270toWin iPad App