Donald Trump is at 26%, while a group of other Republicans have become tightly grouped in the low teens, according to a new poll of New Hampshire Repbublicans conducted by Franklin Pierce University and The Boston Herald. On the Democratic side, Hillary Clinton has all but erased Bernie Sander's lead in the one state that the Vermont Senator was ahead. New Hampshire will hold the nation's first primary (Iowa precedes it with their caucuses) on February 9.
More: 2016 Election Calendar
Republican Primary
Trump's 26% is more than double that of Marco Rubio and Ted Cruz, both at 12%. Chris Christie and Jeb Bush are right there as well, with 11% and 10%, respectively. John Kasich is at 8%.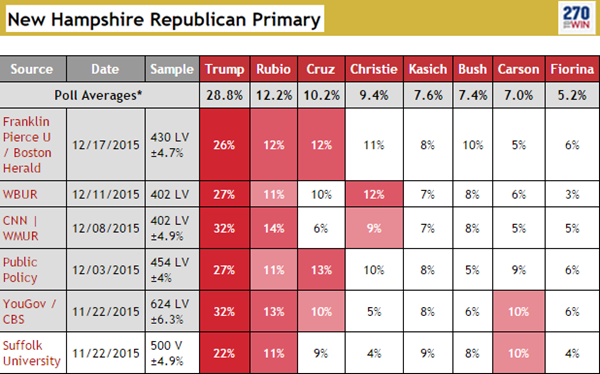 Comparing this poll to other recent ones, these results seem to indicate that Trump's core support remains steady, but not growing. Meanwhile, the more traditional candidates seem to be slowly gaining support as a group, but with a 5-way split, none are really making headway against the Republican frontrunner.
It appears that some of the candidates behind Trump will need to leave the race before his lead can effectively be challenged. That creates a paradox: All the tightly grouped candidates will be better off if one or more of them leaves, but nobody will want to be the one that leaves to miss out on that opportunity.
New Hampshire has just 23 delegates (1,237 are needed to be nominated) and these are allocated more-or-less proportionately.
Democratic Primary
Bernie Sanders leads Hillary Clinton by just 2%, well within the margin of error. Sanders led by 10% in a CNN poll last week, although trailed by 2% in a poll earlier in December. This race is effectively tied as the year comes to an end. As the Vermont Senator is trailing Clinton in most other places, including by 17% in Iowa, winning here seems critical if he is to have much of a shot against the Democratic frontrunner. Interestingly, Sanders continues to poll slightly better than Clinton in many general election match-ups.