Updated List of House Retirements
By 270toWin Staff
August 1, 2017
August 3 Updates: Republican Diane Black (TN-06) announced she will run for governor of the state in 2018. Additionally, although no formal announcement has been made, it seems highly likely that Republican Lou Barletta (PA-11) will run for U.S. Senate. Neither of these are yet reflected in the table below.
We've updated the table of U.S. House members not seeking reelection to their seat in 2018. The list is up to 18, including 11 Republicans and 7 Democrats.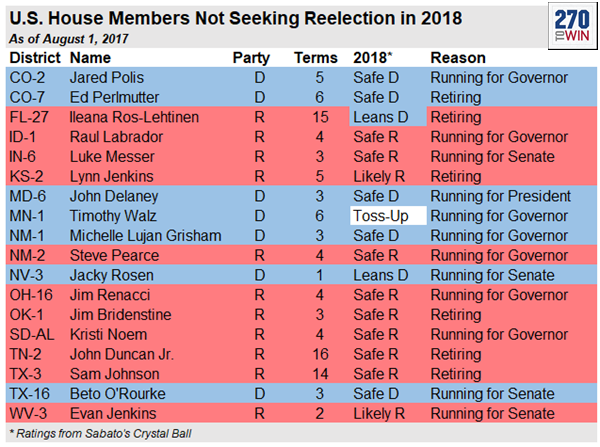 Over the past couple weeks, there have been three additions. In Indiana, Republican Luke Messer (IN-6) has announced his candidacy for U.S. Senate. Note that he may be joined in that race by his colleague, Republican Todd Rokita (IN-4). In Tennessee, 16-term Republican John Duncan Jr. (TN-2) has announced his retirement. Finally, as reported last week, Democrat John Delaney (MD-6), will be retiring from the House to run for president in 2020.
All three of these seats are currently rated as safe for the incumbent party, although there is some possibility that the Democratic-held seat in Maryland could become more competitive.
The House currently has 240 Republicans and 194 Democrats. Utah's 3rd district is vacant, to be filled by a special election on November 7th. All 435 House seats will be up for election in 2018.
comments powered by

Disqus
Headlines