Congresswoman Jacky Rosen to Challenge Senator Dean Heller in Nevada
By 270toWin Staff
July 6, 2017
First-term Democratic congresswoman Jacky Rosen has formally announced her candidacy for U.S. Senate in 2018. Assuming she secures the nomination, she will take on Republican incumbent Dean Heller, who will be seeking reelection to a 2nd term in the Senate from Nevada. Rosen currently represents that state's 3rd congressional district, which encompasses most of the state south of Las Vegas.
A late June poll from Public Policy Polling showed Rosen and Heller virtually tied, with Rosen ahead 42% to 41%. This will be one of the most watched races of 2018 as it is one of the few realistic opportunities for a Democratic pick-up on a difficult map. Of the 34 seats to be contested in 2018*, 25 of them are already held by Democrats**. Of the nine Republican-held seats, Nevada is the only one in a state not won by Donald Trump in 2016. Aside from Nevada, of the ten races currently seen as most competitive for next year (tan on map below), only Arizona is currently in Republican hands.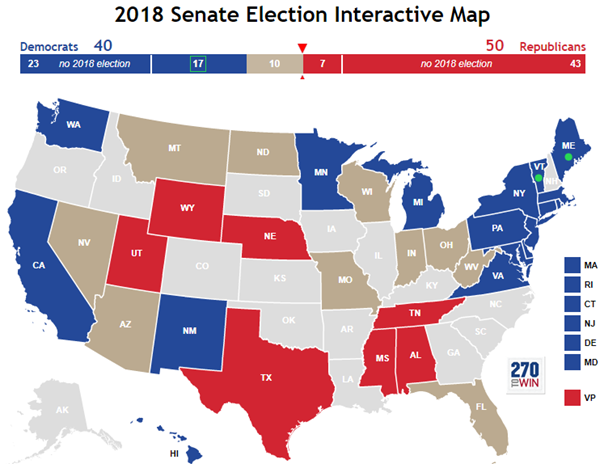 To win control of the Senate, Democrats need a net gain of three seats. To do that, they would need to defend all 25 of their seats, win the two competitive Republican-held seats (Nevada & Arizona), and find one other pick-up in a deep red state. Click or tap the map above to create and share your own 2018 Senate forecast.
* Includes Alabama special election to be held on December 12, 2017
** Including two independents (Bernie Sanders, Angus King) that caucus with the Democratic Party
comments powered by

Disqus
Headlines