Nearly two in three respondents to the overnight 270toWin straw poll said Donald Trump had won the Fox Business Republican debate. Ted Cruz and Marco Rubio were roughly tied for second, far back at around 10%. The remainder of the seven participants were selected by fewer than 5% of respondents.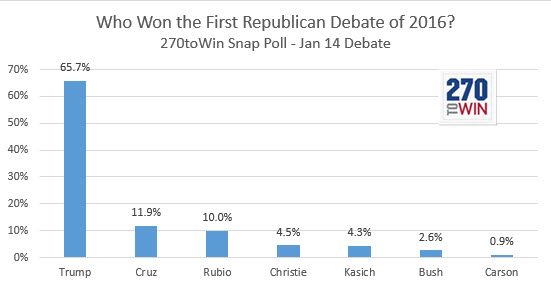 A recap of some media voices:
CNN: Trump gave his best debate performance of the campaign while Christie delivered the strongest among the establishment candidates. Bush may have 'won' on policy points, but nobody seems to care.
Politico: Cruz 'out-bullied' Trump while Carson surgically removed himself from contention.
New York Times: Cruz outmaneuvered everyone on stage, establishing that his surging candidacy is not a fluke.
Los Angeles Times: Trump sailed above the other candidates who often acted with visible desperation to attract attention.
Fox News: While the GOP field still has 12 candidates, the debate showed it's down to Trump vs. Cruz in, the first tier, with Rubio, Bush, Christie and Kasich in tier two, competing for the establishment slot coming out of February voting.