Two polls late this week, from Quinnipiac and Fox News, arrived at roughly the same conclusions.
Marco Rubio has edged into the lead in the crowded Republican field

Hillary Clinton maintains a single-digit lead over her most likely general election opponents

Clinton has this lead despite most finding her not honest and trustworthy
Quinnipiac found that 54% thought Clinton wasn't honest and trustworthy, while 38% thought she was. Fox News was closer, with 51-45% doubting her. These results were worse than most of her prospective opponents. Despite this, she continues to lead the Republican field. The polls found margins of 2-7%.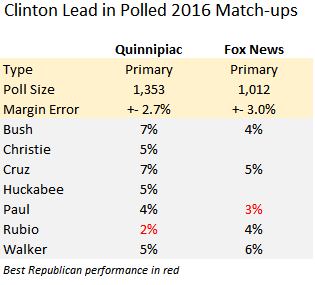 Full results, as well as other national and state polls can be found on our 2016 polls page.
Turning to the Republican nomination, Marco Rubio led in both polls, showing 15% support in the Quinnipiac poll, 13% in the Fox News survey. Overall the field remains tightly bunched.
It is possible that some of these poll results are a bit distorted by current news: Rubio's recent 2016 announcement and enhanced scrutiny of Clinton since her official announcement. Time will tell.