The team at Sabato's Crystal Ball has made a number of rating changes for the November House races; all of which move in the direction of the Democratic party. The cumulative effect is that, for the first time this cycle, Republicans are favored (leaning Republican or better) in fewer than 218 seats. 218 is the magic number for control of the 435-member House, when there are no vacancies.
With the changes, Republicans are favored in 214 seats this November, Democrats 197, with 24 toss-ups*. Looking at the most 50 most competitive races (toss-ups + leans), Republicans currently hold 45 of them. None of the Democratic incumbents in the five remaining seats are running this November. Put another way, every Democrat seeking re-election this fall is considered safe or likely to hold the seat.
At this point, control of the House is clearly in play, and the number of competitive seats is expanding. However, we're still eight months out from the election, so much can change. If the trend stabilizes, and Republicans can hold the seats where they're currently favored, they don't need to win all that many of the toss-up districts to keep the House. Conversely, if the environment for the GOP continues to worsen, Democrats could easily surpass the 218 they need to take the gavel from Paul Ryan.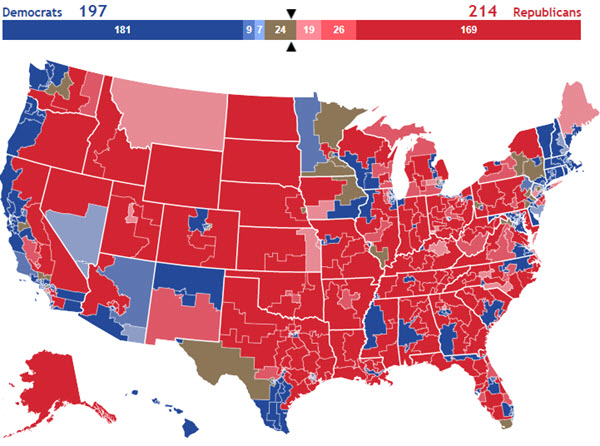 Click or tap the map above to explore the interactive House map and create your own forecast. The map has recently been updated to make it easier to use.
* Sabato has also moved their rating for next Tuesday's Pennsylvania PA-18 special election to toss-up. As part of the court-ordered redistricting, a large portion of the current 18th will be in the redrawn, safely Republican PA-14 this November. If the Democrat Conor Lamb wins Tuesday, he's most likely to run in the new PA-17 against 'incumbent' Republican Keith Rothfus. In any case, our map is looking beyond the special election to the ratings for November, which gets us to the 214 Republican total, with 24 toss-ups.