Arkansas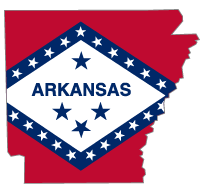 Arkansas joined the Union as the 25th state in June, 1836. The state seceded during the Civil War and did not participate in the 1864 election. The state's electoral votes were rejected in 1872 due to irregularities. Arkansas voted Democratic over a span of 23 consecutive elections from Reconstruction until 1964. Like many southern states, this changed with opposition to civil rights legislation. In 1968, the state sided with third-party candidate George Wallace. Since then, it has gone Republican in nine of twelve elections, voting Democratic twice for fellow Arkansan Bill Clinton and once for Jimmy Carter. In recent elections, it has become a solidly red state, with the Republican margin of victory increasing in each of the last four elections. In 2016, Donald Trump defeated Hillary Clinton by almost 27 points.
Voting History
State voted with the overall winning candidate
Electoral College Votes
Colored bars represent electoral votes by party. Hover to see names. 2020 electoral votes shown in dark green until after the election.
An empty column indicates the state did not participate in that election.