California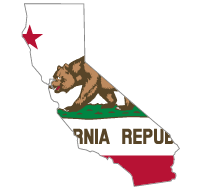 California, which rapidly gained population during the Gold Rush of 1848, joined the union in September, 1850 as part of the Compromise of 1850. With the exception of 1920 (when Congress failed to pass a reapportionment act) and 2010, the state has gained electoral votes from every census since its founding. In 1972, California reached 45 electoral votes, passing New York for most in the country. With 55 currently, the state has more than 10% of all available electoral votes.

While growth in the Latino population has helped make California a reliably Democratic state today, this was not always the case. In fact, from 1952 through 1988, Republicans won every presidential election except the landslide loss of Barry Goldwater in 1964. In 2016, Hillary Clinton won the state by 30 points over Donald Trump. This marks the third consecutive election that the Democratic nominee has surpassed 60% in the state.
Voting History
State voted with the overall winning candidate
Electoral College Votes
Colored bars represent electoral votes by party. Hover to see names. 2020 electoral votes shown in dark green until after the election.