Rep. Barletta to Run for Senate in PA; Update on House Retirements
By 270toWin Staff
August 30, 2017
Republican 4th term Rep. Lou Barletta (PA-11) will forego reelection to the House next year to challenge incumbent Democratic Senator Bob Casey. This race is currently rated Likely Democratic by Sabato's Crystal. Ball. In their latest review, from late August, they said:
"Let's start in the two states that hypothetically should be the easiest for [Democrats] to hold, Michigan and Pennsylvania. They, like New Jersey and Virginia, are rated as Likely Democratic, but we include them here as potentially more fruitful GOP targets, both because of the states' 2016 turn toward Trump and also because of the potential for intriguing Republican nominees against Sens. Debbie Stabenow (D-MI) and Bob Casey (D-PA).
In the Keystone State, it appears as though Trump ally Rep. Lou Barletta (R, PA-11) is going to run. While there are other candidates running, Barletta would have the biggest profile, although Casey's two victories both have been fairly comfortable."
Barletta was an earlier supporter of President Trump, who, in-turn, has urged the Congressman to run for the Senate. The state is one of 33 Senate seats up for election in 2018. Create and share your forecast with our Interactive Senate Map.
Update on House Retirements
Barletta becomes the 21st House member to announce they are not seeking reelection to that body in 2018. The updated list is here: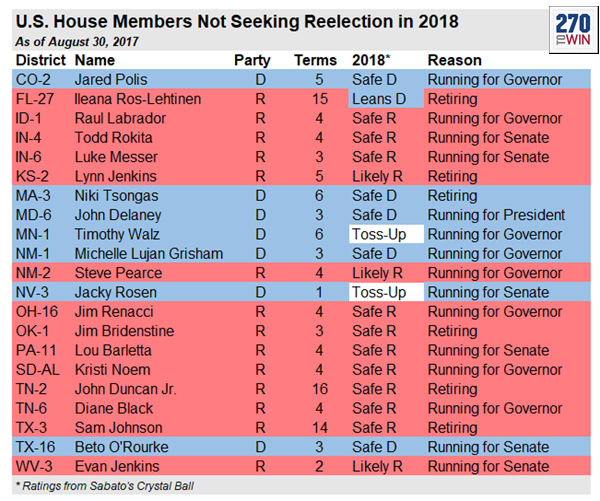 Our last update, from early August, also showed 21 announced retirements. In the interim, Colorado's Ed Perlmutter reversed his earlier decision and will seek reelection in 2018. Perlmutter had previously announced a run for Colorado Governor. However, his path to that office was not looking promising. He withdrew from the race in mid-July.
All 435 House seats are up in 2018. Create your forecast with our Interactive House Map.
comments powered by

Disqus
Headlines