Massachusetts Rep. Tsongas Retiring; 21 House Members Not Seeking Reelection
By 270toWin Staff
August 10, 2017
6th Term Democratic Rep. Niki Tsongas (MA-03) has announced she will not seek reelection to the House in 2018. This brings to 21 the number of Representatives that will not seek another term. The updated list, along with the current ratings, courtesy of Sabato's Crystal Ball, can be seen in the table below.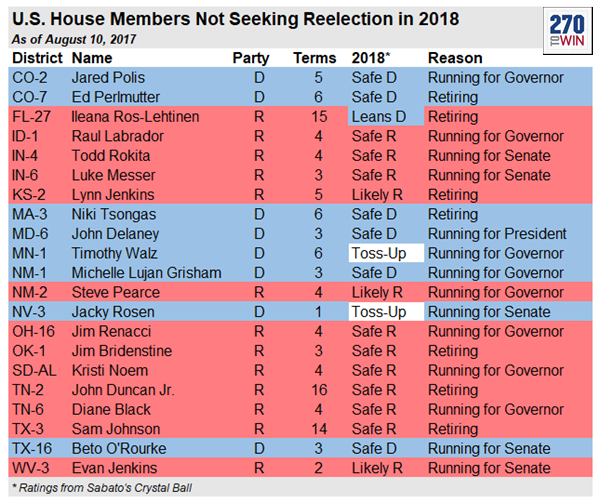 Of the 21 leaving the House, 13 are Republicans (R), eight are Democrats (D). Eight (5R, 3D) are running for governor of their state, while five (3R, 2D) are running for U.S. Senate. One Democrat is running for president in 2020. The remaining seven (5R, 2D) are retiring, or are not currently seeking another office. 15 seats (9R, 6D) are considered safe for the incumbent party, while the other six (4R, 2D) are expected to be at least somewhat competitive.
All 435 House seats will be up for election in 2018.
comments powered by

Disqus
Headlines