Republicans Moore, Strange Advance to Primary Runoff in Alabama U.S. Senate Race
By 270toWin Staff
August 15, 2017
Roy Moore and Sen. Luther Strange took the top two spots in Tuesday's Alabama Senate Republican primary. As neither received more than 50% of the vote, they will meet in a runoff on September 26th. The winner that day will face off against Democrat Doug Jones, who advanced to the general election by winning over 60% of the vote in the Democratic primary. The general election will be held on December 12th.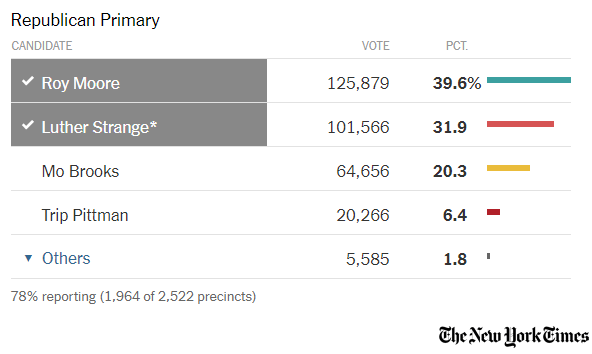 This off-year special election came about after former Sen. Jeff Sessions resigned to become the U.S. Attorney General in the Trump administration. Gov. Robert Bentley appointed Luther Strange, then the state's Attorney General, to take Session's spot, scheduling a special election in November of 2018 to fill the seat for the final two years of Session's term. At the time, Strange was investigating Bentley regarding a purported relationship the governor was having with an aide. This raised a few eyebrows in the state.
Bentley eventually resigned, and was succeeded by Lt. Gov. Kay Ivey. She moved the special election to this year.
Strange's main challengers in the primary were Roy Moore, former Chief Justice of the Alabama Supreme Court and Mo Brooks, who represents Alabama's 5th District in the U.S. House of Representatives. Moore was suspended from the bench for ethics violations, and subsequently resigned his position to run for Senate. Having been eliminated from the Senate race, Brooks has plenty of time to decide if he wants to defend his House seat in 2018.
This seat has been in Republican hands for about 20 years. While the seat is highly likely to stay with the GOP, a runoff win by the controversial Moore could lead to a more competitive general election than would otherwise be expected in this deep red state.
comments powered by

Disqus
Headlines