Super Tuesday is underway; a day that is likely to see Republican Donald Trump and Democrat Hillary Clinton further cement their status as their respective party's likely nominees. (Super Tuesday Republican and Democratic polling update).
A new CNN | ORC poll for the general election shows that intra-party dominance doesn't extend to the general election. (We've noticed this for the last several months, but it is particularly obvious now that the number of likely match-ups has decreased).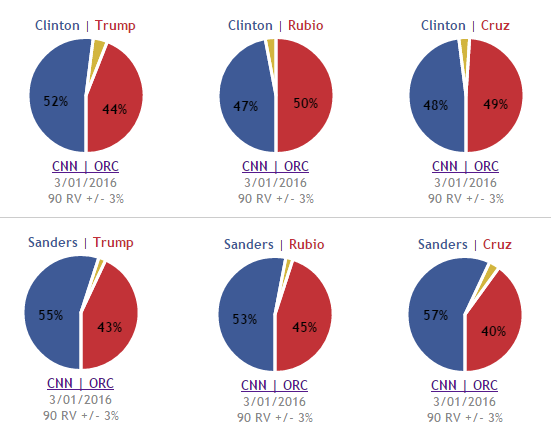 Bernie Sanders easily defeats all three Republicans sampled, and significantly outperforms Clinton in each case. In the most extreme case, Cruz leads Clinton by one while Sanders beats him by 17 points.
Looking at it from the Republican side, Trump is easily beaten by either Clinton or Sanders, while Rubio and Cruz have a small lead over Clinton. Rubio outperforms Trump against either opponent.
Some of these differences can likely be attributed to the fact that Sanders is viewed much more favorably than Clinton (57% favorable for Sanders, 42% for Clinton in the poll) and that Clinton and Trump had the highest unfavorables (55% and 60%, respectively).