The fifth Republican debate will be held tonight at The Venetian in Las Vegas. It is hosted by CNN and Salem Radio and telecast live on CNN, moderated by Wolf Blitzer. This will be the final Republican debate for 2015.
As with previous Republican debates, it will be split into two sessions. The first, at 6 PM ET will include George Pataki, Mike Huckabee, Rick Santorum and Lindsey Graham. The main event, at 8:30 ET, will include nine candidates: The eight that participated in the Fox Business debate a few weeks back plus Chris Christie. Both Christie and Rand Paul made the main stage by virtue of their polling performance in New Hampshire and Iowa, respectively. This is the first debate where early state polling was considered as a qualifying criteria.

As in prior dates, the candidates will be ordered by polling averages. CNN is using the average of national polls from November and December. Donald Trump will again hold center stage, flanked on his left by a surgng Ted Cruz and on his right by a fading Ben Carson. Marco Rubio, will be to Carson's right. Given the direction of the race today, these two probably should be switched, but they didn't ask our opinion. Jeb Bush will be to Cruz's left, with Chris Christie and Rand Paul on that end. On the other end, Carly Fiorina and John Kasich will be to the right of Rubio.
Turning to the polls, we've compiled the national 270toWin polling average for these nine, as well as that average for the first two voting states of Iowa and New Hampshire. These averages include the five most recent polls, which is different than the CNN criteria.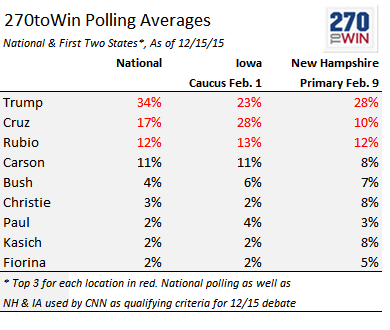 While the top 3 are the same in all three locations, note that the recent ascendency of Ted Cruz in Iowa has not yet translated into New Hampshire.
NPR has put together a nice summary of what each candidate needs to accomplish and avoid in the debate.