Court Nomination Tonight: Contact Information for United States Senators
By 270toWin Staff
July 9, 2018
President Trump will announce his nominee for the U.S. Supreme Court Monday night. If confirmed by the U.S. Senate, this individual will fill the seat being vacated by the retiring Anthony Kennedy.
As of Monday afternoon, it was being reported that Trump had chosen a nominee. The names that have been getting the most attention are all federal appellate judges: Brett Kavanaugh, Raymond Kethledge, Amy Coney Barrett and Thomas Hardiman.
Kennedy has been the swing vote in recent years for many court decisions that have split the four more liberal and four more conservative justices. As Trump's nominee will almost certainly be more conservative than Kennedy, the elevation of this nominee may well shift the court to the right.
Given the importance of this nomination, we've compiled a list of contact information for all 100 U.S. Senators. This includes mailing address, phone, email and social media. We've also included some related election filters.
If you are strongly for or against the president's choice, these are the people that need to hear from you.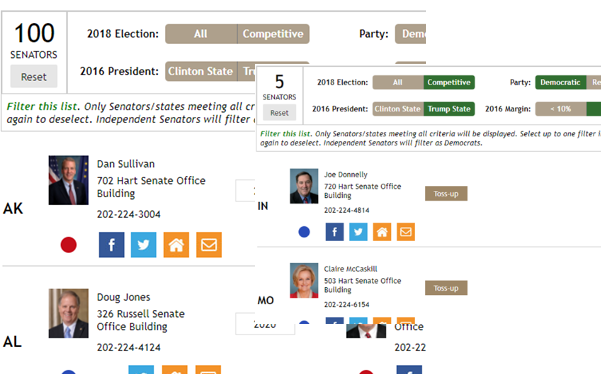 comments powered by

Disqus
Headlines