Republican Michael Cloud Wins Texas Special Election
By 270toWin Staff
July 1, 2018
Despite the difficult math associated with 8 other candidates on the ballot, Republican Michael Cloud won an outright victory in the Texas 27th Congressional District special election on Saturday. By getting over 50% of the vote, Cloud avoided a runoff with 2nd place finisher, Democrat Eric Holguin.
Cloud will serve the remainder of former Rep. Blake Farenthold's term. Cloud and Holguin will face each other again in the November midterms, as both were nominated in the Texas primary runoff earlier this year.
Once Cloud is seated, Republicans will hold a 236-193 margin in the House, with six vacancies. The full list of vacancies is in the table below.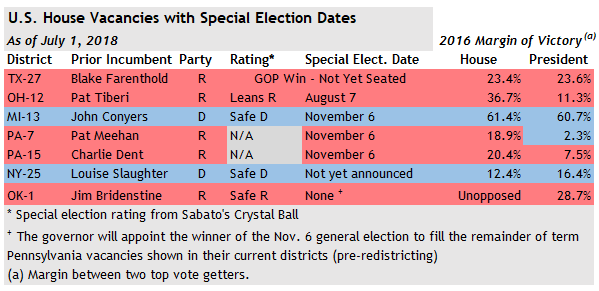 The next special election, on August 7, will fill the vacancy in Ohio's 12th District. This opening was created when Republican Pat Tiberi resigned in January. This race is seen as toss-up to leans Republican by various pundits, although the two most recent polls (JMC, Monmouth) had the GOP nominee up by about 10 points.
comments powered by

Disqus
Headlines