Primary Recap: Ten-term congressman loses; close call for a couple other incumbents
By 270toWin Staff
June 27, 2018
Highlights from last night's five state primaries and runoff elections in two states. Click a state name for all results.
14th District (Democratic Primary): Ten-term incumbent Rep. Joe Crowley was ousted by political novice Alexandria Ocasio-Cortez. At 28, she will become the youngest woman ever elected to Congress if, as expected, she wins in this heavily Democratic district in November. Crowley is one of the most prominent members of the Democratic caucus and had been in the narrative to become Speaker of the House should the Democrats take back that body in November.
9th District (Democratic): A close call for six-term incumbent Rep. Yvette Clarke who narrowly defeated another young challenger, 30 year old Adem Bunkeddeko.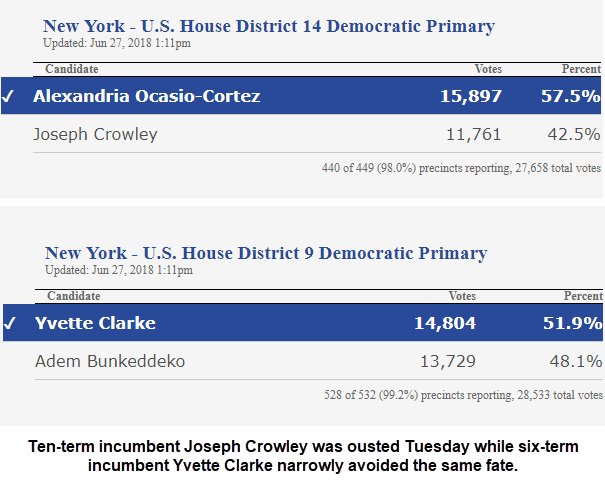 11th District (Republican): Rep. Dan Donovan easily fended off former Rep. Michael Grimm, who wanted his old seat back. This is expected to be a competitive district in the fall; The win by the more moderate Donovan will make it slightly easier for Republicans in this competitive district, the only GOP-held one in New York City. (Donovan will face yet another political newcomer, former U.S. Army combat veteran Max Rose, who won the Democratic primary).
25th District (Democratic): Assembly Majority Leader Joseph Morelle got past several opponents for this safely Democratic seat that became vacant upon the death of Rep. Louise Slaughter earlier this year.
Governor: New York has a split calendar; the primary for statewide offices will be September 13th.
Governor (Democratic): Former NAACP head Ben Jealous emerged victorious from a large field. He will take on popular Republican Gov. Larry Hogan in November.
6th District (Democratic): Businessman David Trone won the primary for this seat being vacated by Rep. John Delaney, who is running for president in 2020. This seat is fairly safe for the Democrats, so Trone will likely be a member of Congress in 2019.
South Carolina (Runoffs)
Governor (Republican): Gov. Henry McMaster won a competitive runoff with businessman John Warren. McMaster, who took over when Nikki Haley became U.N. Ambassador, will be favored to win his first full term in November
4th District (Republican): William Timmons won the runoff for this deep red seat being vacated by the retiring Rep. Trey Gowdy. He will be a strong favorite to win in the general election.
Mississippi (Runoffs)
3rd District (Republican): Michael Guest won the runoff for this deep red seat being vacated by the retiring Rep. Gregg Harper. He will be a heavy favorite to win in November.
Governor: Both parties held contested primaries to replace Gov. Mary Fallin who is term-limited. On the Democratic side, former Attorney General Drew Edmondson easily won. The Republican nominee will be determined in an August 28th runoff between former Oklahoma City Mayor Mick Cornett and Tulsa businessman Kevin Stitt.
1st District (Republican): This seat was vacated when Rep. Jim Bridenstine was confirmed to head NASA. Per state law, the winner of the general election in November will be appointed to serve the final couple months of Bridenstine's term. The runoff between Tim Harris and Kevin Hern on August 28th will likely determine the next member of Congress in this deep red district.
Senator (Republican): As expected, Mitt Romney easily won the nomination and will be a prohibitive favorite in the November election. Sen. Orrin Hatch is retiring.
comments powered by

Disqus
Headlines