Alabama 2nd Congressional District Runoff: An Incumbent Tries to Hold Her Seat
By 270toWin Staff
July 17, 2018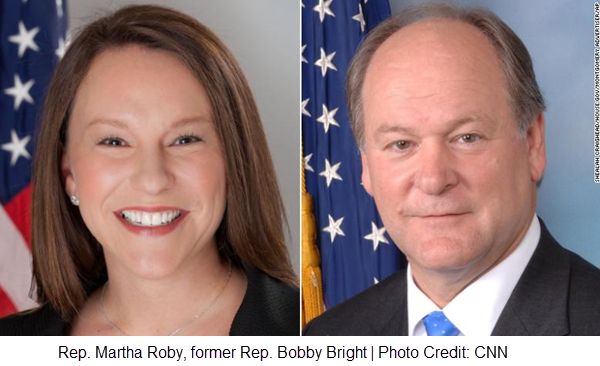 If the MLB All-Star Game doesn't hold your attention, there is one interesting election in Alabama Tuesday. Four-term Rep. Martha Roby faces off against former Rep. Bobby Bright for the Republican nomination in the state's second congressional district. No candidate received a majority of the vote in the state's June 5 primary, forcing today's top-two runoff. Roby received about 39% of the vote last month, Bright 28%.
Polls close at 7:00 PM local time (8:00 PM Eastern). Results will appear below after that time; reload the page for the latest.
Roby defeated Bright, who was then a Democrat, in the 2010 election. She was easily re-elected by around 30% in both 2012 and 2014. However, in 2016, after criticizing then-candidate Donald Trump over the 'Access Hollywood' tape, her margin of victory fell to just 8% in a district Trump won by 32%.
Roby has become a supporter of Trump's agenda and was rewarded when the president endorsed her in June.
Congresswoman Martha Roby of Alabama has been a consistent and reliable vote for our Make America Great Again Agenda. She is in a Republican Primary run-off against a recent Nancy Pelosi voting Democrat. I fully endorse Martha for Alabama 2nd Congressional District!

— Donald J. Trump (@realDonaldTrump) June 22, 2018
The Southeastern Alabama second district is solidly Republican; today's winner will be the overwhelming favorite in November against Democratic nominee Tabitha Isner. If Roby were to lose, she would be the fourth House member to be defeated in a primary this year. The first two upsets were GOP incumbents: In May, Rep. Robert Pittenger (NC-9) lost, followed about a month later by Rep. Mark Sanford (SC-1). In late June, Democratic Rep. Joseph Crowley (NY-14) was ousted.
This article was updated on July 18th to reflect that if Roby had lost she would have been the fourth House member to be defeated. The original article omitted the primary loss by Joseph Crowley.
comments powered by

Disqus
Headlines