Four polls released Sunday/Monday give Roy Moore a double-digit lead over Sen. Luther Strange in Tuesday's runoff for the Republican nomination for the U.S. Senate race in Alabama.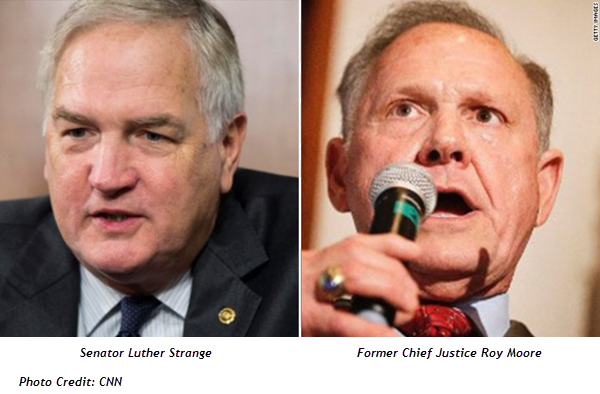 Alabama-based Cygnal, in conjunction with L2, gives Moore a 52 to 41 lead over Strange. Emerson college has it 50-40 Moore. Data analytics firm Optimus has Moore at 55%, with Strange at 45%. Finally, Trafalgar Group, who did an especially good job predicting Donald Trump's win last November, gives Moore a 16 point lead, 57% to 41%. Despite Mr. Trump's support of the appointed Senator, these margins indicate a Moore victory is likely on Tuesday.
Polls are open Tuesday from 7AM to 7PM local time, meaning results should be available starting at 8PM Eastern Time. The winner will face Democratic nominee Doug Jones in the December 12th special general election. The winner there will complete the term of former Sen. Jeff Sessions, now U.S. Attorney General. This seat is next up for its regular election cycle in 2020.