Tuesday brings us the West Virginia primary for both parties, while Republicans in Nebraska will also go to the polls. The polling places are open until 7:30 ET in West Virginia. In Nebraska, polls close at 9:00 ET, meaning 8:00 PM locally for those in the Central Time Zone and 7:00 PM for those in the Mountain Time Zone.
Delegate Update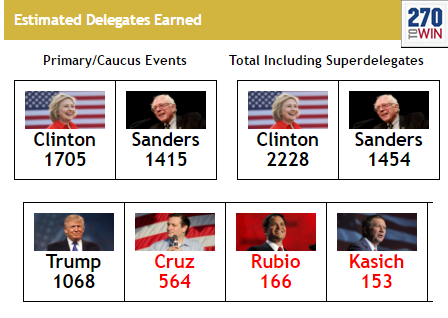 Hillary Clinton starts the day 155 delegates from the 2,383 she needs to clinch the Democratic nomination, while Donald Trump, now the presumptive Republican nominee, needs 169 to officially reach the magic number of 1,237 delegates. Neither can reach the required total today with the pledged delegates available.
Democratic Primary: There are 29 pledged delegates available in the Democratic West Virginia primary. Sanders leads the limited polling by 6 points. As with all Democratic contests, the delegates will be awarded proportionately based partially on the statewide result, partially on the result within each congressional district. Regardless of the outcome today, Clinton is likely to clinch the nomination on June 7th. Six states, including California with 475 pledged delegates, vote that day.
Republican Primaries: 70 delegates are available today. Nebraska has 36 delegates, winner take all. There has been no polling here, but, with no competition, little reason to think anyone other than Trump will win. Trump has a commanding lead in West Virginia. He should win most or all of the state's 34 delegates, depsite the convoluted way they are awarded. June 7th is also the most likely date for Trump to officially seal the nomination.