Hill Resigns as of Friday; Update on Four House Vacancies
By 270toWin Staff
November 1, 2019
Rep. Katie Hill resigned her seat as of Friday. The House now has 233 Democrats, 197 Republican, one independent and four vacancies.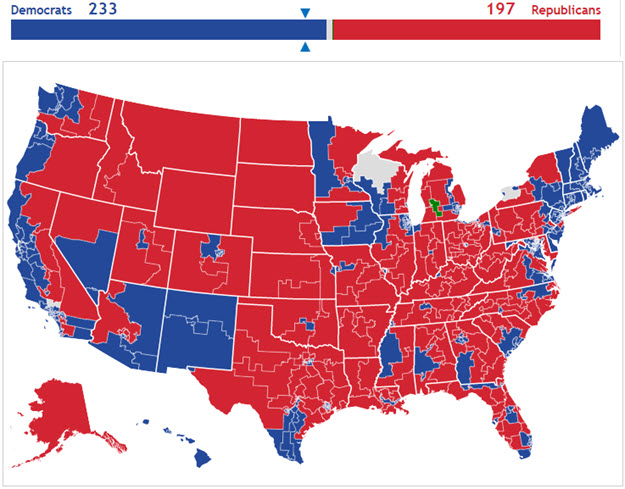 The four vacancies will be filled by special election in 2020. Ratings are subject to change.
CA-25 (Date TBA): As noted above, Democrat Katie Hill resigned November 1. A possible date for the special primary election is March 3, the same date as the state's scheduled 2020 primary. Assuming that is the case, that date will also see 25th District voters nominating candidates for the November 3 general election on a separate ballot. In both cases, all candidates from all parties will appear together. For the regular primary election, the top-two finishers, regardless of party, will advance to the November election. In the special election, the top-two will advance to a May runoff, unless one candidate gets a majority of the vote on March 3. Leans Democratic.
MD-7 (April 28, 2020): Democratic Rep. Elijah Cummings died October 17. The April special election date is the same as the state's scheduled 2020 primary election. Safe Democratic.
NY-27 (Date TBA): Republican Rep. Chris Collins resigned October 1, the same day he plead guilty to insider trading charges. Under indictment during the 2018 midterms, Collins was re-elected by less than 1% despite the conservative lean of his district; Donald Trump won here by about 25% in 2016; that margin is a better reflection of how the special election is likely to go. Safe Republican.
WI-7 (May 12, 2020): Republican Rep. Sean Duffy resigned September 23 to address a family health issue. The special election was originally scheduled for January 27, 2020, but had to be moved to a later date due to a conflict between federal and state election laws. Likely to Safe Republican.
comments powered by

Disqus
Headlines