Update on Final Two Democratic Debates of 2019
By 270toWin Staff
October 26, 2019
Amy Klobuchar has qualified for the November Democratic debate. Separately, details have been announced for the Party's December debate, the final one of 2019.
5th Debate - November 20 - Atlanta, GA
Sen. Klobuchar of Minnesota received 3% in a national Quinnipiac survey this past Thursday, giving her enough qualifying polls to make the November debate stage. She is the 9th candidate to meet both the polling and fundraising requirements.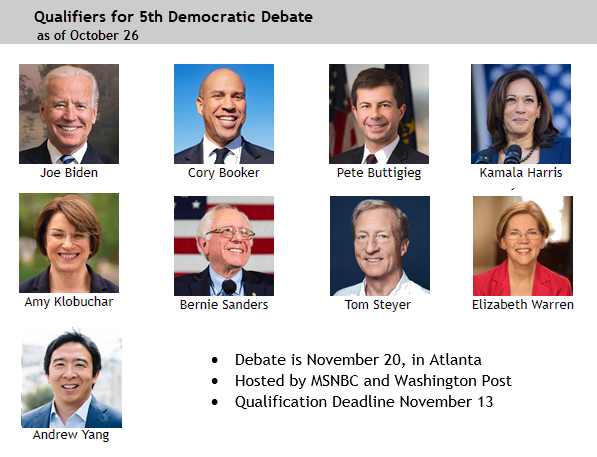 Three additional candidates - all of whom participated in the most recent debate - have met the fundraising requirement, but not the polling one. The deadline is November 13.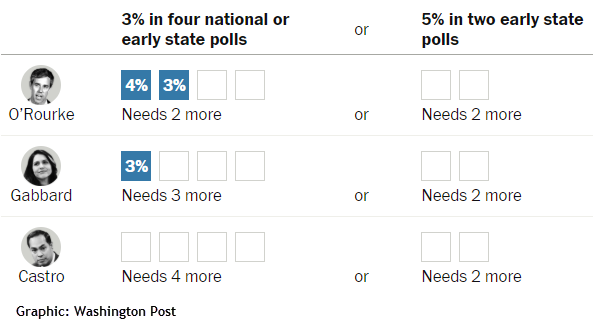 6th Debate - December 19 - Los Angeles, CA
Details have been announced for the final debate of 2019. It will take place on the campus of UCLA and be hosted by Politico and PBS.
The DNC has again tightened the qualifying criteria. Candidates must receive 4% support in four approved national or early voting state polls. Alternately, they can receive 6% in two approved early state polls. This is up from 3% and 5%, respectively. On the fundraising side, candidates must have contributions from 200,000 unique donors, up from 165,000. There's also a minimum of 800 donors from 20 states or more, up from 600.
At this point, Joe Biden, Elizabeth Warren and Bernie Sanders have qualified, with Pete Buttigieg and Kamala Harris likely to cross the threshold shortly. Candidates will have until December 12 to qualify.
comments powered by

Disqus
Headlines