North Dakota's at-large Rep. Kevin Cramer will announce Friday his entry into the U.S. Senate race. The 3-term Republican will give the party a top recruit in its effort to unseat Democratic Sen. Heidi Heitkamp.
Cramer initially had passed on running, but apparently has had a change of heart in recent days. The only other Republican in the race, state Sen. Tom Campbell, may shift over to run for Cramer's seat in the House.
A Facebook page 'Kevin Cramer for US Senate' posted that the announcement would come late Friday afternoon in Bismarck.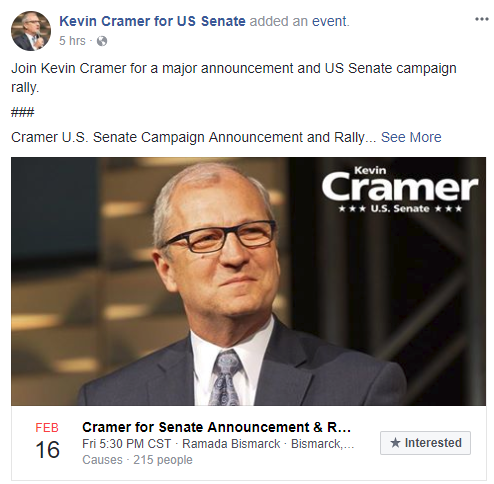 Cramer will become the 51st current House member to pass on re-election to that body in 2018. He'll be the 10th of those running for the U.S. Senate. We'll add him to the list of retirements when the announcement is official.
Kramer won his third term in 2016 by 45%, while Donald Trump won the state by 36%. This is Heitkamp's first term; she won election in 2012 by just under 1%.