The Road to 270: Minnesota
By Drew Savicki
August 10, 2020
The Road to 270 is a weekly column leading up to the presidential election. Each installment is dedicated to understanding one state's political landscape and how that might influence which party will win its electoral votes in 2020. We'll do these roughly in order of expected competitiveness, moving toward the most intensely contested battlegrounds as election day nears.
The Road to 270 will be published every Monday. The column is written by Drew Savicki, a 270toWin elections and politics contributor. Contact Drew via email or on Twitter @DrewSav.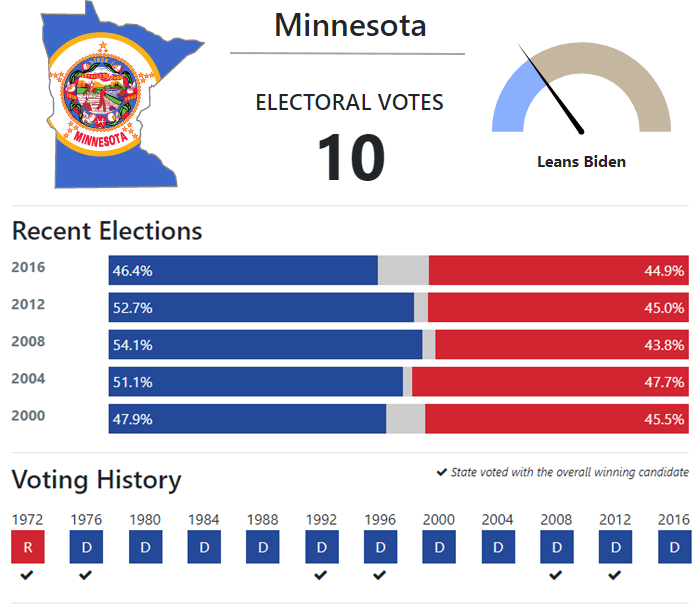 Minnesota, with its dynamic politics and enterprising economy, is known for its high electoral engagement. Geographically, in the "Land of 10,000 Lakes" -- a nickname that its license plates allude to -- a majority of the population can be found in the area around the Twin Cities of Saint Paul and Minneapolis. By contrast, Outstate Minnesota is sparsely populated and home to mid-sized cities and small towns. Once a state dominated by agriculture and mining, today Minnesota is a financial hub. Many of its residents claim Scandinavian and Eastern European heritage, giving it one of the most unique cultures in the country.
In a political context, the state's distinct traditions are readily apparent. Unlike almost every other state in the nation, the Democratic Party does not technically exist in Minnesota. In the 1920s, members of the national left-wing populist movement called the Nonpartisan League stood for election under a new banner, the Farmer Labor Party. In 1944, they merged with the Democrats to form the Democratic-Farmer-Labor Party (DFL), which endures to this day.
Congressional Politics
Over the last few cycles, Minnesota, with its eight congressional districts, emerged as a battleground for control of the U.S. House. 2018 saw half of the state's congressional districts change hands, with two suburban seats (Districts 2 and 3) flipping to the Democrats and two Outstate seats (Districts 1 and 8) flipping to Republicans.
In a great year for Democrats, why was there bipartisan turnover? Let's take a closer look at the key districts.
The 1st District includes the southern tier of Minnesota, spanning the Iowa border. Resembling northern European farmland, this area was settled by Germans and Scandinavians after the Civil War. Small towns popped up along the railroads and along the banks of the Mississippi River -- that mighty river starts out as stream in Minnesota. Perhaps the most well-known city there is Rochester, home to the Mayo Clinic. Traditionally, Republican statewide candidates would fare well in southern Minnesota. A Midwesterner, Barack Obama carried this district twice, but Donald Trump's message resonated with voters in this largely white working-class district. Clinton carried Rochester's Olmstead County but Trump swept the district's other 20 counties. MN-1's congressman at the time, Democrat Tim Walz, held on, but by just 2,500 votes out of about 336,000 cast -- the closest reelection of his career. Despite his close call two years earlier, no race forecasters rated the 1st District as competitive in 2016.
For 2018, Walz gave up the seat to run, successfully, for governor, and his 2016 opponent, Republican Jim Hagedorn, narrowly flipped the district. This year, Hagedorn has a rematch with his 2018 Democratic opponent, Dan Feehan. Feehan is a veteran of the Army, and has an impressive profile, but the district may be too Republican-leaning.
Sitting atop the state is the Duluth-centric 8th District, which includes the Iron Range. Beginning in the late nineteenth century, its rich deposits of iron ore fostered a substantial mining industry that attracted European immigrants. From 1975 to 2011, this district was represented by Jim Oberstar, a pro-labor Democrat who prioritized work on transportation and infrastructure. In the Catholic tradition, Oberstar was against abortion -- so he was a great fit for an area that has a heavy presence of eastern European voters. In 2010, MN-8 was the site of one of the cycle's biggest upsets: After a routine 68%-32% win in 2008, Oberstar lost by less than two percentage points to Republican Chip Cravaack.
For 2012, the district's borders hardly changed, and Cravaack was a top Democratic target. Former Rep. Rick Nolan (D), who represented a neighboring seat in the Carter era, made a comeback, beating Cravaack by 9%. Nolan ran as a progressive populist and proved to be a resilient campaigner. Between 2014 and 2016, he won two close bouts against GOP businessman Stewart Mills -- in 2016, he held on while running considerably ahead of Clinton.
In 2018, Nolan announced his retirement and decided to run for lieutenant governor, on a ticket with then state Attorney General Lori Swanson. Ultimately, Swanson lost the primary and Democrats were unable to hold on to the 8th District. Retired hockey player and St. Louis County Commissioner Pete Stauber flipped the seat by almost six points, defeating former State Rep. and Nolan aide Joe Radinovich. In the gubernatorial race, this district flipped from blue to red, going against the national environment.
In the sprawling rural western half of the state lies the state's intriguing 7th District. Democrat Collin Peterson is in his 15th term, having first been elected in 1990. A conservative Democrat, Peterson is an anomaly in an increasingly urban caucus. The Almanac of American Politics described Peterson's politics as an 'irritant' to state DFL activists but a 'smash hit' with voters in his district -- as the area has gotten redder, Peterson's mavericky brand has paid off. He now chairs the House Agriculture Committee, a major boon to this rural district.
The 7th District won't determine control of the House this year but is a notable contest nonetheless. There's no other member -- from either party -- representing a district that went so strongly for the opposite party's presidential nominee in 2016. MN-7 voted for Trump 62%-31% in 2016 and Peterson was reelected by five percentage points that year.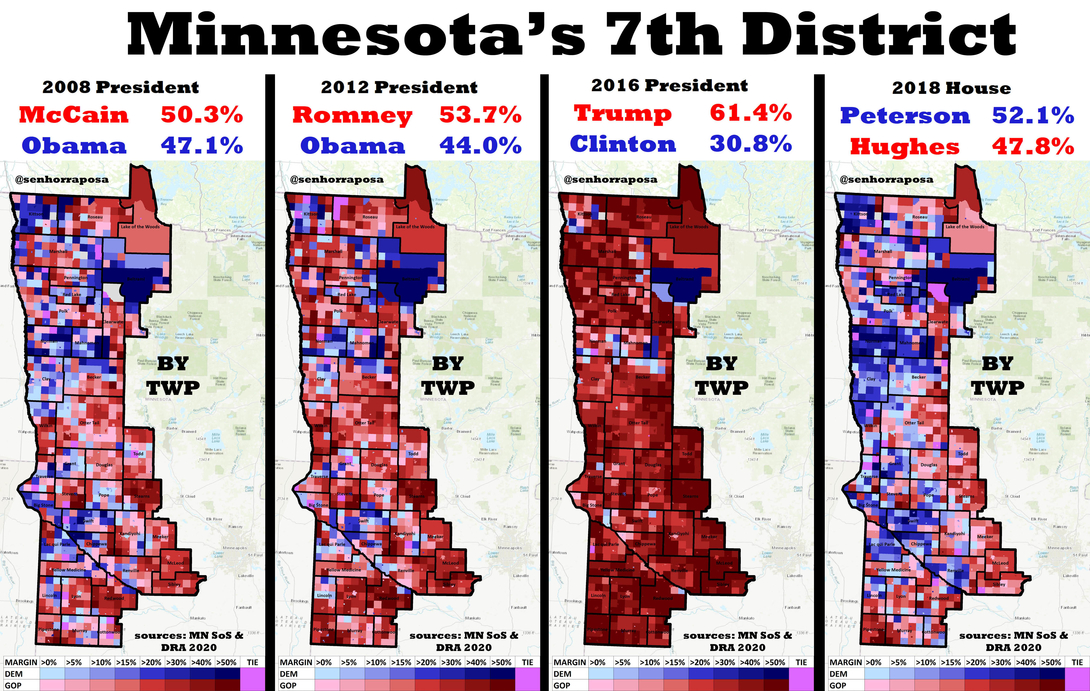 Republicans landed a star recruit in MN-7 this cycle with former Lt. Gov. Michelle Fischbach. Peterson is considered the only Democrat who could feasibly hold this seat, and is hoping his status as Agriculture Chair can give him a lift back home. Most forecasters rate this race as a 'Toss-up.' Although the national environment favors Democrats -- like it did in 2018 -- Peterson will need to retain his crossover support. National Republicans often characterize Peterson as "cranky," but his gruff demeanor seems to be part of his appeal. Peterson's enduring brand is rather remarkable. Although the President endorsed his opponent, Peterson won 52-48% in 2018. Although his margins continue to slip from cycle to cycle, Peterson still enjoys significant crossover appeal.
Minnesota is currently slated to lose a seat in the House after the next Census and the 7th District, which has seen slow population growth, is the most likely district to be eliminated. There are a lot of factors at play -- if Democrats take both chambers of the state legislature this year, they'd control the redistricting process -- but a likely scenario is that much of that district is combined with the 8th District. Should she win this year, Fischbach may find herself in a district with current National Republican Congressional Committee (NRCC) Chairman Rep. Tom Emmer. As it is now, Fischbach's home is just a few miles outside Emmer's 6th District.
As rural Minnesota has trended rightward, Democrats increasingly find their success in the once-Republican suburbs -- both of the congressional districts that flipped from red to blue in 2018 are located there.
In the 2nd District, which includes suburban Dakota County and a handful of exurban counties, Angie Craig (D) defeated Rep. Jason Lewis (R). This was a rematch from 2016, when the congressional result closely mirrored the presidential margin. MN-2 is narrowly divided, as it went for Obama and Trump by about a point each.

Before his election to Congress, Jason Lewis (R) made a number of controversial remarks years earlier when he hosted a radio show. In the 2018 rematch, Craig won by five points. She outperformed Obama's numbers in most of the suburban areas while falling behind in some of the rural towns. She broadly outran Clinton everywhere though, so she had an almost 'best of both worlds' performance. Republicans have touted their recruit, veteran Tyler Kistner, in his bid to take on Craig. Although his fundraising has been solid, his campaign released an internal poll showing him down 9%. Like Feehan in MN-1, Kistner is a good candidate, but the district fundamentals may lean too far in the other direction.
A similar story can be told in the 3rd District, in the western Minneapolis suburbs. Democratic businessman Dean Phillips swamped Rep. Erik Paulsen (R) in 2018 by double digits. Sabato's Crystal Ball has rated the seat as 'Safe Democratic' since the beginning of the cycle. Republicans like their candidate but it's too uphill a battle these days in these increasingly blue suburbs. In 2014, Sen. Al Franken (D) lost the district by a few votes, even as he was reelected 53%-43%. Four years later, Sen. Tina Smith (D) matched Franken's overall showing, but carried MN-3 by 12% -- proof that the area is now a bread-and-butter part of Democrats' coalition.
Minnesota's senior Senator is Democrat Amy Klobuchar. Regularly ranking among the chamber's most popular Senators, Klobuchar has won three landslide victories in a row. As she touted during her presidential bid, she carried all eight congressional districts each time she was on the senatorial ballot. Klobuchar's bid for the presidency in 2020 was dogged by rumors of her alleged mistreatment of congressional staff. Although these stories had been circulating for years, voters back home still seem to view her as an effective senator. In the Senate, Klobuchar has generally been one of the more moderate Democratic senators.
When Klobuchar ran for president, her green campaign logo was reminiscent of the signs that the late Sen. Paul Wellstone used in his campaigns. Wellstone served two terms before tragically dying in a 2002 plane crash, and is something of a patron saint to Minnesota Democrats. A progressive who was respected for his honesty and grit, he was known for the maxim, "we all do better when we all do better."
Following the resignation of Sen. Al Franken (D), then-Gov. Mark Dayton (D) appointed his lieutenant governor, Tina Smith, to the chamber. In the Senate, Smith has voted as an establishment liberal. Though she never ran as a candidate in her own right, Smith had no problems winning the 2018 special election to finish Franken's term -- and it helped that she ran with Klobuchar, whose seat was up concurrently. Since Smith is something of a generic Democrat, here is how she did vs. Democratic candidates for Congress in 2018.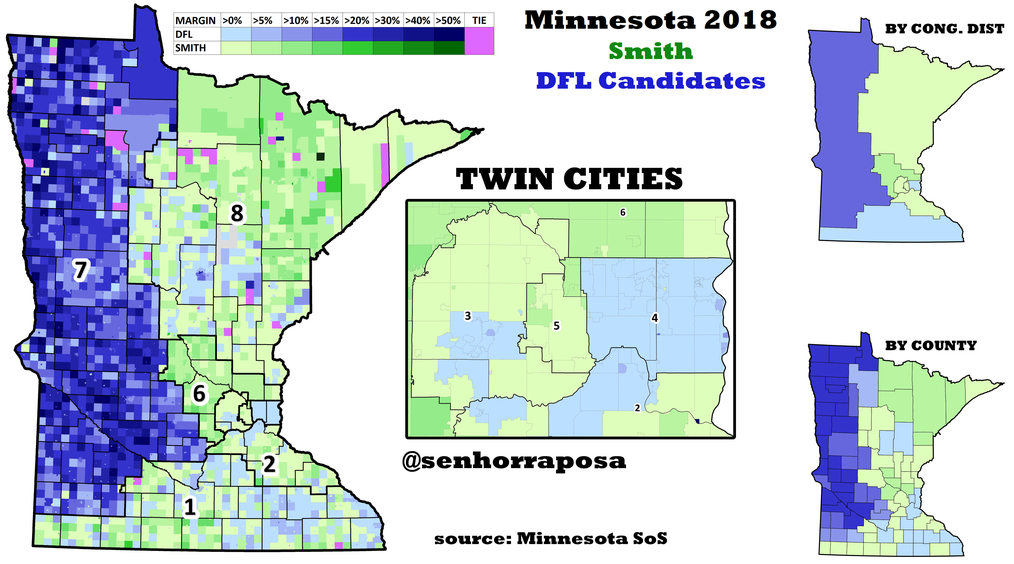 Smith held her own throughout the state and ran almost even with the House candidates in the suburbs. The decline in ticket splitting in the suburbs is evident. The two Democratic incumbents that sought reelection, Reps. Betty McCollum and Collin Peterson, outperformed her. That Peterson ran so far ahead of Smith shows that he won't be a pushover this year. Smith is seeking a full term this year but the race is not expected to be competitive. Nonpartisan forecaster The Cook Political Report recently moved the race from 'Likely Democratic' to 'Solid Democratic,' though Sabato's Crystal Ball still maintains a 'Likely Democratic' rating.
State level politics
In recent years, Minnesota has proven to be fool's gold for Republicans -- particularly in statewide races. In 2010, former Sen. Mark Dayton (D) won the open gubernatorial race against longtime State Rep. and future congressman Tom Emmer (R). A former state Auditor, Dayton served one term in the Senate. Dayton declined to run for reelection in 2006, citing his dislike of fundraising. Though the GOP saw success at the state legislative level in 2010 and 2014, the governorship has proven elusive. In 2018, Dayton handed off the governor's mansion to then-Rep. Tim Walz -- a transition that marked the first time Minnesota voters elected back-to-back DFL governors.
Minnesota's most recent Republican governor, Tim Pawlenty, attempted to make a political comeback in 2018 but was defeated in the Republican primary by 2014 nominee Jeff Johnson. Pawlenty got some buzz in 2008 as a leading VP prospect, and briefly ran for president himself in 2011. Still, he was last on the gubernatorial ballot in 2006, and a great deal changed in those twelve years.
Minnesota's friendliness towards third parties led to the election of former wrestler and Navy SEAL Jesse Ventura in 1998. Ventura ran under the Reform Party banner (the party founded by Ross Perot in 1992) and won a three-way race against two heavy-hitters: Republican Norm Coleman (who was later elected to the U.S. Senate) and DFL state Attorney General Skip Humphrey (the grandson of Vice President Hubert Humphrey). Ventura declined to run for a second term, but made one of the most interesting decisions of his tenure shortly before he left office. In November 2002, after the death of Sen. Wellstone, he appointed former Minnesota Reform Party Chair -- and his 1998 campaign manager -- Dean Barkley. In the Senate, Barkley declined to caucus with either party and served for just 60 days. More recently, Ventura weighed a Green Party presidential run in 2020.
The Minnesota legislature is likely to be heavily-contested this year. Democrats flipped the state House in 2018, picking up 18 seats in the chamber. The state Senate, which is only up in presidential years, is narrowly divided between the two parties and control is very much up for grabs. Democrats are seeking to gain a trifecta in the state and Republicans hold just a one seat majority in the upper chamber.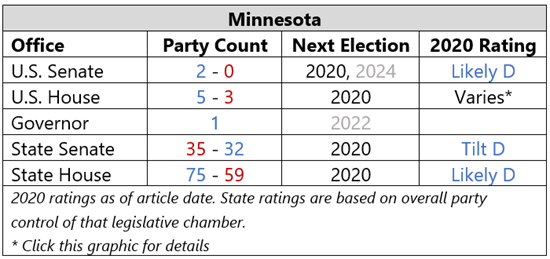 Presidential politics and 2020 outlook
It is an oft-repeated statistic that Minnesota last voted Republican for president in 1972. While true, without the presence of native son Walter Mondale on the ballot in 1984, it would have almost certainly supported Reagan that year -- as it was, Mondale carried the state by just under 4,000 votes.
In between 1984 and 2000, Democratic nominees saw relatively easy victories there. Vice President Gore carried the state by a little over two points while Green Party nominee Ralph Nader took 5% of the vote. Minnesota was again contested in 2004. President Bush made seven visits to the Land of 10,000 Lakes but still came up 3.5% short. In a sense, Minnesota has become to Republicans what Florida is to Democrats: A state they'd very much like to win but always seem disadvantaged.
Barack Obama had little trouble carrying this state twice but Hillary Clinton came perilously close to losing it in 2016. Trump and Romney actually took the same 45% vote share, while Clinton's share dropped 6% from Obama's. Trump's criticism of U.S. trade deals resonated across Outstate Minnesota -- he made double-digit gains over Romney's margins in many counties. Clinton's saving grace, though, was Trump's toxicity in the populous Twin Cities, and their suburbs.
Given the close margin in 2016, at the beginning of this cycle it seemed like Minnesota was primed to a major battleground. However, as Trump's approval ratings have slipped, so have his electoral prospects -- Minnesota seems out of reach for him now. In late May, George Floyd, a Black Minneapolis man, was killed by police, sparking national protests. While Republicans hope the local backlash will help Trump, recent polling suggests that Minnesota voters trust Biden more on race relations.
---
Next Week:

Nevada
Going forward, we will use the model powering the 2020 presidential election simulator to determine the following week's state. Specifically, we will look at the 'Battleground 270' results of 25,000 simulations run late Sunday afternoon. Of the states remaining, the next to be covered will be that with the highest likelihood of a Trump or Biden win as of that date. View the current state-by-state probabilities in the table at the bottom of the Battleground 270 page.
Reports in this series:
comments powered by

Disqus
Headlines