The Road to 270: Nevada
By Drew Savicki
August 17, 2020
The Road to 270 is a weekly column leading up to the presidential election. Each installment is dedicated to understanding one state's political landscape and how that might influence which party will win its electoral votes in 2020. We'll do these roughly in order of expected competitiveness, moving toward the most intensely contested battlegrounds as election day nears.
The Road to 270 will be published every Monday. The column is written by Drew Savicki, a 270toWin elections and politics contributor. Contact Drew via email or on Twitter @DrewSav.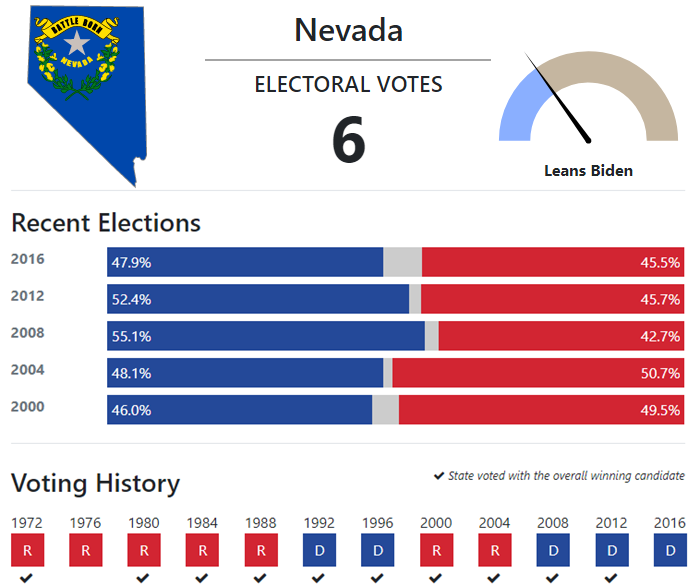 Editor's Note: If you have an ongoing interest in what's happening in Nevada, we highly recommend The Nevada Independent. It is a nonpartisan, nonprofit news and opinion site founded three years ago by Jon Ralston, who has covered Nevada politics for more than 30 years.
===
From its early days as a mining-heavy state to the Golden Age of Las Vegas in the 1950s and 1960s, Nevada has quite a history for such a relatively young state. With shifting demographics and a population boom, Nevada emerged as a swing state in the 1990s and early 2000s.
Geography
To start off, Nevada's congressional districts offer a solid breakdown of the state's geography. Until 1982, the Silver State had just a single, at-Large district -- after decades of rapid growth, it claims four districts today. Notably, three of its districts contain part of Clark County, home to Las Vegas. In the 2012 and 2016 presidential elections, 68% of the state's votes came from Clark County.
NV-1: City of Las Vegas and the Vegas Strip. This inner Vegas seat is the most Democratic in the state.
NV-2: Covering virtually all of northern Nevada, this district is rather difficult to classify. It includes Reno and Carson City but also includes a significant number of rural counties, known as the 'cow counties.' This ancestrally GOP seat has never sent a Democrat to Congress, and is currently the sole Republican-held seat.
NV-3: Southern Clark County. Includes southern suburbs of Las Vegas such as Paradise, Henderson, and Spring Valley.
NV-4: Northern Clark County and central Nevada. Northern portion of the Vegas area and handful of rural counties. Home to the Nellis Air Force Base and, famously, Area 51.
Congressional Politics
It's hard to talk about Nevada's contemporary politics without mentioning Harry Reid. A political titan who built up the state Democratic Party, Reid's early days an amateur boxer set the tone for a volatile electoral career. Though he retired from the U.S. Senate in 2017, he remains influential in the state Democratic Party.
Even before he arrived in Congress, Reid held a bevy of state offices. His political career began in 1966 when, at age 27, he was elected City Attorney of the then-small Vegas suburb of Henderson. After two years, he was elected to the legislature, then became lieutenant governor in 1970. Reid served one term before running for the U.S. Senate in 1974. He was defeated that year by ex-Gov. Paul Laxalt (R) -- close Senate races would become a hallmark of Reid's career, and he lost that one by just 624 votes. Laxalt was an influential senator in his own right, as President Reagan's closest ally in the Senate. By 1978, Reid was serving as chairman of the state's powerful Gaming Commission.
In 1982, after the state gained a second district, Reid was elected to the Las Vegas-centric NV-1. In 1986, he won an open Senate seat against his immediate predecessor in the House, Democrat-turned-Republican James Santini. Reid won 50%-45%. Once in the Senate, he eventually became part of the Democratic leadership team, though navigating that trajectory was challenging for him at times. A Mormon, Reid opposed abortion rights but by the time he became the chamber's leading Democrat, in 2005, the party had broadly moved leftward on the issue and Reid put aside his own views. Still, his ascent was nearly halted in 1998, when his successor in the House, then-Rep. John Ensign (R) challenged him.
As the congressman from the booming Las Vegas area, Ensign was the ideal candidate to go against Reid. Polling initially gave Reid a double-digit lead, but that lead dwindled by election day. Reid's challenges were compounded by a number of demographic changes to the state. Older, more conservative retirees were moving to the state in droves -- and they were registering as Republicans. In a reversal of his 624-vote loss in 1974, Reid turned back Ensign by a narrow 428 vote margin. In 2004, when he was next up, something of a rarity occurred for Reid: he had an easy election. For the only time in his career, he cleared 60% of the vote, even as the state narrowly supported George W. Bush that year. Ensign was elected to the state's other Senate seat in 2000 and developed a bipartisan working relationship with Reid there.
For 2010, Reid was back in a familiar position: on the GOP's target list. Though President Obama carried Nevada by a comfortable margin two years earlier, his approvals were slumping as the midterms approached. In 2004, Republicans ousted Reid's predecessor as Democratic Leader, South Dakota's Sen. Tom Daschle, and hoped for an encore in 2010. One reason Republicans were able to beat Daschle six years earlier was because they ran a quality candidate, now-Sen. John Thune (R). As it turned out, this would not be the case in Nevada.
In June 2010, GOP primary voters nominated former state Assemblywoman Sharron Angle. A Tea Party conservative, she brought a bombastic style to the campaign and made racially insensitive comments. Reid's standing improved after Angle's nomination but most pre-election polls had Angle slightly ahead. Still, veteran state reporter Jon Ralston predicted a Reid win and, sure enough, the old boxer won 50%-45%. Ralston credited the Democrats' superior campaign operation for the win -- several cycles later, the 'Reid machine' is still a potent force.
Reid retired in 2016 -- during his last years in office, he was known for his floor speeches criticizing the billionaire Koch brothers, two conservative megadonors -- and was succeeded by former state Attorney General Catherine Cortez Masto (D). Cortez Masto defeated then-Rep. Joe Heck, of the 3rd District. Heck initially disavowed Donald Trump following the release of the infamous Access Hollywood tape but walked back his criticism after facing blowback on his right flank. The result was eerily in line with the presidential contest: Hillary Clinton and Cortez Masto won by the exact same 2.4% percentage spread. Cortez Masto currently leads the Democratic Senatorial Campaign Committee (DSCC) and was considered a leading VP prospect for Joe Biden (though in late May she ruled herself out).
Until 2019, Nevada's other senator was Republican Dean Heller. Appointed by Gov. Brian Sandoval (R) following the resignation of Sen. Ensign in 2011, Heller was a longtime figure in Nevada politics. An affable conservative, Heller won a full term in 2012. As the only Republican representing a state that Clinton carried in 2016, Heller was a major Democratic target in the 2018 elections.
From retirement, Reid recruited freshman Rep. Jacky Rosen (D) to run against Heller. Heller largely hewed to the party line in the Senate and, for most of the campaign, embraced Trump. The president rallied for him several times, but Heller ultimately lost by about 5%. Rosen, a former synagogue president, made some history: she became the the first congresswoman elected to the Senate after just one term in the House.
On paper, Nevada has two competitive congressional districts, but both seem to have fallen off the radar for 2020. NV-3, just south of Las Vegas, elected Democrat Susie Lee in 2018, after its previous two occupants, Heck and Rosen, used this suburban district to launch statewide runs. Though Trump carried it in 2016, Lee easily won the seat in 2018 against perennial candidate Danny Tarkanian (R). In her Senate race, Rosen carried her old congressional district by 4%, an improvement from Obama's one point win there in 2012 and Clinton's one point loss in 2016: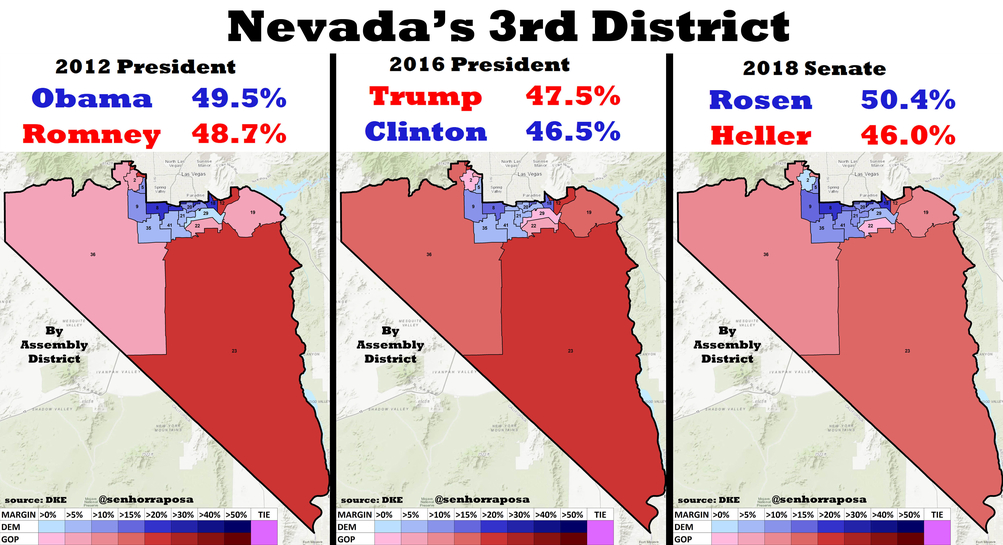 In its brief history -- it was created for the 2012 cycle -- incumbent turnover has defined the 4th District. Its current member, Rep. Steven Horsford (D) is on his second non-consecutive term -- he was elected in 2012, but in a red 2014 wave, lost to GOP state Rep. Cresent Hardy. In 2016, state Sen. Ruben Kihuen (D) defeated Hardy. Following sexual misconduct allegations, Kihuen decided not to seek reelection in 2018. The open 2018 race was rematch between Horsford and Hardy -- the Democrat won 52%-44%. At 47, Horsford is sometimes mentioned as future statewide candidate. Earlier this year, he admitted to having an extramarital affair, though it remains to be seen if such an admission will have any impact on his career.
State level politics
Nevada underwent a significant political shift between the 2014 and 2018 midterms. After the 2014 elections, Republicans controlled all six statewide offices -- following the 2018 elections, the party was down to just holding the Secretary of State's office. The current governor, Steve Sisolak, is the first Democrat elected to that job this century. Democrats won the legislature in 2016, and for 2018, expanded their majorities in both chambers.
Preceding Sisolak, Gov. Brian Sandoval was hugely popular in the state. A Hispanic pro-choice Republican, Sandoval found broad crossover support and was reelected in 2014 against only trivial opposition from Democrat Bob Goodman. On their ballots, Nevada voters have a 'None of these Candidates' option, which got the most votes in the Democratic primary that year (though Goodman, as the highest-polling actual candidate, was nominated). In 2018, it was noteworthy that Sandoval sat out the gubernatorial race, making no endorsement. While serving as governor, he butted heads with the GOP nominee, then-state Attorney General Adam Paul Laxalt.
Pre-Trump, Sandoval was often mentioned as possible presidential candidate, in part for his years of experience in a purple state. Before his time as Nevada's top executive, he served as state attorney general, then was a federal judge. As governor, he was briefly mentioned as a possible Obama Supreme Court pick. While national Republicans may welcome his candidacy in a future Senate race, the party's base voters have gotten 'Trumpier' and may be less enthused.
With Democratic control of the legislature cemented, the party will control the redistricting process next year. With the growth in and blue shift of Clark County, their first objective will to be shore up the two potentially vulnerable incumbents. Democrats may go after the state's lone Republican, Mark Amodei in NV-2, though they could risk spreading their voters too thin.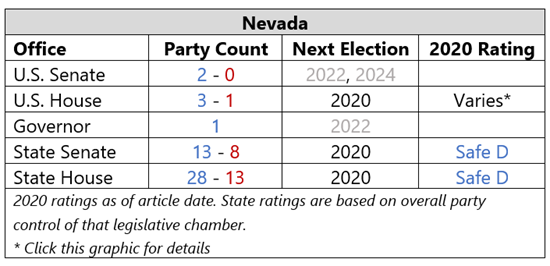 Presidential politics and 2020 Outlook
Every four years, Nevada enjoys an outsized role in the presidential nominating contests. With its caucus, Nevada is the first western state where voters weigh in. For Democrats, it has a markedly different electorate from other early states. In contrast to Iowa and New Hampshire, with their almost monolithically-white populations, candidates must appeal to Hispanics in Nevada. Candidates must also court organized labor. Despite its large geographic size, Nevada lends itself well to retail politics because much of the population is located in Clark County.
The Nevada caucus technically began in the 1980s but it wasn't until 2008 that it became prominent in the calendar. For Democrats in 2020, the early primary lineup was Iowa, New Hampshire, Nevada, and then South Carolina. Unfortunately for Nevada, its caucus hasn't been especially predictive, at least on the Democratic side: since 2008, its winner lost the nomination twice while South Carolina chose the eventual nominee each time. With mounting frustration over caucuses -- after this year's contest, Reid called for a transition to primaries -- the future of the Nevada caucuses seems murky.
Without looking at its racial demographics, Nevada's presence in the Democratic column would seem baffling. With the Democratic coalition increasingly centered on educated voters, Nevada sticks out. According to the Census, just 24% of its residents aged over 25 have at least a bachelor's degree -- perhaps not surprising, considering Nevada's economy is largely based on the service industry. The workforce heavily skews blue collar but, unlike in the midwestern states, Nevada's blue collar workers aren't predominately white. Its workforce is also highly unionized: the powerful Culinary Union represents thousands of workers who power Nevada's casinos, hotels, restaurants, and other services. Nevada's tourism-based economy has been adversely affected by the COVID-19 pandemic: while down from its peak, the state unemployment rate was 15% in July.
Like many western states, some of Nevada's libertarian tendencies have made it friendly to third party candidates. It was Ross Perot's sixth-best state in the nation in 1992 -- he took 26% and actually carried a county, Storey. In the 2016 presidential race, the two major parties accounted for just 93% of the statewide vote.
Though Biden has shown some relative weakness with Hispanics, most forecasters agree that he is favored to carry Nevada's six electoral votes this year. Perhaps because pollsters are sometimes burned there -- as Democrats typically outperform their numbers -- Silver State polling has been scarce in 2020. Jon Ralston notes that, in terms of voter registration, Republicans have gained during the pandemic but still trail Democrats statewide. Overall, Nevada is still relatively purple but for Trump to carry the state, his national standing will likely need to improve in the 11 weeks that remain before the November 3 election.
---
Next Week:

New Hampshire
Going forward, we will use the model powering the 2020 presidential election simulator to determine the following week's state. Specifically, we will look at the 'Battleground 270' results of 25,000 simulations run late Sunday afternoon. Of the states remaining, the next to be covered will be that with the highest likelihood of a Trump or Biden win as of that date. View the current state-by-state probabilities in the table at the bottom of the Battleground 270 page.
Reports in this series:
comments powered by

Disqus
Headlines