Minnesota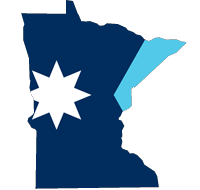 Minnesota, cobbled together from land that was part of the original United States, land acquired in the Louisiana Purchase and land acquired from Great Britain in 1818, joined the Union in May 1858. Minnesota voted exclusively Republican from 1860 through the onset of the Great Depression, except for 1912 when it sided with Progressive candidate (and former Republican) Theodore Roosevelt. From 1932 onward, the state has primarily voted Democratic, last voting Republican during Nixon's landslide victory in 1972. In 1984, Minnesotans gave homegrown Senator Mondale his only state in the lopsided loss to Ronald Reagan. While the Democratic winning streak grew to 11 straight elections in 2016, Hillary Clinton only beat Donald Trump by 1.5%. One elector that year attempted to vote for John Kasich. That was disallowed and the elector was replaced.

Minnesota has had 10 electoral votes since 1964. However, population projections as of the end of 2016 put it on track to lose one of those electoral votes after the 2020 presidential election.
Voting History
State voted with the overall winning candidate
Electoral College Votes
Colored bars represent electoral votes by party. Hover to see names. 2020 electoral votes shown in dark green until after the election.
Gray indicates available electoral votes that were either not cast or cast for a candidate not on the ballot.